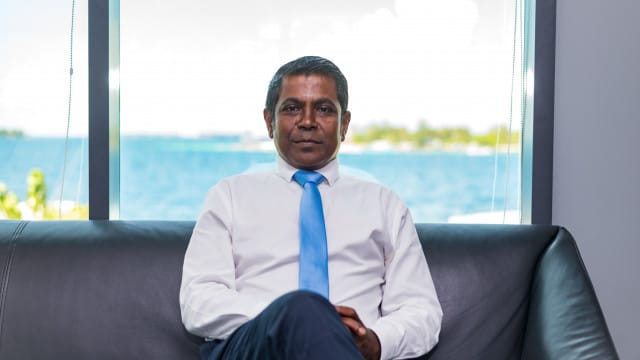 In The Spotlight
Restarting tourism in the Maldives
While most of the world looks to domestic tourism to shore up their tourism economy, this simply isn't a viable solution for many destinations that rely heavily on international travel. Thoyyib Mohamed, Managing Director at the Maldives Marketing & PR Corporation, explained how the islands prepared for their July opening and how they are anticipating their strategies evolving in the wake of COVID-19.
I want to start by asking about a campaign I saw recently that said that the Maldives will be opening their borders in July. Is that still going ahead?
Yes! Our borders opened on the 15th July, and our resorts are now accepting guests. We started this year with very ambitious plans and targets, and then from March, as you know, we were forced to close our borders like so many others. But we kept up our visibility in key markets with empathetic, stay safe messages, but there's still so many things to be done.
I think more or less everyone is willing to travel - dreaming to travel, wanting to travel - these days. After so many days of lockdown, everyone wants to get out. They want to be in that dream destination, and I'm sure that the Maldives is one of those places that people are dreaming about.
What have you had to adapt to be able to open safely for tourism?
The most important thing we see is the safety of travellers when they're here. We've created guidelines together with the Health Protection Agency that adhere to all the WHO standards. We don't need any kind of health certificates, but the tourist have to fill in forms telling us a little about where they've been and whether they've been in close contact to a COVID positive patient in the past couple of weeks. You'll only be tested if the symptoms are there, but the guidelines tell us everything that we need to do in that case.
It took a little bit of time for us to finalise it – it's not our office who does that, it's the Ministry of Tourism, the President's office and the HPA – but they're ready now and there are so many things that have to be in place. We have to make sure it's definitely a safe destination. But naturally – and luckily! – our islands are formed in a manner of safe distancing. Most resorts are one island, one resort already. If something happens in one island, the other islands won't be affected. And since we opened on July 15th, movements from one resort to another are strictly not allowed.
I'm pretty confident that we can bounce back and we're working hard to kickstart our campaigning. We started on the 8th of June with "The Sun Will Shine Again" campaign on Facebook and a four-hour live programme with most of our industry partners joined together from each resort to share a little message with their USPs. We need to give assurance that in the Maldives, the sun will shine again. It was really great – but the biggest question at the time was 'When are you opening up?' and we couldn't answer them at the time! It was fun, and really interactive – people really enjoyed it.
The Maldives have been one of the most high profile nations to feel the impact of climate change. So on the one hand, as the world talks about a "reset" of tourism with a strong focus on sustainability, and on the other, the Maldives are reliant on the economic benefits of tourism, you have a complex challenge…. How are you working towards more sustainable tourism development?
Overcoming the financial difficulties from this crisis will be really challenging. Our industry has been climate conscious for a long time. As you know, several resorts have their own green initiatives for environmental conservation. Eco-tourism has been on the rise. As travellers focused on reducing their carbon footprint, eco-friendly resorts have been the new frontier in tourism for the last several years. I believe that this will continue in the future when it comes to new investments in the hospitality sector.
Government policies regarding the construction and operation of tourist resorts also have several features that help environmental preservation. This includes the percentage of land that can be built up. Maintaining the tree line between the beach and bungalows, regulations on the disposal of sewage and waste and so on. The government has also over the last several years designated several protected areas.
As an island nation, we do not have a choice other than being climate conscious in all our investments in tourism. However, I agree that a lot more needs to be done along these lines.
If we look at pre-pandemic hotel and resort operations around the world, when we reopen our borders and commence operations, resorts and other tourist facilities will have to make several changes in order to make their properties safe for tourists. Some of these changes will help environmental conservation. The traditional hotel industry generates a massive amount of waste; hotels and resorts had to offer a massive range of amenities in order to maintain their rating. This includes items such as minibar drinks and other minibar items with their wrappings, printed magazines and menus, coffee capsules, sandals, mini toiletries and cosmetics and other similar items. Amenities, by nature, are very often disposable items.
Post-pandemic, cleanliness and hygiene will be the number one priority. Guarantees of cleanliness will be more important than reviews or amenities. One of the most important recommendations by experts is to reduce in-room amenities in order to reduce the number of items that have to be sanitized. Items that cannot be removed such as toiletries and cosmetics will have to be replaced by touch free dispensers. These changes would bring about a massive reduction in the amount of waste generated by resorts.
Is it important to work towards ensuring that the economic benefits of tourism are seen equally across the Maldives? How are you working towards that?
The other lesson we have learnt with the COVID-19 crisis is also related to preparedness. But in a different way. What we have seen during the last three months is that, some in the industry lack operational sustainability when it comes to a crisis of this nature. Some resorts and hotels which had been operating for more than 20 or 30 years were not able to sustain even for month when the crisis hit us. They had to lay off workers and were not able to pay their salaries for even a month after they were temporarily closed.
This shows that, when we talk of sustainability, many of us has not considered financial sustainability as an important factor. The new government came into power late 2018 and we came with campaign pledges that the economic benefits from tourism should be distributed. We are continuing the policies we started 7 years back all over again by creating a path for much more local involvements, job opportunities and facilitating SME in the tourism industry.
What trends do you expect to see emerging in travel over the coming years?
Already we are seeing signs that different airlines are taking steps to ensure that their customers are being checked in, followed by certain testing and restrictive measures. Safety measures like these will be key to assuring travellers of their safety in the future. Some key hotel brands are also getting certified with health and cleanliness and others are getting into the already available technologies with self check in and cashless payments with minimal staff contact.
Research with travellers across the globe reveals that although there is an overwhelming sense of uncertainty as countries deal with the spread of the virus, there's also a great deal of optimism for the future. In fact, Skyscanner states 60% of their travellers are optimistic that they will be able to travel internationally later this year, of which half are very optimistic. A Travel Intention pulse survey shows that while leisure travel recovery has preceded corporate, FIT, and group travel, business travellers show more signs of confidence in safety than leisure consumers in venues like hotels, air travel, rail and events.
Another thing happening in the short-term right now is that domestic travel has become more prevalent in our source markets; travellers will likely try to explore the local gems before moving out further internationally and it is important that destinations prepare #loveyourlocal strategies as well.
Related reading:
Hall of fame: 15 of the best place marketing and place branding campaigns
Domestic tourism: Winning tactics for 2020
Has the pandemic killed soft power?
The politics of space, culture, and placemaking in post-COVID place branding
Nine expert tips to prepare for recovery in cities, nations and regions