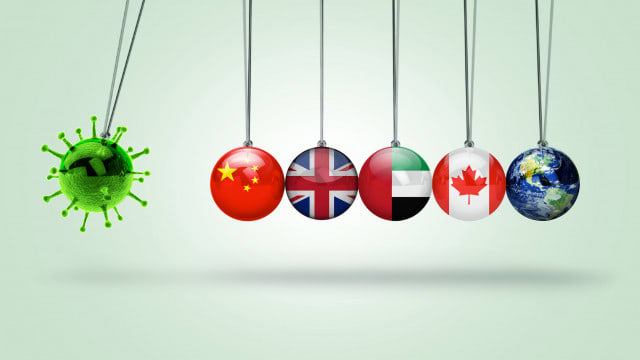 Trends & Ideas
Has the pandemic killed soft power?
At the launch of the Brand Finance's 2020 Global Soft Power Index in February – and how long ago that seems now – Ban Ki-moon spoke passionately about the importance of soft power and global citizenship during a time of trade wars and increasingly hardened borders. "Soft power," he proclaimed, "transcends borders, builds bridges, and brings the world together through dialogue and mutual understanding."
If Ban Ki-moon was concerned that the world may be withdrawing from global citizenship in February, what happened in March validated his concerns. Once COVID-19 hit on a global scale, for many citizens and governments, concern and awareness retreated inside national borders entirely. Germany initially imposed a ban on German-based companies exporting essential equipment to other nations. The UK Government faced backlash when it was exposed that PPE was being sold abroad despite British shortages. The 'America First' ideal took on a new meaning when Trump formally retracted American financial aid from the World Health Organisation in the midst of a global pandemic, citing undue Chinese influence on the organisation.
The ideals of global citizenship and camaraderie were put to the test, and the world's purportedly most open and democratic states responded by closing up shop. And as international aid retreated and the world went into lockdown, a soft power vacuum formed – one that was rapidly filled by 'mask diplomacy' as China raced to provide aid around the world.
A new definition of power
There's a fine line between 'soft power' and 'sharp power' – a term coined by Christopher Walker and Jessica Ludwig in 2017 to describe how authoritarian states manipulate and exploit media, education, and culture for their own political gain: "These regimes are not necessarily seeking to 'win hearts and minds', the common frame of reference for 'soft power' efforts, but they are surely seeking to manage their target audiences by manipulating or poisoning the information that reaches them."
Neither the exertion of force that drives hard power, nor the attractive policies and goodwill generation of soft power, sharp power is the manipulation of international media by an authoritarian state to misguide or divert attention away from negative stories about the state. Specifically, the report highlights both the Chinese Confucius Institute and the Russian state-funded news channels as prime examples.
China has been on a reputational rollercoaster throughout COVID-19. From sympathy as the virus reared its head, to accusations of worsening the pandemic by silencing early reports. Most recently, the nation has stepped into the soft power vacuum with relief packages of PPE and medical support that have been received mixed response.
"China is trying to turn its health crisis into a geopolitical opportunity," says Yu Jie, senior research fellow on China at Chatham House, a UK think-tank. "It is launching a soft power campaign aimed at filling the vacuum left by the United States."
The question is the impact that this strategy is having. On the one hand, nations like Serbia have welcomed Chinese aid; the President kissed the Chinese flag in gratitude for the supplies they sent. On the other, the Netherlands and Spain have questioned the quality of the PPE provided by China. Several commentators have suggested Chinese aid is a thinly veiled attempt to re-write the coronavirus narrative – a criticism that has been heavily influenced by China's history of sharp power.
Have nations become more selfish?
"Today, as we witness more and more self-inflicted isolation, trade barriers and hardened borders, an embrace of multilateralism itself can also project considerable amounts of soft power on the world stage," suggested Ban Ki-Moon back in February.
In a more recent controversial move, the UK's Prime Minister Boris Johnson seemed to affirm a move away from open multilateralism when he announced in mid-June that the Department for International Development would be merged with the Foreign Office – a move criticised by no less than three former prime ministers. "For too long, frankly, UK overseas aid has been treated like a giant cashpoint in the sky, that arrives without any reference to UK interests," Boris Johnson stated.
Despite the ideal of European solidarity, when Italy called for aid from the European Union, the response was lethargic – even though no other EU member was seriously impacted by COVID-19 at the time. Meanwhile, a Chinese aircraft delivered 31 tonnes of equipment and nine Chinese medical experts to the stricken nation.
Reconnecting values with soft power
As a species, we're facing some of our greatest challenges: climate change; institutional racism; global hunger; and now, a pandemic. All of these are global crises, which will require a coordinated, global response. Cities and nations that affirm their multilateral values and weigh in on these problems with proactive solutions and a helping hand will cement their soft power in international perceptions.
Ram Madhav, the National General Secretary at the Indian Bharatiya Janata Party, said "We have focussed our discourse too much on power. We talk about soft power, we talk about hard power… It is time we shift this discourse to value centric - and most importantly, human centric."
As the world plans for recovery – and to building a more resilient future in the longer-term – galvanising all stakeholders around core place brand values will likely be the key to success for nations, cities, and all places. As will collaboration between places – at a regional and global level. While national governments will inevitably be the driver behind much international action, cities also have the opportunity to further develop city-to-city diplomacy and collaboration. Those places that can be clear on their values – and that can ensure civic buy-in to a collaborative mindset – will be better placed for a quicker and more sustainable recovery.
Soft power and global collaboration failed the COVID-19 test, but we can learn from the mistakes of the last six months.
Here's hoping that we'll be better prepared for the next challenge.
Related reading:
Hall of fame: 15 of the best place marketing and place branding campaigns
The roadmap for sustainable recovery
Soft power super powers: learnings from the Brand Finance Global Soft Power Summit
The politics of space, culture, and placemaking in post-COVID place branding
Nine expert tips to prepare for recovery in cities, nations and regions