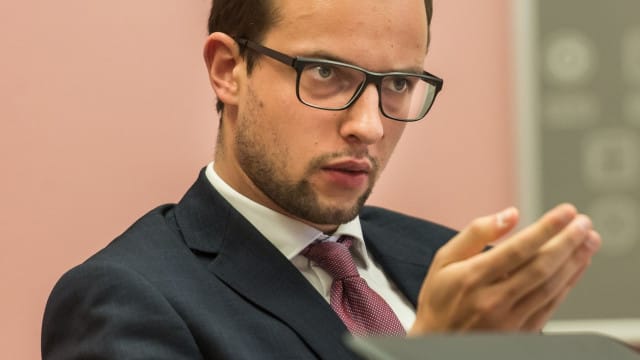 In The Spotlight
Kaunas: the journey to becoming the European Capital of Culture 2022
Kaunas, Lithuania, has been named one of the European Cities of Culture for 2022. Tadas Stankevicius, Director at Kaunas IN, shared with us how they're leveraging culture to nurture civic pride and to drive their recovery after COVID-19.
Thank you for joining us, Tadas. Kaunas has been selected as one of the European Capital of Culture for 2022, and we were hoping we could start there. Why did you apply for this and what did it mean to the city to be selected?
The city has been living in its own shadow for quite some time. In between the two world wars, Kaunas was the temporary capital of Lithuania while the region of Vilnius was occupied by other countries and that really shaped the identity of our residents. We pursued the title of European Capital of Culture 2022 with high expectations; it is an invitation to create our future city and its cultural life together. It's also an opportunity to reveal the uniqueness of Kaunas, and to strengthen our connection with other European cultures. We had to make a change – from a temporary city, to a contemporary one. To become a confident, creative, and open European city. This journey has already started and its leading us towards the huge celebration in 2022.
And secondly, we want to make as many people as possible see what Kaunas has to offer to other countries. So, we're working promote our cultural community to shape the products the city already has - and then we're going to spread our message as far and wide as possible.
As an agency, Kaunas IN is responsible for FDI and tourism in the city, so we've since stepped into the Capital of Culture project very extensively. We're creating the PR campaigns together with the cultural team who submitted our application and pushing the message across Europe and beyond.
Currently, we're working with other stakeholders to shape this unified cultural position, which is also understood and agreed upon by all members in the city and beyond. In 2022, for the first time in 100 years, Kaunas and its metropolitan area will become the spotlight of Europe as the city undertakes to reflect and represent the culture of the continent.
How have your plans been impacted by COVID-19? How do you plan to leverage the focus on your cultural assets to build recovery?
We're paying close attention to the actions taken by the European Capitals of Culture this year who were forced to abandon or postpone many of their activities because of the COVID-19 pandemic. We've prepared for several scenarios. We're still very optimistic about what's going to happen in 2022, but we have had to shift our PR campaigns and the timeline of them. We were about to start some campaigns promoting our city across Europe, but those have obviously been postponed. We're expecting that by 2022, restrictions on numbers of people should be lifted, and we're hoping to carry on with our initial plans.
In terms of FDI and tourism, we've become a bit more local in the past couple of months, and we're looking into our neighbouring markets. There are going to be some predictable reasons for not travelling on planes in the upcoming months, but given the size of our country, there are a lot of opportunities. Many countries can reach us by car, so we're shifting our focus from Germany and Scandinavia to tourists from Poland and Latvia. The national narrative that has been promoted across Europe is that the Baltic states have had a lower average of COVID cases than the rest of Europe, and we truly hope that will be a key factor for reopening flights that were cancelled because of the COVID-19 situation and for increasing confidence that the situation here is well handled and they're not at risk of getting infected by the virus.
What matters most is that we learn from other cities' experiences and the interesting initiatives that are being organised by other cities. We're trying to adopt the best that we can for Kaunas; if we want to change the cultural narrative of the city for residents and tourists, we have to step out of our comfort zone. We need to implement the best ideas and comply with safety standards, but also be trendsetters in other fields. It's an interesting challenge for the city!
It's interesting that you mentioned perceptions of both tourists and citizens. Being European Capital of Culture 2022 is already a huge part of your civic pride journey, but how have you been engaging your residents in your strategy?
It's the whole foundation of Kaunas being the European Capital of Culture. The team will consider that they have achieved their goal if after 2022, when a random citizen on the street is asked if they felt part of these celebrations, they will say "definitely, yes." We have to engage our local communities and neighbourhoods. That's why each and every district has its own ambassador trying to shape the activities, trying to build cultural platforms where ideas can be developed, shaped and implemented.
The whole idea is to decentralize this whole process as much as possible and to spread it into the different neighbourhoods of Kaunas. We strive to change the perception of culture as something restricted to the city centre, so we need to create where we reside. Communities are working in collaboration with artists to design a symbol of their neighbourhood – to use street art to decorate their surroundings, to plant and to build, to explore the distinctive character of their home environment artistically.
Together we can create the contemporary legend of Kaunas city, which will be celebrated through trilogy of Grand Events in 2022. These kind of interactive processes helps to engage citizens in creation of contemporary identity.
So even though neighbourhoods are developing differently, they hold that same narrative of Kaunas going from temporary (as the transitionary capital) to contemporary.
There's a lot of exchange happening between our communities. The first results of the project are already showing though, and we have huge hopes that the cultural landscape in Kaunas will be changed after the event. It will serve as a foundation for what culture can become in Kaunas in the future.
By the start of 2022, every single resident of Kaunas will be its ambassador.
One of the initiatives we really admire is the 'Highlights of Kaunas' project – it's a great way to bring your art and culture out into your public spaces. Given that COVID-19 makes it much easier to reopen outdoors, are initiatives like this influencing your recovery strategy?
It's going to take huge efforts and cooperation between the public sector and artists that are able to create art in different forms for the residents and guests of the city to enjoy. The city has to be flexible in opening these public spaces for people to create and show off what they actually can do. That's one thing.
The Highlights of Kaunas programme isn't new – it's at least four years old. This year though, it's extremely important for us to work as hard as possible and to make as many of those ideas happen as possible. Partly because it encourages people to be in open spaces which diminishes the risk of being infected, but it's also important to mention that the artwork will be spread around the city. There's not going to be a single concentration of people in one place.
We're looking into different ways that we can put culture back onto the map as well. Our colleagues in Vilnius are currently running an initiative where they will use billboards in the city to showcase the paintings of local artists. It's a great initiative, and we're looking to these great ideas from other cities to take the best and build on those with our own creativity.
How does your culture proposition factor into your investment attraction strategy? Have you seen changes being created by the challenges of the pandemic?
Of course. The last couple of months were really tough investment attraction wise. Most of the businesses were on hold with expansion decisions, so in the short run we've been in constant communication with our investors in Kaunas. We wanted to make sure that our existing clients felt as comfortable as we could.
Secondly, we're in constant communication with our national partners, Invest Lithuania. The crisis will have a huge effect on logistical and supply chains around the world, but we believe this could be a challenge and an opportunity at the same time. It's all a matter of how prepared different regions are once the clouds disappear. One of our goals right now is to integrate our city's strategy into the national strategy to try and position our city as a hub for particular industries that have been developing rapidly in Kaunas over the past couple of years.
We've seen the demand for offices as a physical place has been going down as people are choosing to work from home. A lot of tenants are trying to cancel their contracts with their landlords because they're moving to remote work, and it will have a huge effect as people become more mobile. If you're not obliged to go to the office every single morning, we think that will be a major instigator in digitising the world and making physical places less relevant.
Currently, we have an ecosystem where there are a few regions that dominate: San Francisco or Berlin for start-ups; New York and London for financial. We believe that because more and more employers will allow their employees to work remotely, this balance will shift – the only question is where.
In Kaunas, and with the initiatives we've had in the last four or five years, we already have a foundation of being fast and flexible in finding solutions that are needed in the world, so I truly hope that Kaunas can be a sandbox for new innovative ideas.
So, innovation and flexibility are a big part of the Kaunas brand then?
Definitely. There's a running joke that every resident of Kaunas is a businessman in one way or another. It goes back to the beginning of the 20th century when Kaunas was still a very small city and it developed really quickly. Today we have a lot of technological and medical competences based here in Kaunas and as a municipality, we're currently developing an Innovation Park. We're devoting 32 hectares of land in a central part of the city to companies working in the innovation field; it should be open by late 2022, or the beginning of 2023.
If you were to give a tip to a place looking to build their own city brand and be more supportive of start-up companies, is there a single 'holy grail' idea that you'd share?
I think it's extremely important for public administrators and legislators to understand that people have a lot of ideas – and in many cases, they have better ideas than those working in the municipality. The question is how to enable these people so that their ideas will see the sunlight. I believe that's the key cornerstone to creating a city where ideas can be made possible. Everyone wants to be in a place where everything is transparent, and they know that their ideas can become a reality. It creates real energy and motivation when things happen from the community instead of simply being pushed from the top down.
I suppose my idea for setting a brand for the city would be to be as open as possible with the community because the competence lays in these layers of community and in different non-governmental organisations and private businesses. It's naïve to say that the people administrating these programmes are more competent than the ones who are actually in the field. Engaging communities is about being able to hear their voices and then trying to turn on the green lights instead of working to block their ideas. It eventually creates a virtuous cycle where you create a space for innovative ideas – a city that is a magnet for innovative ideas attracts start-ups which attract foreign investments which attract talented people who share your values.
Innovation and creativity also tend to be staples of the City Nation Place Award entries that we receive. As one of our jurors for 2020, is there anything in particular you'd be hoping for in a winning entry?
I'm really looking forward to seeing the ideas from other cities. Something that would really show that despite the pressure of being a trendsetter, they were brave enough to try something new. I'm looking for ideas that are brave, that are innovative, and that set an example for other cities to follow. That's what I'd want to see in a winning entry.
Amazing. Thank you for joining us, Tadas.
Find out more about the City Nation Place Awards
Related reading:
Hall of fame: 15 of the best place marketing and place branding campaigns
Helsinki: the city of the future | Interview with Laura Aalto, CEO, Helsinki Marketing

The politics of space, culture, and placemaking in post-COVID place branding
The Chinese traveller in a post-COVID-19 world
Nine expert tips to prepare for recovery in cities, nations and regions