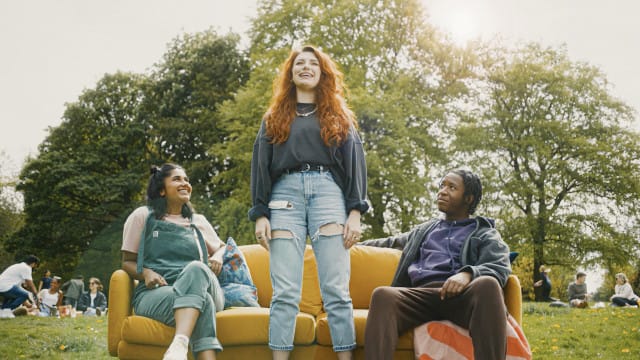 Strategy Toolbox
Sheffield just launched a ground-breaking student attraction campaign. Here's how it works.
Last week, Sheffield announced the launch of a new campaign – Sheffield Your University City. The campaign aims to target 17 – 18 year-olds in the process of deciding which university they want to attend, but what marks this campaign out from the crowd is that it has been created in collaboration between Sheffield Council's marketing body and the city's two universities: Sheffield Hallam University and the University of Sheffield.
Rather than showcasing the universities' individual attributes, the collaboration is working to elevate perceptions of the city as a place. "We've known for a really long time that Sheffield has a perception issue," said Mark Mobbs, Marketing Manager for Marketing Sheffield. "It's either very low and has no real associations (amongst younger audiences) or has inaccurate and out-dated perceptions (with older audiences)."
Here at City Nation Place, we're understandably big advocates of how a collaborative approach between your key stakeholders can make a far greater impact, so we caught up with the masterminds behind the innovative collaboration to understand more about the journey and what they learned along the way.
Tackling outdated perceptions
The impetus for the collaboration came when it became clear that perceptions of the city weren't where they could be. A campaign that put Sheffield's attributes front and centre was a must. "Both universities' research consistently highlighted the importance of place within a prospective student's decision-making process – and there is a lack of awareness of the city in our target growth areas," outlined Richelle Quinn, Head of Strategic Marketing Services at Sheffield Hallam University.
This perception gap was highlighted by Claire Hamilton, Head of Marketing & Student Recruitment for the University of Sheffield, and it was clear that joining forces meant they could target wider areas and penetrate markets more deeply. "The message of 'Your University City' only works when we do this together," Claire emphasised. "We are both civic universities so there's a strong sense of community across the two institutions and we work together on many projects which benefit our students and the city."
Taking the campaign from idea to launch
The three organisations had worked together on and off for the past few years, meaning that while this was the group's first major project, the foundations for collaboration had already been well-established. "After appointing WASH studio as the creative agency for the project we worked with them on propositions and concepts and quite quickly landed on an idea of 'the impossible dichotomy' which Sheffield offers… these beautiful contrasts that you don't really find in that many places, which contribute to a brilliant place to live whilst you study," explained Mark. "As soon as we cracked that we worked with different teams (in content, media, design, web experience) across our organisations to get all aspects working together and had steering and subgroups for different elements of the campaign."
Richelle concurred, stating that "having a strong city brand that both universities were bought into was key" as it ensured they had a brand identity in common and prevented the need to try and merge the two universities' brand strategy and marketing outputs. The campaign leveraged Sheffield's newly relaunched city brand strategy with a landing page on Welcome to Sheffield's new website. A comprehensive shared media strategy, allowed the campaign much greater reach than any one organisation could have achieved independently.
That's not to say that working more closely together didn't bring new challenges to the table. "We developed a new collaborative approach that built on best practice across all organisations," Richelle shared. "We had to trust each other a lot and be extremely honest about anything that felt uncomfortable for our organisation.
What was the key to the success?
Mark attributed three things to the smoothness and pace of the project: committed financial and human resource support from all organisations; trust and confidence in both the idea and the people around you; and the timing. "If the right pieces aren't in place," he continued, citing the agreed objective, concept idea, and brand as key elements, "then it's possibly worth waiting. Trying to push for something that can't be executed to maximum potential quite probably won't lead to the right result."
Richelle and Claire also highlighted the importance of trust. "Ongoing communication, clear roles, and responsibilities and complete honesty," suggested Richelle, "A large working group and a very small decision-making group helped too."
"Added to this lots of spontaneous calls in the car or whilst making the dinner to just check we were on the same page or find a way through when we were seemingly at a dead end. This trust extended to our work with WASH, as our creative agency - they were completely on board with what we were trying to do" Claire expanded. By respecting that they each had their own stakeholders to consider – but that they all wanted the same end result – the campaign development was able to progress smoothly. "We were very clear this was about awareness at the top of the recruitment funnel and had a very precise target market," Claire continued. "We'd worked together as three individuals previously and that meant we didn't feel anyone was trying to trump anyone else. We were passionate about Sheffield and were generous in sharing."
Measuring the impact
When you have three different organisations with three complementary but distinct ambitions, how do you measure success?
"We will be running a brand uplift study specifically for this campaign, to measure responses to it and perceptions of it," Mark outlined. "Ultimately we'd love to see higher application rates within the geographical areas we are targeting, but we are seeing that as a longer-term goal that can be built on year-on-year if this collaborative campaign is shown to be a success."
The other measure of success is the partnership itself, as Claire highlighted to us. "Other Universities already see the fact we have got to launch with this as a huge success, as it just doesn't happen in the sector. It's actually ground-breaking and recognised as such."
Mark, Claire, and Richelle, will be joining us at City Nation Place UK to share inside details on how they developed the campaign, what was learned along the way, and their top tips for making a collaboration like this work. Find out more about the event here.