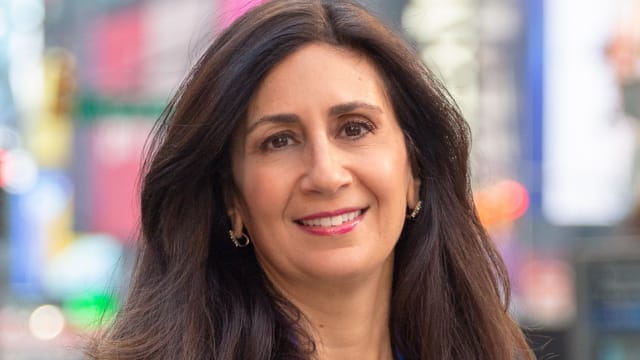 In The Spotlight
Rebranding the most famous city in the world
When you represent arguably the most famous city in the world, launching a rebrand can be a daunting task. Nancy Mammana, Chief Marketing Officer for the newly re-named New York City Tourism + Conventions, talked us through how they've developed their strategy and what they're doing to engage their stakeholders along the way.
Firstly, congratulations on launching the rebrand! How did it feel to be part of the team rethinking most famous place brand identity in the world?
Thank you so much. It feels incredible to be a part of this significant moment for our organisation. Launching our new name, New York City Tourism + Conventions, and accompanying brand identity, comes at a pivotal point in New York City's tourism recovery. Our new name reaffirms our position as the only official tourism organisation for New York City and our commitment to maximising travel and tourism opportunities across the five boroughs.


What prompted the shift from NYC & Company to New York City Tourism + Conventions?
As we came out of the pandemic and started to see normal travel patterns returning, we wanted to take a moment to reflect and reassess, and ultimately create clarity about who we are to the world. We knew that in addition to a new name, we needed to create a new, cohesive brand system that better articulates our mission and purpose, clarifies our structure, and establishes the future vision of the brand. The new name is straight forward, and along with the new brand identity, strategically positions the organisation to continue leading New York City's nearly $65 billion tourism economy. Our new brand represents our mission more clearly to the travel industry and to consumers around the world: to support New York City's travel and tourism economy, while providing a deeper, richer, more authentic experience of New York City for visitors. Our team, structure, mission, and global reach all remain the same, but we wanted to better define the work that we do.
Any rebrand can face backlash. Are you doing anything to advocate for the value of the new identity?
A lot of thought went into the new name and brand identity. We have a very fine focus, representing tourism and the tourism economy... we're focused on bringing people into the City to stay overnight to spend money across the boroughs. For us, to undergo a rebrand, it was about doing the right research. We did extensive research, including open surveys, and spoke often to our members, consumers and our board. Upon launch, we shared the new name and brand identity with our members who have adapted the new branding across their channels… the rebrand has been extremely well-received so far among our partners across the City.
Your announcement talks about harnessing the 'opinion power' of New Yorkers. Getting your citizens involved in place branding and place marketing can be a challenge for smaller places, let alone when you have 8.5 million residents! What are you doing to unearth and promote local perspectives?
To involve residents in place branding and marketing, we are using our social media platforms to gather opinions from New Yorkers with a campaign that we launched at our March 28 annual meeting entitled #WhatsGoodNYC. This taps into travellers' desire for authentic experiences, coming from genuine, enthusiastic perspectives shared by a diverse mix of locals. The campaign offers insights and tips from locals as well as recommended activities, to engage and encourage visitors and locals to explore all that New York City has to offer. The campaign features work from our Creator Squad, a group of NYC-based digital creators who create social-first video spotlighting NYC's various tourism sectors on our behalf. The overall idea is that we know there are endless things to do in NYC and endless opinions from New Yorkers on how and where to do them. As opinionated New Yorkers ourselves, we're here to help navigate those opinions, and we developed this campaign as an engaging way to bring this to life.
Are you working with your private sector on this new brand strategy? How are you engaging them in becoming ambassadors for your vision for the city?
Yes, we work with the private sector daily as part of our DNA since we are a membership-based organisation. Almost 2,000 local businesses across hotels, Broadway, performing arts, restaurants, attractions and retail comprise our membership, and we are dedicated to driving their businesses through tourism. Regarding the new branding rollout, we've shared a tool kit with our members and partners across all five boroughs on best practices for adapting the new brand, and have encouraged them to get involved in our social campaign as well. We will continue to support and partner with our members through our various marketing programs and company initiatives which all include the new branding.
Collaborative community spirit is at the core of your new brand identity. What would be your advice for destinations who are looking to share the love from tourism outside of their typical tourism hotspots?
Talk to locals and spend time engaging the communities that are the heartbeat of your destination. Through your organisation's initiatives, highlight the unique local culture and traditions of different neighbourhoods and communities. We have always been very engaged in our communities and provide platforms for locals to tell the authentic stories of New York City. We find this to be one of the best ways to encourage visitation and exploration to neighbourhoods across the five boroughs.
Finally, can you share any details about something in the pipeline for NYC Tourism that you're particularly excited about?


Next up, we're putting a spotlight on culture through our It's Time for Culture programme which will run from May 9-21, with offerings at nearly 100 cultural organisations across all five boroughs. Additionally, this year, we're celebrating the 50th anniversary of Hip Hop (which originated in the Bronx in 1973) through various initiatives and will be launching content on where to explore Hip Hop history across the boroughs, plus much more. Stay tuned for that information in the coming weeks.
We look forward to learning more! Thank you, Nancy.
Nancy Mammana will be joining us at City Nation Place Americas 2023 this June 7-8 to share her expertise on collaborating with your private sector. Learn more here.