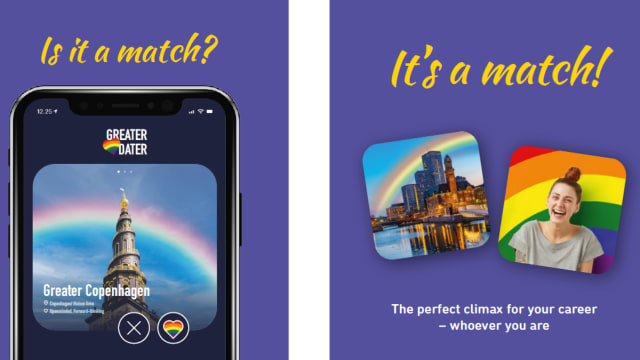 What Works
Hook up with Greater Copenhagen
entered by Copenhagen Capacity
In 2021, the cities of Copenhagen and Malmö (both part of Greater Copenhagen) were the hosts of the WorldPride & EuroGames – a big celebration of diversity, LGBT+ rights and love! It was the perfect occasion for the region to strengthen their cross-border Greater Copenhagen-brand, characterised by values such as democracy, freedom, equality, and happiness.
It also provided a chance to show foreign talent why Greater Copenhagen is such a fantastic place to live and work. But when COVID-19 hit the world, it put the physical WorldPride in high danger of being cancelled. So where did that leave the team's plans of showcasing Greater Copenhagen as an attractive career destination for international talent from the LGBT+ community?
The team created a mostly digital – and thereby COVID safe – campaign, that could speak directly to the target audience of highly educated, international talent aged 25-45 – likely to be relevant candidates for local job roles. They also targeted people interested in LGBT+ tourism, human rights, Pride celebrations etc, to hopefully get the attention of actual WorldPride visitors. And they came up with… a (fictional) dating app! Because, when you think about it, looking for a job and looking for a date have a lot in common – it's all about finding the right match.
Launching a dating app for your city
The fictional 'Greater Dater' app enabled the team to use the digital dating world's cheeky aesthetics and lingo to create a fun and colourful campaign, branding Greater Copenhagen as an attractive career destination open for internationals – no matter who they love or how they identify. The campaign's channel strategy focussed on online media, driving tragic to a rainbow-coloured version of the Greater Copenhagen Career Portal. The campaign's offline media outlets also included street posters and a photo booth on City Hall Square in Copenhagen where Pride visitors could have a professional photo taken to use on their CV – or dating profile!
By the time the work began in earnest on forming the strategy and creative idea, it was late spring 2021, by which time the event was almost sure to happen, but still with many limitations to physical activities. The campaign's online target group was estimated to 250,000 people (relevant international talent with an interest in LGBT+ rights, Pride, etc) and within just four weeks, their social ads reached approximately 220,000 of them.
More than 10,000 people visited the job portal within the same period, and in the one day the photo booth was open, they shot hundreds of portraits of WorldPride visitors stopping by. The team's partnerships with official event organisers created a great synergy and enabled them to use their platforms to strengthen Greater Copenhagen's place brand outreach by utilizing events closely linked with their values. Another great learning is to combine a digital campaign track with an offline one, with a newfound ambition to have more offline activities in their campaigns; the photo booth really showed the team how amazing it is to meet the people you want to excite and inspire with your place brand!
Caroline Lundsteen, Senior Marketing Manger for Copenhagen Capacity, will be joining the Inspiration Station for City Nation Place Americas on May 11-12 to share insights behind the development, implementation, and legacy of the strategy. Find out more about the conference here.