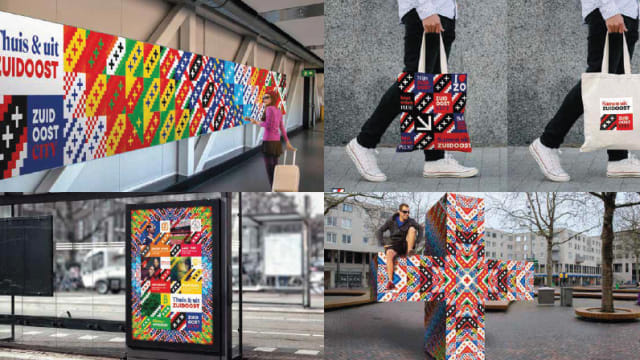 What Works
Developing an inclusive design identity for Amsterdam's fastest changing city district
entered by Zuidoost City [credits: Studio Wesseling, amsterdam&partners]
Zuidoost (Southeast) is the youngest district of Amsterdam; in 1966, the first pile for housing was drilled. Zuidoost is an attractive area with space, greenery, wide range of housing, and its pioneering climate. Residents have roots all over the world; more than 130 different nationalities are represented. All those cultures together in one neighbourhood ensures that Zuidoost has become its own city with its own stories. But it also faces challenges in terms of housing, safety, education, and employment opportunities for its residents. The district feels undervalued and underestimated, and too often has a negative image in the media.
In 20 years, Zuidoost will become as big as the City of Nijmegen, the 10th largest city in the Netherlands. Given these changes, it is important to preserve and enhance the unique character and qualities of Zuidoost.
From story to design
'The Zuidoost Story' was co-created with more than 150 stakeholders from the district: residents, entrepreneurs, companies, creatives, cultural and knowledge institutions, representatives of the visitor economy, and the municipality of Amsterdam. More than 100 stories about Zuidoost were collected by a group of creatives with 'roots' in the area, and based on this research, the DNA of Zuidoost has been given colour.
The visual identity has to connect the new and existing Zuidoost, and radiate the pride that connects everyone (both old and new), while emphasizing the unique character of Zuidoost within Amsterdam. Studio Wesseling's design uses the coat of arms of Amsterdam as a basis – the cross is turned around so it becomes a plus: the district residents feel less like someone from Amsterdam, and more like someone from Zuidoost. The design gives you two things. Each person gets its own identity (from Surinamese to Amsterdammer) and together, they are Zuidoost. All residents of all nationalities come together to form a whole. Companies and other organizations can mix their own brand identity with the Zuidoost design as well, allowing their identity to remain recognisable while showing their commitment to the community and locality.
A design you can make your own
The Zuidoost branding style will reinforce the current identity of Zuidoost, connect everyone with a proud new story, and positively influence the image of Zuidoost by communicating honestly with a focus on positive stories. With this branding, the team want to give recognition to the residents of a deprived area, people who do not feel recognised by the government, and who want to be recognised for who they are. All this is possible through the eclectic style that allows you to make it your own by using your colours and language. An identity has been created for a person and for a community.
This style and method is unique in its reciprocity and togetherness. Whether as an individual or an entity, you can appropriate the visual identity and become part of the whole. For the use of it, you have to give something back, in the form of money or a product. In this system, the large company pays for the small individual, so that they can participate equally and are equally visible. Together, they are weaving a colourful 'Bijlmer' rug (in design and literally in the area!) creating a proud and lasting social fabric in a multi-faceted district.