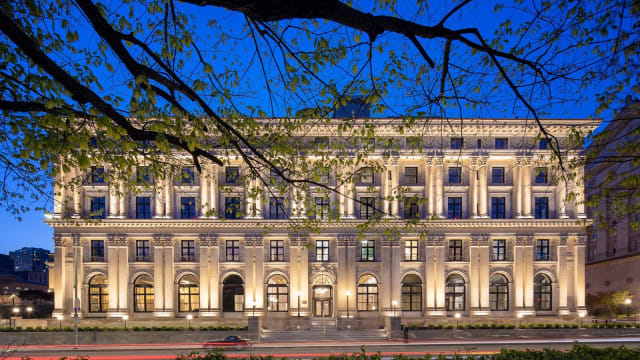 What Works
A walk and ride through Pittsburgh's Research Triangle
Pittsburgh Athletic Association restoration in Oakland, courtesy of CBRE-Pittsburgh
Pittsburgh's Oakland district is the focal point of innovation, and the city is collaborating with its key stakeholders to develop the district further. Mark Anthony Thomas, President of the Pittsburgh Regional Alliance, walks us through Oakland to show how they're strengthening the area. At City Nation Place Americas this May 11-12, delegates will be invited to attend an exclusive tour of the Oakland District to get under the hood of the strategy and see the impact first-hand.
In my first visit to Pittsburgh's Oakland neighborhood, I was immediately struck at the poetic urbanism. This would be my first glimpse of one of Pittsburgh's communities outside of downtown. For a big city dweller - it was impressive.
Most visitors are likely to enter Oakland via Forbes Avenue, the main street for Pittsburgh's second largest business district, and Pennsylvania's third. On a beautiful spring day, the University of Pittsburgh's iconic Cathedral of Learning will cascade above thousands of students and faculty from Pitt, Carnegie Mellon and Carlow universities. Residents, Carnegie Museum goers, tourists, and medical staff criss-cross streets and power a sense of place and serendipity.
We're working to add more entrepreneurs to the mix.
In 2017, Brookings Institute studied Pittsburgh's innovation economy and targeted Oakland as the priority for collective action to establish a clearer district with a mission to maximize the region's entrepreneurial potential.
Pittsburgh Innovation District, courtesy of InnovatePGH
A number of critical steps followed. InnovatePGH was created in 2018, which set the table to drive forth economic strategies in Oakland. The Pittsburgh Regional Alliance is an affiliate of the Allegheny Conference on Community Development, which has served as the region's civic voice for nearly 80 years. In 2019, we released our Next is Now report, and subsequent branding initiative, with Oakland identified as a competitive asset for our regional economy.
With more than $1.4 billion in academic research and development, Oakland is unique in serving as the innovation hub for southwestern Pennsylvania, as an idea factory for future companies and talent, and as a resource for the entire nation.
This is why City Nation Place Americas selected Pittsburgh's Oakland neighborhood to host its first post-pandemic conference. North American cities, in general, have untapped potential within our neighborhoods. In many places, affordability challenges coexist with blighted lots and disinvestment. For communities created to fuel the new generation of entrepreneurs and creative talent, aspiration is not enough.
We realize this and will host our peers to showcase the neighborhood's vision, while being transparent on the challenges that come with effective inclusive economic growth..
While Pittsburgh's city government is actively shaping a 10-year plan for the neighborhood, a number of key developments are underway. Pittsburgh developer Walnut Capital recently announced Oakland Crossings, a 13-acre redevelopment plan, which will bring more housing (including affordable units), commercial development and neighborhood amenities.
All three of Oakland's campuses have major expansions underway, including Carlow's new partnership with Edgemore to create its first development for the co-location of companies within healthcare and tech.
While Oakland is not adjacent to Pittsburgh's famous three rivers, there are two major development sites that encompass, what I would call, our research triangle.
The Pittsburgh Tech Center, which includes nine tech focused buildings, is one of the first riverfront redevelopment sites in the city. New developments such as the Riviera, will provide new wet lab space for life sciences growth firms. The University Financing Foundation, a key architect of the tech expansion in Atlanta's Tech Square, joined the PTC this year by acquiring an existing site.
The tour will end at Hazelwood Green, which is a gem for Pittsburgh and for the broad redevelopment of industrial sites in the Rust Belt. The 178 acre site is home to Mill 19, a hub for manufacturing innovation and research, and the Roundhouse, the home of OneValley, a Silicon Valley-based entrepreneurial support company.
Last year, Pitt announced plans to create BioForge, establishing a biomanufacturing facility at Hazelwood.
This is Pittsburgh in a pandemic, which I hope foretells a bright future ahead.