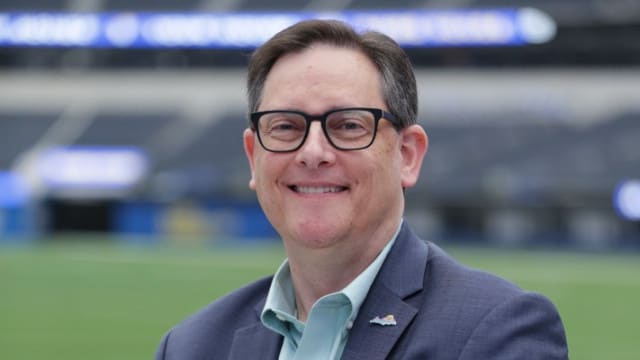 In The Spotlight
"We view ourselves as stewards of our community" says L.A. Tourism's Adam Burke
Los Angeles is arguably one of the biggest city brands in the world – there are few who won't have some preconceived perceptions of either Hollywood or the City of Angels. And in the run-up to the 2028 Olympic Games, the spotlight is on Los Angeles to ensure that mega-events deliver a regenerative, long-lasting impact for local communities. Before he joins us in Pittsburgh for City Nation Place Americas on May 11-12th, Adam Burke, CEO of Los Angeles Tourism & Convention Board, shares how they're collaborating with stakeholders across the city to deliver a greater quality of life for their residents.
Los Angeles is in the midst of an unprecedented line-up of major events – culminating with the Summer Olympics in 2028. What's the key to making sure that these events deliver a lasting legacy for the city?
Well, first of all, it takes an incredible amount of public-private collaboration to successfully bid on and host these mega events. We're extremely grateful that – as a result of community-wide effort – we're celebrating a decade of sporting events unlike anything I've seen before. In fact, from 2017 to 2022 alone, L.A. will have hosted the All-Star Game for the NBA, MLB, NHL, and MLS.
Beyond that, we just hosted Super Bowl LVI at the spectacular new SoFi Stadium, and upcoming events include the College Football Playoff National Championship and U.S. Men's Open Golf Championship in 2023, the NCAA Division I Men's Basketball West Region Championship in 2024, the U.S. Women's Open Golf Championship in 2026 – when we're also a Candidate Host City for the FIFA World Cup - all culminating with the 2028 Summer Olympic & Paralympic Games.
There are several elements that will ensure these events have a lasting, positive impact on our community. First, we're fortunate that – with 11 professional sports teams – there's been an unprecedented level of investment in new venues, which means that we won't have to build additional infrastructure solely for a one-time event. That makes the financial model exponentially more viable.
Second, these events bring a host of first-time visitors to the region – as well as those who haven't been here recently – which not only provides a major economic boost in the short-term, it also generates future leisure trips and professional meetings and conventions. We know that there is substantial incremental business over the long-term as a result.
Through our partners at the Los Angeles Sports and Entertainment Commission, we're also able to leverage these mega events to provide new business opportunities to hundreds of local merchants – particularly those from under-served communities. This not only provides an immediate infusion of new business, it also celebrates L.A.'s diversity and exposes visitors to a broad range of neighbourhoods.
Finally, in collaboration with event organizers and major sporting leagues, there is also a significant charitable component that generates long-term revenues for a host of local non-profits. In fact, the proceeds from the 1984 Olympic Games are still being used to support youth sports programs across Los Angeles through the terrific work of the LA84 Foundation.
You've mentioned before that the driving KPI for your organization is quality of life; we see an increasing number of places focusing on quality of life for their residents, but what's the key to actually measuring it in order to demonstrate the impact of your strategy?
The leisure and hospitality industry contributes to the quality of life for Angelenos in numerous ways.
First of all, travel and tourism is one of the leading industries for job creation. Prior to the disruptions of the pandemic, the Los Angeles Tourism sector supported 544,000 industry careers – that's 1 in 8.5 Angelenos countywide.
Second, our business model doesn't rely on local tax revenues. Instead, Los Angeles Tourism is funded by the taxes and assessments paid by visitors when staying in area hotels, which also means that the more visitor demand we generate, the more funding is available to reinvest in driving future visitation – it's essentially a self-sustaining model. In fact, hotel taxes contributed more than $319 million to the City's General Fund in 2019, supporting essential services for residents including public safety, sanitation, and cultural programming.
Of course, tourism is also one of the region's leading economic drivers. In 2019 alone, visitors to our City of Angels generated an astonishing $38 billion in total business sales for area merchants, including countless small businesses that depend on tourism for their livelihoods.
Finally, Los Angeles is a world-class city with an abundance of offerings that residents get to enjoy in large part because tourism is an integral part of the business model for these attractions. From new, iconic venues like SoFi Stadium and the Academy Museum of Motion Pictures, to award-winning restaurants, world-class arts and cultural institutions, and much more, tourism helps make L.A. a place that we love to call home.
Have you evolved your strategies to ensure that your residents are at the focus of all of your activities?
It's exceedingly important that Los Angeles Tourism involves residents in our efforts. We view ourselves as stewards of our community, and we want to ensure that Angelenos continue to view tourism as a net benefit – both personally and professionally. Beyond that, it's the Angeleno spirit of creativity, optimism, and innovation that makes our City of Angels a dream destination where everyone is welcome.
In Los Angeles, diversity and inclusion are the hallmarks of our community. Our residents hail from more than 140 countries and speak more than 220 languages. And to make sure that diversity continually informs everything we do, we're grateful to the members of our Community Advisory Board. These 25 Angelenos represent a broad cross-section of our community, and graciously volunteer their time and talents to ensure that diverse perspectives from our Black, Hispanic/Latino, LGBTQ+, Asian/Pacific Islander, Native American, and other indigenous communities are addressed in an accurate and authentic way that creates the rich tapestry that makes L.A. such a special place.
How can DMOs become more community-led to ensure that they're listening and responding to their citizen's needs?
There's nothing more important and valuable than being directly involved with our community. Our team members serve on the Boards of a variety of community and non-profit organizations, and are actively encouraged to do so. From our perspective, it's critical to actively listen to the evolving needs of our community, and to ensure that we can positively contribute to finding the right solutions.
Los Angeles has been under the media spotlight for a number of social and economic problems, such as homelessness. How can a destination marketing organization take a leading role in tackling these challenges?
At Los Angeles Tourism, we care deeply for the community we serve. For major urban destinations across the country, homelessness is a humanitarian crisis that requires collaboration across our entire community to find the right solutions to this incredibly complex challenge.
To that end, we're working hand-in-hand with our city and county officials to directly support their efforts to deploy unprecedented resources to end homelessness in Los Angeles.
We're also continuously looking for unique ways that we can help contribute to solutions. We recently partnered with OBEY Clothing and House Industries on a limited-edition merchandise line with the goal of contributing funds to a local non-profit. With our initial drop featuring iconic L.A. neighborhoods selling out online, this partnership has been an incredible way to share L.A. style and make a positive impact, with all proceeds going toward a $20,000 donation to the Midnight Mission, funding their work to provide essential services to those experiencing homelessness.
Do you have any tips to help other organizations who are looking to collaborate more effectively with their key stakeholders?
Cultivating a listening mindset is crucial to building authentic relationships that yield meaningful, actionable insights. My philosophy, both personally and professionally, is that I always have more to learn, and that everyone has something to teach me.
In that spirit, I would encourage others to actively engage with community leaders to better understand how they view our industry, and to find ways to work together in addressing the most pressing issues facing our communities.
If you could implement one thing in your organization – with no constraints or budget limits – what would it be?
It's actually something that we're already working toward, but that could be considerably accelerated if there weren't any budgetary considerations.
Specifically, our industry has an incredible opportunity to serve as one of the primary drivers of new workforce development. Through outreach to local schools, junior/community colleges, and local non-profits, we hope to build a comprehensive program of educational curriculum, job skills training, mentorship, apprenticeships, and – ultimately – job placement.
Too few people fully understand the breadth and depth of the tourism industry, and that represents an amazing opportunity to develop the workforce of tomorrow, and give countless Angelenos a viable, new career path.
Thank you for sharing that, Adam. We look forward to hearing more in Pittsburgh!
Interested in joining us in City Nation Place Americas? Book your place here.