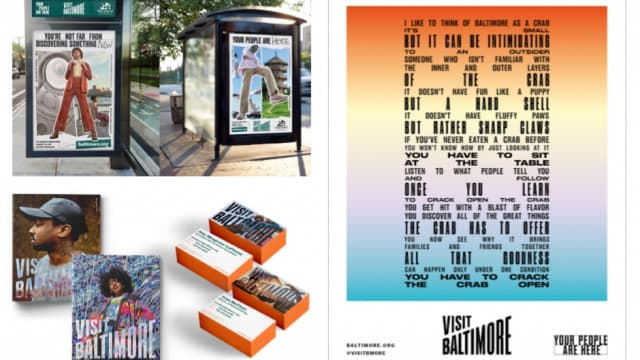 What Works
Unapologetic pride: A bold new brand for Baltimore
Entered by Bellweather Agency & Visit Baltimore, Best Use of Design Finalist, 2020
Despite Baltimore's cultural renaissance, rich diversity, and recent accolades from travel media, the city is often still associated with crime. Previous marketing let outdated stereotypes drive Baltimore's story, while the former visual brand was forgettable and, at times, confusing.

It was critical to authentically represent Baltimore's diverse population, showcasing the city's rich Black culture and heritage, as well as celebrating those leading change at a time when eradicating racism is at the forefront of our minds through bold, deliberate design. With the brand and campaign being launched amidst the pandemic and protests, the goal wasn't to sugar coat any of Baltimore's challenges, but to tell a holistic story that differentiates the city's unique heritage, while celebrating the people committed to making a better Baltimore.
Baltimore's Foundational Narratives
To identify the right message, the team hosted workshops and interviews where they facilitated honest conversations with key community stakeholders to determine Baltimore's Foundational Narratives:
Lead with culture: "One of our biggest revenue drivers is our arts and creative class." – John Brothers, T. Rowe Price
Expand history: "Like our neighbours, Philly and DC, Baltimore has rich history but it often surprises visitors." – Greg Bader, Orioles
Embrace contradictions: "We're passionate and full of contradictions." – Deanna Martino, Visit Baltimore
Youthful spirit: "Baltimore is a place where you can be whoever the hell you are." – Gary Almeter, Writer

Through these workshops, they also identified their key creative collaborators, including poet Kondwani Fidel, who became the lead copywriter, and local photographer Devin Allen, who was the lead photographer. Baltimore's creative heritage was infused through discoveries throughout the campaign. Baltimore is a city of language – from Frederick Douglass to Edgar Allen Poe – which is why the team partnered with local poets to create expressive copy, while collage-esque design elements nod to the city's underground, innovative arts community.
A brand for the people
The collaborative approach led to community support and a visual brand that Baltimoreans could recognise themselves and their city's heritage in. The campaign has two iterations, unified by the tagline 'Your People Are Here.' The tourism campaign speaks to urban travellers, promoting cultural and outdoor adventures, with collaged portraits of locals alongside images of museums and outdoor spaces. The locals' campaign highlights Fidel's heartstopping 'Beneath the Shell' poem to inspire local pride.
"The new brand and accompanying campaigns position Baltimore as an inclusive, exciting destination that encourages travellers to explore our neighbourhoods and feel invited, welcomed, and seen," explains Al Hutchinson, President & CEO of Visit Baltimore. The local response was also favourable, with positive responses from the community coming in every day, from photos of the advertising campaign being shared on social media to private emails all showcasing support for the brand.
Al Hutchinson, CEO at Visit Baltimore, will be speaking at City Nation Place Americas 2021 about how places and place leaders should be responding to conversations around diversity, inclusivity, and equitable development. Find out more about the agenda here.
Related reading
The inspirational women re-inventing the future of place branding and marketing
Hall of fame: 15 of the best place branding and marketing campaigns
Solidarity, public health, and the impact of soft power
Putting resilience at the heart of post-pandemic placemaking
'Hear, here': the sound of place branding
Live, work, play: the story behind London's latest restoration project