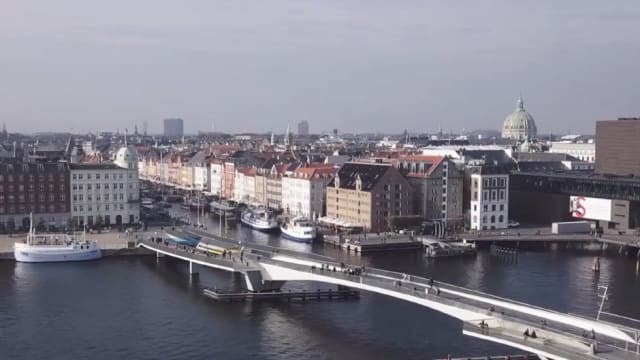 What Works
The state of Denmark
Entered by Copenhagen Capacity in Place Brand of the Year & Best Communication Strategy, 2019
Denmark, like many other countries, is struggling to attract international talent to vacant positions in industries where the local talent pool is insufficient. In Denmark, this challenge is particularly felt in the IT/tech and life science industries. Globally, countries are competing to catch the attention of the brightest minds and to win them over with the most compelling offer. Ironically, Denmark is not only taking part in the global competition for this coveted talent; among Denmark's five business regions fierce competition is also taking place. Most of Denmark's business regions have developed independent branding strategies to attract (the same) group of international companies and talent – and in the end, this is a zero-sum game with more losers than winners.
Facing this challenge, the team wanted to explore how they could end this multi-voiced, unfruitful cannibalisation, which not only interfered with companies' ability to attract international talent here and now, but also potentially muddled the long-term image and branding of Denmark internationally. The idea of creating something bigger nation-wide dawned on the Copenhagen Capacity team when Business Region Aarhus, Denmark's second-largest city, based in Jutland, and the national cluster organisation Food Nation, both reached out to them wanting to become part of campaigns promoting the Greater Copenhagen region – and so a new strategic branding adventure was embarked upon to support the ability of all of Denmark to attract international talent and companies.
From city branding to nation branding
Based on the experience of creating an award-winning and ground-breaking strategic digital communication platform for the Greater Copenhagen region in 2016, the team decided to scale this innovative city branding into compelling nation branding, showing what a great place Denmark and its five regions is for international talent and business. From analysis of the city branding, the team knew that soft values – happiness, freedom, creativity, co-creation and quality of life – characterise Danish society and have a strong appeal among international talent and companies. The team had, from previous campaigns, gained valuable insights about target groups. For example, men interacted strongly with messages about work life balance, whereas women aged +45 showed very little interest in this topic. It was therefore decided to create a national branding platform using soft values such as happiness, freedom, creativity, co-creation and quality of life as universal triggers (emotional selling points) to create interest in the Danish way of life.
Once the target groups engaged with those messages, they would be presented with content at regional level such as local industry clusters and specific job opportunities matching the user's professional background as well as local neighbourhoods with opportunities for living the good life (rational/unique selling points). All communication would be wrapped in the same tone of voice and visual skin to ensure the ideal customer journey. Denmark is used as the anchor of communication because Denmark has much stronger brand value and recognition internationally as compared to any Danish region – except for Greater Copenhagen, which is a very strong destination brand.
Building a platform for the umbrella brand
This umbrella strategy mimics the Greater Copenhagen strategy in which the team had also used the strongest common denominator, i.e. Copenhagen, to create brand awareness for all 79 municipalities in Greater Copenhagen. Again, previous insights and learnings from the Greater Copenhagen campaigns based on the concept 'There is more to our happiness...' supported this approach The campaigns created huge awareness and interest from people who wanted to know more about living and working in Greater Copenhagen. Many even submitted their CV to be on the waiting list for similar jobs if they did not get one in the first instance. And the majority would happily accept a job outside the City of Copenhagen. Digitally, the team had to scale the online branding platform developed for the Greater Copenhagen campaigns to handle a more complex setup.
Originally the platform was designed to show data driven approachand open jobs in one region. Now, they had to add a third parameter to the segmentation grid: business regions, in order to show local content based on online user behaviour. This data driven approach allowed them to develop and refine relevant and inspiring campaign communication to reach the right audiences and to make sure they are exposed to personalised and compelling content. To support regional buy-in, the team arranged meetings with important stakeholders and decision-makers to discuss the benefits of joining forces across the country. These stakeholders included town mayors, chairmen of the Regional Councils, head of companies, industry associations and industry clusters. In terms of creative communications, the team developed the branding concept "The State of Denmark", which launched in spring 2019.
There's something brilliant in the state of Denmark
The State of Denmark plays on Shakespeare's Hamlet "There is something rotten in the state of Denmark", however, the team's take is quite the opposite - "There is something brilliant in the state of Denmark". More importantly, the concept also has an ambiguous twist: State can mean "nation state" but also "a state of mind". For example, A State of Happiness and A State of Digital Excellence. Moreover, "a state of mind" captures what Denmark and Danish mentality is all about … it is a trusting, innovative, curious and playful approach to life and work, which is difficult to describe, but must be experienced.
Although the team succeeded in getting all stakeholders on board the idea of a national branding project, the process of implementing the strategic and visual communication did not happen without regional bias. Most of the stakeholders are local politicians, who are used to fighting for the interests of their municipality/region and with very little experience of e-commerce solutions and digital customer journeys. For example, some regional stakeholders wanted their city logos on all online material to increase visibility. And to complicate matters further, they were less willing to "take orders" from Copenhagen and the capital region, Greater Copenhagen, which Copenhagen Capacity represented.
However, in the end, through plenty of dialogue everyone understood the need for and fully supported the clear, user-oriented, one-tone-of-voice communication provided by The State of Denmark place brand strategy. So far, the team have created three digital talent attraction campaigns to launch this autumn. The first campaign is made in partnership with Odense Robotics, one of the world's top robotics clusters located in the city of Odense in the Southern Region of Denmark, as well as Business Region MidtVest and Aarhus Business Region, Denmark's second-largest city. Odense Robotics is home to 129 companies and 3,600 employees, innovating within robotics and automation. The campaign targets experienced automation and robotics specialists – and it will benefit both companies who are looking to recruit employees, and the robotics cluster organisation which is looking to attract startups to strengthen the local eco-system further.
The project represented a successful scaling up of the team's award-winning city branding into compelling nation branding, showing that Denmark and its five regions is a great place for international talent and business, getting all stakeholders on board, around a clear message about the unique Danish DNA and way of life, using a shared digital platform, a common tone-of voice and an aligned visual identity. The first State of Denmark campaign has launched with very promising indicative results and will run this autumn.
Discover more about the City Nation Place Awards
Related reading:
Hall of fame: 15 of the best place marketing and place branding campaigns
The politics of space, culture, and placemaking in post-COVID place branding
The Codenhagen Challenge | Best Use of Social Media Winner, 2018
Sustainable tourism in a post-COVID-19 world | Interview with Nanna Thusgaard, Wonderful Copenhagen
Your toolkit to managing your digital reputation post-COVID-19