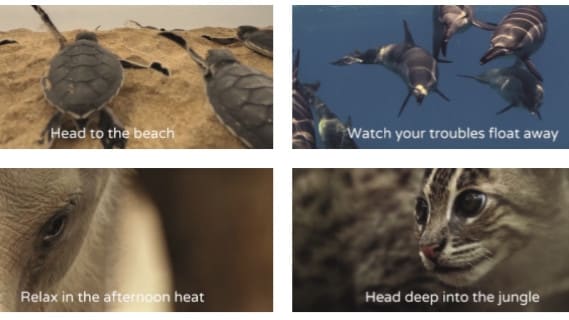 What Works
So Sri Lanka Through The Eyes Of A Native
entered by Wunderman Thompson, Sri Lanka [Credit: BCW London & Landor Singapore], Best Use of Social Media Finalist, 2019
Sri Lanka is an evolving tourist market which has seen steady growth in arrivals and investments over the past decade. Although being one of the fastest growing tourist destinations in the APAC region, it was far behind its neighbours in market size and lacked unique identity and personality compared to others. Sri Lanka was considered as just another sun and sand destination in Asia and was competing with well-established destinations. However, Sri Lanka had much more to offer its travellers from the eight beautiful UNESCO world heritage sites, thrilling hiking adventures to its rich biodiversity and more.
In addition, the huge shift towards digital in the customer journey for travel was impacting growth. In October 2018, the island was ranked as 'the top destination to travel in 2019' by Lonely Planet for its diverse and authentic offerings. Sri Lanka Tourism Promotion Bureau (SLTPB) wanted to leverage this opportunity and reassess its strategy to attract travellers in the digital age. The objective was to create a brand image which differed from the other island destinations. It was vital for the brand to be amplifiable on social media while preserving its authentic identity.
Establishing unique, authentic experiences
Global travel trends have affirmed that modern day travellers are seekers of authentic, distinct, cultural and diverse experiences. Findings also revealed that the most endearing feature of Sri Lanka as a destination brand is its authenticity. In elevating Sri Lanka's destination brand and focusing on its diverse offerings and unique attributes the brand 'So Sri Lanka' was created. 'So Sri Lanka' validates Sri Lanka's authenticity as an attribute that is alive in its heritage, cuisine, landscape, architecture, culture and mostly in its people. It is one expression with many attitudes, feelings and emotions. Keeping the digital shift in mind, the team decided to focus their efforts through social media. However social media was already inundated with images and videos of Sri Lankan scenery, food and people.
The team had to find a different approach to drive authenticity and establish the island as much more than sun and sand. It was important to not create another destination commercial which merely showcased the beauty of the country. Sri Lanka's climatic range and its lush vegetation and biodiversity makes it the perfect home for a wealth of wildlife ranging from elephants to sea turtles. It was decided to brand the inquisitive wildlife as the guides for travellers choosing Sri Lanka.
The idea was born to bring the country's unique landmarks, breath-taking landscapes, diversity and personality to life, through the eyes of the true natives of the country. The objective was to drive online engagement to entice experience-seeking travellers to consider visiting Sri Lanka and to drive consumers to visit SLTPB website to find out more about travel to Sri Lanka.
Looking through the eyes of the natives
The team partnered with award winning wildlife producer, Nicola Brown to create a 3 minute video which showcased the island's natural beauty, stunning diversity and dramatic landscapes as experienced by its animal inhabitants, who know it best. To bring out the idea of how wildlife viewed the island, special filming techniques were used. Support of local conversation groups were obtained while working with rescued animals and it was ensured that no animals were harmed during filming. A sneak peak of the full film was released in November 2018 at World Travel Market London along with Sri Lanka Tourism's new brand platform 'So Sri Lanka'. The full film was released in January in Sri Lanka's main tourism markets UK, Germany, France, India and China. Targeted paid promotion allowed the team to amplify the reach of the film on social media such as Twitter, Facebook, Instagram and YouTube and to drive meaningful engagements from targeted audiences, the traffic was driven to multiple in market microsites.
Behind the scene videos were developed to engage and connect with the audience while showcasing the depth of work involved. The main challenge was to create a compelling content to entice the travellers, whilst portraying that Sri Lanka was different to other travel destinations. It was also important to in still positive sentiment towards the content and drive authenticity.
The campaign was a huge success and created 100% positive sentiment in all markets across all platforms. The campaign garnered 101,000,000 reach in social resulting in 18,000,000 interactions. The 15 sec turtle video in Hindi on YouTube has been a phenomenal success to date with over 3.5 M views. The videos drew impressive traffic to its microsites, resulting in 1.5M impressions in Germany, 3M in UK, 2M in France and 10M in India.
According to the data released during the first quarter of 2019 tourism earnings reached $1.3 bn, recording a growth of 4.6% over the corresponding period in 2018.