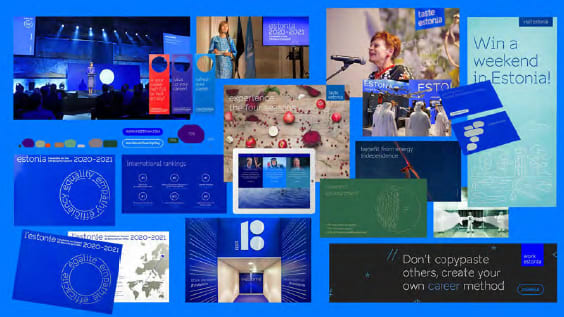 Estonia
Learn more about Enterprise Estonia's Best Use of Design strategy.
Entered by Enterprise Estonia
Estonia's first country brand concept, "Welcome to Estonia", was launched in 2002. Due to the nature of the message, it was used mainly by the tourism industry. Since 2002, Estonia has made a huge leap forward, becoming one of the most digitally advanced countries in the world and it was evident that the simple invitation was not cutting it any more. A study in 2015 showed that only 2% of exporting businesses had used the logo. At the same time, different sectors, both private and public, were in dire need of messages and materials to promote the country abroad. A broader and more unified brand platform was called for. The project was assigned to the Estonian Design Team — a collaborative task force comprised of the best Estonian design and communication professionals - who were able to develop the new brand platform and corresponding visual identity system in just 6 months - https://brand.estonia.ee/
The visual language of Brand Estonia's main challenge was to create the image of a modern Nordic digital society in all mediums, especially in digital mediums as it is the main strength of Estonia. The visual language of Brand Estonia is to keep things clean and simple - making imagery more legible and emphasizing only the essential. Instead of a single logo, wordmarks that link Estonia with a specific industry or topic were utlised that emphasize the country's name, or simply the letter "e" in visual mediums - positive e-words in titles, slogans and text excerpts — words like Estonia, egalitarian, e-residency, emphatic, exuberant, exceptional - in order to create a link between positive and progressive words starting with the letter "e" and Estonia. To stand out visually, a custom typeface was created - the most widespread and recognisable element of the brand, and an ever expanding set of infographics and icons are available.
More than 70 institutions, organizations and businesses used the Estonian brand tools in 2017, among them The Office of the President of Estonia. At the beginning of the project the Estonian Design Team had a goal that the unified messages and visual language would be used by different sectors communicating outside Estonia and this was achieved in less than a year. In addition, the virtual and physical gateways to Estonia have been updated with the new look. There were over 5 million unique visitors last year on the web pages created by EAS utilising the new branding. The visual language and messages have been implemented at 33 different events across sport, business, music etc.
Building a strong country brand is a long-term task, but already a positive change is evident. Brand Finance Nation Brands 2017 report, has ranked Estonia in 8th position in best Performing Nation Brands. In 2017 exports of Estonian products and services grew by 8%. 2017 was the best year in Estonian history for tourism sector, there were 7% more tourists in accommodation establishments than in 2016. Compared to 2017 foreign direct investments have grown 82% by July 2018.