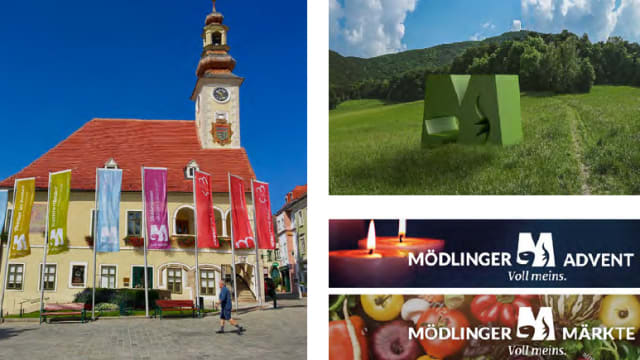 City Of Mödling, Austria
Learn about message Marketing & Communications GmbH's entry for Best Use of Design
Entered by message Marketing & Communications GmbH
Mödling is a small city (population approx. 20.000), located roughly 14km south of Austria's federal capital Vienna. Resulting from the urban regeneration department's participatory process, elected politicians and the public agreed on the necessity to sharpen Mödling's positioning and to strengthen its brand to aid the city's development. Mödling is a city with an outstanding level of education and buying power. It is very rich culturally, with many artists in residence. Famous figures, such as the composer Beethoven, chose Mödling as their summer retreat. Mödling is well known for its beautiful historic quarters with still many owner-managed shops. Although Mödling is an important site for higher education ("HTL Mödling" is Austria's biggest polytechnic institute), it has become difficult to successfully address young people's needs, a reason for the city's demographic ageing. Mödling's public design mirrored this situation: the local newspaper, the city's official website, the cultural programme, placards, etc. had no consistency. There was no contemporary design addressing young people. The objectives were to create a strong, rejuvenating brand for the city and develop a new, fresh design concept involving as many citizens as possible in the development process. To create a brand for the whole city – not just for the council!
The brand for the city of Mödling was developed in 4 stages: A new narrative was created and a "narrative kit" prepared to create a consistent story of the city. There was the need to develop a consistent, modular and resilient design concept, involving stakeholders in the process in order to strategically turn them into "Brand-Ambassadors". The establishment of a sustainable brand leadership within facilities of the council, as well as important stakeholders in culture, education, leisure and local economy, was crucial. Mödling worked with two external partners: "NÖ-Regional" (a facility of the federal state of Lower Austria, which supports cities in urban regeneration processes with facilitators and funding) and the Austrian brand agency "message". "Message" specialises in dialogic and participatory development of city brands and city design. The development process was set for a duration of around 8 months.
Stakeholder-Workshops were held with citizens, artists, entrepreneurs, representatives of the council, and the education sector, and a Wall of Ideas was created. In highly frequented places citizens were asked to share their opinions: What are Mödling's qualities? What should be renewed/retained?
The team motivated citizens and visitors to upload pictures on Instagram and Facebook using #meinmoedling [#mymoedling] to help them to understand what people love about Mödling, as well as encourage citizens to think about the beauty of their hometown. This helped the team distribute new and better images of Mödling on social media and identified and connected with influencers. Mödling's creative minds were invited to two design camps in order for them to get involved in the brand development and "message" developed several design and storytelling approaches for public exhibitions where citizens, entrepreneurs, students, and other stakeholders were invited to comment on brand concepts and evaluate them.
A new brand architecture enabled the city's sub-brands to remain independent but receive recognisable consistency and all applications of the council appear in the new design. There has been a relaunch of the local newspaper, updated branding in public spaces: e.g. flags on the main square, and elements of the city design and city brand are at the free disposal for all citizens. Via www.marke-moedling.at people have free access to all assets to allow low-level distribution and application of the brand. The team deliberately used license-free Google fonts so that everyone can participate effortlessly, without licensing expenses.
Several core elements became the foundation for Mödling's new narrative: City of Talents – Mödling's talents are positioned at the very heart of the city's story. City of Quality – the activities of the city and its stakeholders are guided by high-quality standards, City of Chances – Mödling is an important site for higher education City of Recreation – the city with its widespread green areas and the banks of the Mödling river. City of Festivals – Mödling's tradition as "City of Culture and Festivals" has been reinforced.
The newly focused core themes of the city became noticeable in a variety of activities in year one, right after the new concept was created. The quality of design improved considerably. The cultural programme is now guided by an even higher standard of quality. The activities around the revival of the inner city are being adjusted to the new brand concept step by step. Crucially, the participatory formats have also motivated social-media influencers to create positive content.