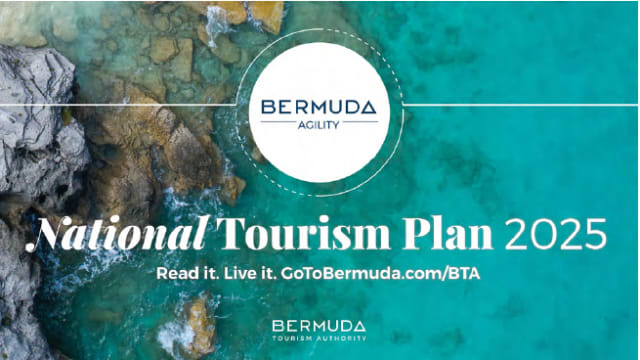 Bermuda National Tourism Plan 2019-2025
Learn about Bermuda Tourism Authority and RedSky Strategy's Place Brand of the Year
Entered by Bermuda Tourism Authority and RedSky Strategy
Following a decades-long decline in tourism, Bermuda is now experiencing a resurgence—a comeback boosted by successfully hosting the America's Cup in 2017 and leveraging its legacy benefits. Prior to this resurgence, Bermuda's tourism decline was caused by, among other things, increased competition (and spending) from other destinations, lack of awareness in what the island has to offer, as well as static airlift. Bermuda had last developed a National Tourism Plan (NTP) in 2012, but that blueprint was unable to interrupt the trends of a declining industry and by 2018 the plan was out of date & few of the strategies had been successfully implemented. So while Bermuda was in comeback, systemic issues remained. The 2018 National Tourism Plan strives to solve those systemic issues. Through in-depth stakeholder analysis and research among visitors, non-visitors and residents, the team identified a number of core challenges.
Potential visitors in the target segments knew little about Bermuda, where it is located and what differentiates it from other destinations. The tourism industry is reliant on the natural beauty of Bermuda, but wasn't really looking at developing tourism in a sustainable way. Many aspects of the tourism infrastructure, from the airport to transportation to accessible facilities for disabled travellers were not engendering an optimal visitor experience. In addition, a number of residents seemed disillusioned with tourism and didn't feel it was important to the economic growth of the country. The prevalent approach was 'build it and they will come' – the tourism industry did not have a visitor mindset. Bermuda needs to attract more people in the non-summer months and achieve a greater balance between cruise and air passengers and to increase the number of groups and sports-related visitors if it is to reduce the peaks/troughs of seasonality
Therefore, the objective of the 2025 National Tourism Plan (NTP) was to increase the growth trajectory of tourism in a sustainable way by understanding and dealing with some of these internal and external issues.
It was agreed the guiding principles of the NTP were to ensure the plan is robust, actionable and inspirational. In addition, the team wanted to ensure all voices were heard and that the concept fostered collaboration and a shared vision for the future of tourism. Culturally, they recognised that within Bermuda, tourism was viewed as relatively stagnant and bureaucratic, with benefits going to a few people and not to the Island in general.
The team wanted to play up Bermudians' natural ability to change and adapt. Based on the key challenges several key objectives were developed.
The target is that, by 2025 tourism will contribute: $1.2bn to the economy (GDP) - up from $800m in 2018. The team are also targeting 6.3% growth in air + cruise leisure spending and 4.5% growth in all leisure arrivals. The goal is that more than 30% of visitors will arrive via air – the figure is currently 25%. In addition, there is the need to balance summer and non-summer visits with a target of 56% of arrivals to come in non-summer months (currently 52%). Currently only 4% of visitors are African Americans but Bermuda has a great deal of history that is relevant to this community. The goal is to double that figure. The team are striving to provide a world-class customer experience and to increase visitor satisfaction level from 76% to 83%. Crucially, there is a real desire to engage the local community with the key metric being to try to ensure that more than 70% of residents support the growth of tourism (the figure is currently 61%).
To address the challenges and meet these objectives, the team has built an overall strategy that seeks to not only change the myriad activities related to tourism, but also the mindset of the tourism industry within Bermuda. The goal is to build up a new way of thinking, based on the ability to adapt and change – in essence, creating a new sense of AGILITY for tourism. The team therefore addressed each of their seven challenges through this lens in a way that spelled out AGILITY - to reinforce the core theme and ensure everyone in Bermuda would remember the seven core chapters of the plan.
Before the plan was launched, the team held numerous consultations with the Board of Directors & key stakeholders and convened 25 stakeholder working sessions to discuss various elements of the plan. These consultations led to several refinements of key plan elements and proposed actions. The plan was launched in October 2018 at a Tourism Summit that included nearly 200 participants in the tourism industry including airlines, tour operators, cruise ships, hoteliers, restauranteurs, government representatives and media. At the summit, participants heard about key aspects of the plan and could attend breakout sessions to learn about and discuss each chapter in detail. Following the summit, the team embarked on an ambitious awareness campaign.
Numerous education sessions for the industry were held in both Bermuda and New York, in particular to educate marketing and front-office managers on the team's activities. In addition, a number of public information sessions were hosted across the Island in order to increase awareness of the plan and to answer any questions from the public.
Most of these sessions were attended by the Minister for Tourism and Transport. The team also worked with the local TV stations to develop a series of seven short vignettes (one for each chapter) that would be broadcast during a popular local news show. In addition, several multi-disciplinary groups were convened to begin implementing the NTP. These groups cover all seven chapters of the plan, and include 'Rapid-Cycle' teams to develop specific cultural tourism experiences, working teams working on mid-term projects and permanent multi-disciplinary groups made up of stakeholders to deal with longer-term issues e.g. to develop a robust vacation-rental interest group and to enhance accessibility options for disabled visitors.
A number of sub-strategies have been put in place to deal with specific issues highlighted in each chapter. Internally, the NTP drives the BTA's goals and actions, and as part of annual strategic planning, the BTA selects action items from the plan and prioritises them for execution. Divisional and individual performance objectives across the BTA are rooted in these annual priorities. Additionally, the progress of action items is transparently shared with the public through a performance dashboard.
2018 saw solid growth in tourism up 11.7% for leisure air arrivals, while 2019 brought a 5% decline through the second quarter due to an unforeseen reduction in air traffic. Importantly, total spending among vacationers is higher year-over-year – mitigating some of the declines in visitors. Visitor satisfaction has already seen an increase from a benchmark level of 76% to 82% by mid-2019. The team have expanded its media footprint to new cities to increase awareness and partnered with NGOs such as 'Friends of the Railway Trail' to develop short and long-term sustainability initiatives. The team have also worked with the government to grant licenses to special electric vehicles and started to streamline the airport arrivals experience as well as develop a new Cultural Tourism. Local communications outreach has been substantially increased and a programme initiated to introduce tourism as a career to high-school students. A follow-up study is planned to track evolving attitudes among residents, but already there is a clear increase in tourism entrepreneurship.