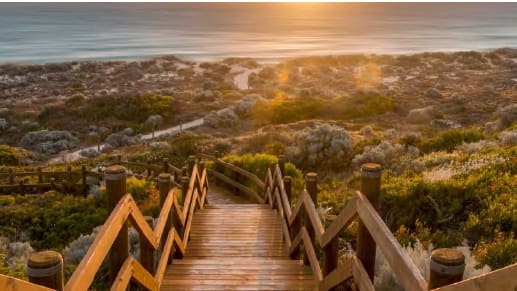 Yanchep Lagoon Master Plan, Western Australia
Learn about the City of Wanneroo and Roberts Day's entry for Best Citizen Engagement
Entered by City of Wanneroo and Roberts Day
Yanchep is a small coastal community in Western Australia. With the natural beauty of Yanchep Lagoon and Yanchep National Park, it is a regionally significant tourism asset, with significant growth already underway. In the next 20 years, the Yanchep population will grow from around 10,000 to 45,000 and become the most populated region in the City of Wanneroo. During this period, Yanchep will emerge as one of Perth's largest activity centres, with significant services and infrastructure. Responding to this growth, the City decided to prepare a plan to develop a strategic blueprint and place vision to guide future development.
On the surface, achieving a successful outcome looked likely as the highly vested community is passionate about the iconic Lagoon. But in reality, there was a risk of controversy as the project was prepared amongst a simmering of discontent and frustration over past developments. The City identified early that implementing a traditional model of community consultation would not be adequate. Instead, a delicate, collaborative community engagement approach was chosen to harness the passion and regain the trust of the community and stakeholders.
Recognising that Yanchep Lagoon is an important economic and environmental asset beloved by the local community, the City committed to a genuine collaborative visioning process in partnership with local residents and community groups, local businesses, and government representatives. As Local Government engagement is often accused of being biased, not genuine, or reflecting the voices of participants, the City decided on an interactive planning and design forum as being the core of the Yanchep Lagoon Master Plan engagement strategy. Yanchep residents are extremely passionate about their locality, so to be successful the plan needed to capture participants' ideas and genuinely reflect local values. The City is pursuing a progressive agenda of place-based development within the Yanchep region to create greater opportunities for community development, tourism, economic growth, and social recreation. Yanchep Lagoon is central
to this agenda and significant background work in this space was drawn on to shape and inform the process from a regional perspective. A key aim of the delicate engagement strategy was to balance community expectations. This included pinpointing key values and priorities and having an open discussion around realistic expectations for the future regional tourist location.
The engagement strategy included a strategic assessment of the Lagoon's existing conditions and capacity for change. An interactive three-day Planning Design Forum was scheduled which would feature live design workshops, enabling participants to respond to ideas and plans, actively shape the Master Plan, and enhance social outcomes.
The strategy incorporated an integrated communications and marketing campaign to ensure all communication activities were strategically and meticulously planned and released in time for key engagement activities. This resulted in great community awareness and high participation numbers. The campaign was launched in October 2018 inviting the community to participate in an extensive, collaborative place and design process over an eight-week period. Implementation encapsulated broad vision and objectives setting and digital outreach through multiple channels, including interactive online mapping and survey tools. A community 'open house' initiative was launched to outline engagement outcomes and reasoning to the broader community.
Extensive online digital engagement up front gave the project team insight into community values and enabled the agenda and activities for the forum to be specifically tailored to key local issues. The stand-out component was the way questions were framed throughout, to glean an in-depth understanding of local values, activities, needs, and priorities. Asking the right questions ('people' not 'planning' questions) and designing appropriate exercises at the workshops were instrumental in this regard. When armed with an in-depth knowledge of values, target users, and future requirements, designers could more effectively customise the plan. Each workshop exercise provided a rich local insight and powerful direction for the designers to respond 'live and on the spot'. The project team's knowledge of the Lagoon and community views continued to build throughout the process, and participants were able to view live how their input was being reflected in the changing design.
The place-led approach and strong level of community involvement transformed local confidence in the City and its planning process. The reason for this success was the open and transparent conversation undertaken early which was reflected in the ultimate Master Plan and fed back to the local community. In contrast to the City's past statutory consultation process, the outreach and participation statistics were highly impressive with 5,000+ people involved - over half of the entire local population.