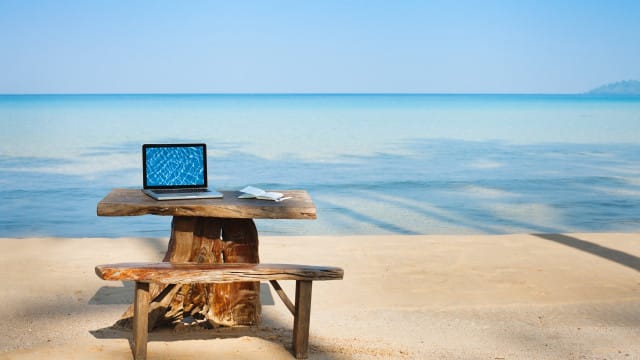 What Works
What makes a destination a compelling location for digital nomads and remote workers?
Digital nomads aren't a new concept. Indeed, many have been making it work for years prior to the pandemic. However, the pandemic brought remote working into the spotlight and suddenly, a significant portion of the workforce has woken up to the realisation that they can work from anywhere – and an increasing number are starting to take that to the next level.
Of course, there's a lot to be gained as a destination as well. Digital nomads stay longer, explore deeper, and spend more than a more traditional tourist, sitting perfectly at the intersection between visitor and resident. This market became particularly attractive during lockdown, and a number of destinations turned to promoting themselves as the perfect location for remote work. Here are six ways that places put the focus on digital nomads over the past two years, and what makes their campaign stand out from the crowd…
Bermuda: The Work or Study from Bermuda Certificate
In the early days of the pandemic, Bermuda noticed a shift in the pattern of visitors arriving at the island. Rather than go through the headache of COVID-passports and new travel forms for just a few days' holiday, people were arriving with the intention of settling in for a long time. In response to this surge, Bermuda adapted an existing residential programme to facilitate those looking to work from Bermuda to avoid home lockdowns. Unusually, this programme was also targeted at those studying, so long as they could demonstrate they would be able to support their costs over their time on the island.
"Really this is a Department of Immigration programme," said the Interim CEO of Bermuda Tourism Authority, Glenn Jones. "It's not usually something [the tourism authority] gets involved in, but it makes sense for us to help market it because our stakeholders will be the ones serving these consumers who decide to come. They are kind of a hybrid of visitors and residents."
This is not the only programme of its kind, but it's place on this list is well earned for the speed with which it was put into action. Bermuda re-opened its air borders to travellers on July 1st 2020, and the Work from Bermuda Certificate Programme was launched just a month later on August 1st.
Barcelona: Move your desk. Change your life.
As part of their ambition to become a more sustainable destination, Barcelona is focussing on increasing length of stay, reducing seasonality, and connecting tourists and locals. A new programme, called Barcelona Workcation, challenged digital workers to relocate for a period to the city using the slogan 'Move your desk, Change your life.'
Two different options – a rural / seaside relocation and a more urban experience – were offered to highlight the breadth and variety that Barcelona had to offer. Where this campaign really shone was with the support offered to digital nomads: from accommodation to temporary medical insurance to six months of access to 25 of Barcelona's museums, remote workers were provided with everything they could need to ease their transition into the city. While the campaign marketing was slower off the mark than anticipated due to unexpected COVID waves, the serious consideration and policy work that the team at Barcelona has put in place will create a solid foundation for future promotion.
Hawaii: Movers and Shakas
Hawaii has been struggling with a brain drain for some years, and a remote work programme could prove the solution. The island's remote work programme offered 50 people a free round-trip to Honolulu to work from Hawaii. What's different about this strategy, is that the round-trip comes with a catch – all the participants had to commit to helping a local non-profit to give back to the community.
The strategy aims to attract, integrate, and retain key talent. By encouraging the participants to become actively involved with the community during the stay, the digital nomads will be able to fully experience life as an islander. And critically, they're more likely to put down roots in the community and want to stay longer-term. 'Movers and Shakas' is now moving on to their second round of participants, and hopefully the strategy is a good first step towards creating a more sustainable and resilient Hawaii.
Western Cape: The Neverending Tourist
This one's a little different from the rest of the list, as this campaign isn't directly geared towards remote workers. However, Cape Town and the Western Cape are placing a renewed focus on digital nomads and is rapidly rising up the rankings of best cities for remote workers; just a few months ago, they launched a campaign challenging South Africans who'd moved their work to their homes, to ask themselves 'where next?'
In the light of this, it's well worth taking the time to applaud the ingenuity of this campaign.
The team at Wesgro (the trade and tourism promotion body for the Western Cape) reached out to a small selection of 'neverending tourists.' These are the people who travelled to the Western Cape for a holiday, fell in love, and never left. The campaign told a selection of highly personalised stories that detailed the variety of reasons that people fell in love with the region. Coupled with the renewed energy in promoting offerings for digital nomads, it's a powerful and compelling message to travel to the Western Cape for the same experiences.
Aruba: One Happy Workation
Aruba's marketing communications have been built around the concept of 'One Happy Island.' The positioning highlights the idyllic lifestyle available on the island – and, during lockdown, this became an attractive idea for many.
As well as offering many of the perks that other digital nomad schemes provide, Aruba's programme builds on their original messaging of an island of happiness to provide the perfect environment for a workation. What we really love is how seamlessly they've blended traditional business jargon with idyllic shots of life on the island…
Estonia: Digital Nomad Visa
Estonia has been known for its innovative policy making for many years now. Their e-residency programme has been offering a virtual foothold in the EU since 2014, facilitated by the ease of the Estonian public e-services. In fact, 2021 saw as many new e-Residents as actual births in Estonia. Now, they're looking to leverage a digital nomad visa to combat a post-COVID recession.
Whereas the e-Residency programme offers the opportunity to operate in Estonia remotely from anywhere, the digital nomad visa closes the gap to allow remote workers the opportunity to work from Estonia for up to a year. The visa is another step in Estonia's journey towards becoming a tech-enabled, open, digital society.