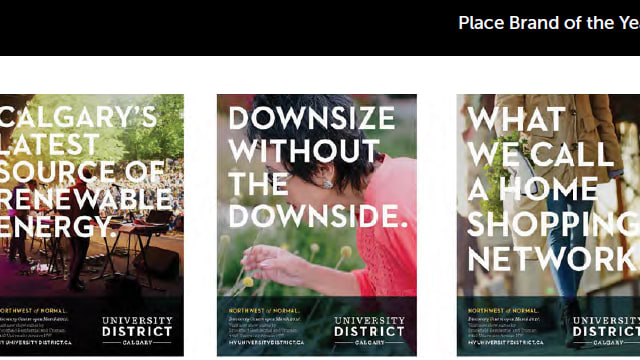 University District
Learn about West Campus Development Trust's Place Brand of the Year.
Entered by West Campus Development Trust
On 200 acres of endowment land next to the University of Calgary in Alberta Canada, University District is a place designed to influence local culture, disrupt industry and help people live more mindful lives. It's a community assembled on the confidence that master-planning revolves around more than bricks and mortar, but on fundamental human needs, quality of life, and community connections. This master-planned community, developed by West Campus Development Trust, will boast 7,100 multi-family homes with the goal of creating a complete community with a sense of place. The development builds on the character and strength of the five established surrounding neighbourhoods, aiming to be more than a good neighbour, but a place that will enhance the quality of life for the region.
University District is created on a principal of social change — it's a place that focuses on people, human connections and overall well-being through everything from walkable streets, easy access to amenities, pathways for cycling, as well as parks and playgrounds, green principles, daily services and unique locations to spend leisure time. University District is defined by a bold vision and a commitment to the lands, driven by results that will benefit all in the long term rather than taking the most direct route to profits. The team has used an unconventional positioning to highlight the many socially responsible and forward thinking ideas at play in the community design. Like inter-generational responsibility (buildings that accommodate aging in place and connect seniors with other generations), with universal design (inclusive play structures and streets). University District is the first Leadership in Energy and Environmental Design for Neighbourhood Development LEED-ND Platinum level community in Alberta and its criteria covers more than 80 individual aspects of sustainability, from sustainable design. Creative Placemaking is a defining pillar of the strategy as a means to forge significant connections between creativity and economic value.
University District's target market is multi-generational, made up of young professionals, empty nesters, seniors and growing families whose lives will benefit from proximity to the things they care about. To communicate how University District is truly a different kind of planned community, the marketing campaign adopted the line 'Northwest of Normal', playing up the development's location in Northwest Calgary as well as its unconventional philosophy.
Since first phase launch in March 2017, the community received an unprecedented amount of capital investment from six best-in-class building partners in eight capital projects. This overwhelming demand resulted in an accelerated phasing. University District has been upheld regionally as the new standard for engagement and community development. Despite Canada's worst recession in 30 years, the three building partners' residential projects are already 79% sold. Interest in the marketplace isn't limited to homebuyers. The development has received over 11,900 inquiries from retailers, businesses and neighbouring residents eager to be part of the community. A testament to its economic readiness, the community was handpicked by the economic development authority as an ideal location for the city-wide bid for Amazon HQ2.