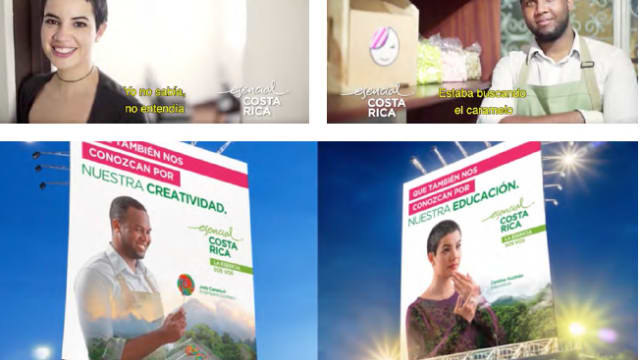 The Essence Is You
Learn about essential Costa Rica's Best Communication Strategy
Entered by essential Costa Rica
In the year 2018, Costa Rica chose a new president in the country's second round of democratic elections. However, this was an atypical electoral process, full of tensions, discussion and two political parties with totally opposing ideologies, which wound up completely polarizing the population. Costa Rica has always been a country known for its tourism attractions. Essential Costa Rica, its country brand, also seeks to have it known for its people. But on this occasion, as had not occurred in many years, its people continued to be divided even after the elections. In this environment, the challenge was complex: How can a country brand reunite a country so divided by political discourse?
The team sought to reunite the country, not through further discussion, but rather through Costa Ricans way of working, their talent, and their achievements. Through something that makes them feel proud. Six Costa Ricans with different skills and talents were selected - none of them famous or internationally renowned - simply ordinary Costa Ricans doing extraordinary things.
Camila Haase: Disabled swimmer who participated successfully in the Rio 2016 Paralympic Games. Alexis Morales: Trumpet player, member of the Board of Directors of the International Trumpet Guild. Carolina Guzmán: Teacher and entrepreneur who cofounded a sign language school. Marianne Hütt: Neuroscientist researching a cure for cancer. Iván Vargas: PhD in plasma and nuclear fusion physics and plasma production laboratory director. Jody Campbell: Confectioner and entrepreneur in candy commercialization.
Their stories were told in different media, converting them into ambassadors of the country brand. Through these different messages the figures were shown to be examples of what Costa Rica could be known for above and beyond beaches and mountains - to prove that a country of 5 million population can also be known for its people.
The team exchanged political discussions for a feeling of pride in the nation, its essence. The ambassadors became the face of the brand and the campaign. Their faces appeared on billboards, lightbox signs and the backs of buses in the country's busiest areas. Activations across various social networks sought to motivate Costa Ricans through the ambassadors' stories. Digital banners on different local news websites directed participants to a landing page where people would not only find the stories of the ambassadors but also a place where they could propose new candidates. Similarly, within the website itself, there was a section designed to motivate more Costa Ricans to become examples to the world. People could access the site, write the name of a friend and download an invitation to commit themselves to be an example to the world of Costa Rican talent.
After the campaign, the ambassadors became news. Costa Ricans became so involved in the campaign that the team received hundreds of proposals for new ambassadors, and hundreds more Costa Ricans were invited to be examples of talent to the world. The campaign was a success, obtaining 30 million views, 1.5 million interactions on social networks and 74,000 visits to the website. All in a country of only 5 million people. But most importantly, the team successfully positioned the country brand at a time when it was most needed. Political discussions were left to one side, and the populace united through pride in themselves - reminding Costa Rican people that the true essence lies in each one of them.