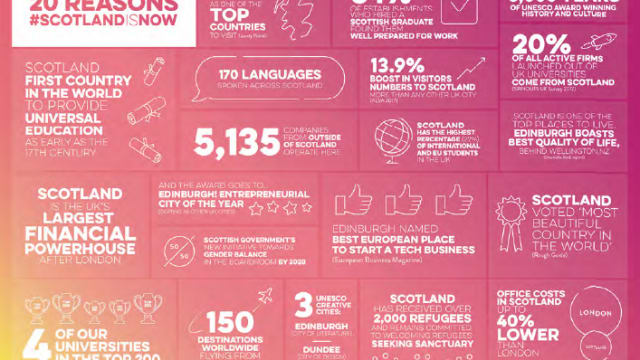 Scotland is Now
Learn about Brand Scotland's entry for Place Brand of the Year.
Entered by Brand Scotland
Research showed that Scotland ranked as low as 15th as a European tourist destination for Americans – with little known outside of castles and whisky – and that American investors had sparse knowledge of Scotland as a cutting-edge country for inward investment. The Brand Scotland team knew that change was necessary. A strong place identity for Scotland is at the heart of them achieving the economic and political objectives to grow trade, secure FDI, welcome international students, increase the value derived from tourism and attract and retain talent.
The identity needs to present a more dynamic and modern attributes of Scotland, as an innovative, progressive and inclusive nation, alongside its rich history and heritage. Through strategic partnerships, public sector collaboration and leadership, Brand Scotland aims to present a confident and joined up narrative that tells the world exactly who Scotland is and what it has to offer.
Scotland Is Now tells the new story of a bold, positive country, rich in history and heritage, but leading the world in a way that is progressive, pioneering, innovative and inclusive. Launched on 11th April 2018, Scotland is Now was the first step on the journey towards 'Brand Scotland'. The brainchild of collective talent, across VisitScotland, Scottish Enterprise and Scottish Government, this global collaborative campaign has already delivered strong results against a moderate media and creative spend to date.
As awareness of Scotland was low or one-dimensional, the decision was made for Scotland's national organisations to pool resource, talent and expertise to address these challenges head on. Scottish Government, VisitScotland, Scottish Enterprise (/SDI) and Universities Scotland came together to form Brand Scotland and launch the first ever global, national campaign - Scotland is Now. Scotland is Now was designed to build awareness of Scotland and change perceptions, motivating audiences to become advocates of Scotland and to increase consideration to visit, live, work, study and do business with the country.
This is achieved via a new, dedicated, cross-organisational team, a clear strategic direction and governance, and a tactical plan of activity. The team learned early on that many people across the globe were unfamiliar with many elements of Scotland that they wanted to showcase, so a strong digital presence telling Scottish people's stories was absolutely essential. The campaign was digital-first, featuring a hero brand film for launch, followed by a series of people films. The importance of content and social media in creating and maintaining a public persona and building the place's reputation was pivotal in driving advocacy. Beyond the immediate results, it has created a movement of true collaboration, a bold, core narrative and a consistent international voice. Despite reputation change being a long-term goal, the team conducted a brand uplift study in the month following launch which revealed that over 55% of respondents found #ScotlandIsNow "unexpected" and 20% said it challenged how they felt about Scotland.
Following the most recent wave of activity in Europe, 76% of those surveyed agreed that 'Scotland is a welcoming country' (against a 30% target), 56% agreed that 'Scotland is innovative', and 60% that 'Scotland is inclusive' (20% target for both). But, this is a long-term ambition. With a conservative budget and resource the team needs to prioritise activity and be strategic in their thinking. The behaviours that they are trying to influence build over time. So, success will be measured over three phases – short, medium and long.
A new Director, with private sector and commercial experience, was brought in to lead the cross-agency Brand Scotland team and build a centre for excellence. With the new strategy and business plan for Brand Scotland established, four strategic pillars were identified under which sit KPIs that are used to benchmark success: Storytelling, Brand identity , International networks and Advocacy (at home and diaspora). Brand Scotland exists to deliver brand activation – an awareness and affection for the country and a consistency in tone that runs through the various pillars of marketing activity, in order to drive reputational value and stimulate new and sustainable growth in the Scottish economy. What's more, the strategy leverages the existing talent and resources of the public and private sectors, driving considerable
efficiencies and amplifying reach.
With such a considerable challenge, it was clear that the strategy needed to focus on people, processes and tools to deliver a strong national brand and campaign. The makeup of the dedicated team consists of strategists, marketing professionals, content creators and media managers. There is equal representation from across the partner organisations, illustrating the commitment of the lead partners to Brand Scotland's success. There are plans to build this team, bringing in new committed outreach resource to enable activation of international networks and a wider partner base. At the heart of how the team operate is an agile methodology with the campaign focusing on building awareness and advocacy with a three-pronged attack: Inspirational and topical content, active listening and engagement & proactive planning.
There is a high-level tactical activity plan for the year, with monthly planning sessions to refine and revise, and weekly content meetings to ensure flexibility to change, the ability to further develop concepts from learnings and new activity. All partners are involved in this planning process and transparency is assured through a published content calendar that stakeholders can feed into.
In a short period of time (17 months) and with a moderate investment, the Brand Scotland strategy has already delivered excellent results. The hero film that launched the campaign achieved over 10 million views in the first day and is in the top 10% of YouTube masthead videos of all time. In the month of launch, Visit Scotland beat direct competition from Apple and BMW (with significantly less spend) and was the first public sector campaign to ever feature in YouTube's UK Top 10 Leaderboard.
The campaign has experienced more than 1,358,000 mentions from 254,900+ unique users since launch. With tailored and targeted communication in core markets, the target audiences are seeing, engaging and doing, more than ever before.