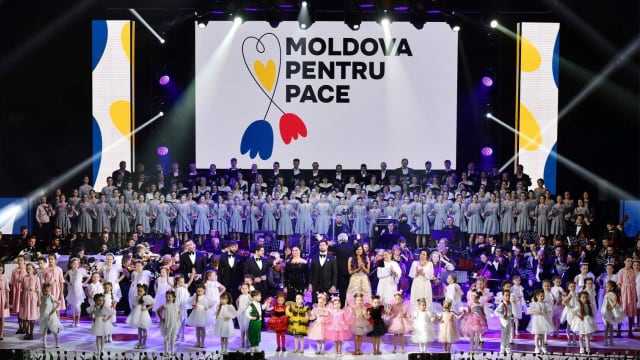 What Works
Moldova for Peace
Entered by Invest Moldova, winner of Best Citizen Engagement Strategy 2022
On the 24th of February 2022, the war in Ukraine started, forcing hundreds of thousands of Ukrainians to leave their home country. As a multinational country, many of whose citizens had previously expressed pro-Russian views, Moldova faced a communication crisis.
The "Moldova for peace" campaign - with messages of unity and empathy - was developed as a response to the need of consolidating all the citizens of the country, and Ukrainian refugees, by declaring that Moldova is anti-war.
Uniting a divided community
A key goal of the campaign was combating the rapidly spreading fake-news aimed to divide society. The situation brought a unique opportunity to the Republic of Moldova to unify both sides of society under a common message - that Moldova is a neutral country that promotes peace. Peace is the one response to the crisis accepted and desired by everyone in Moldova - including those nostalgic for the Soviet Union, sympathizers of Russia, or promoters of European Union values.
In just one weekend, the creative community of Moldova created and launched the nationwide "Moldova for Peace" communications campaign. Multiple design, communication and production agencies, freelancers, and representatives from the highest levels of the Moldovan Government joined forces to develop a campaign strategy, visual identity & key messages in record time, around a common goal.
Refugee support is a key element of the campaign, connecting those entering the country to a website with consolidated resources and information, including government hotlines; assistance with housing, clothing, and transportation; job resources; co-working spaces and humanitarian organizations. The campaign helped streamline information about dozens of organised initiatives, with families from all over Moldova opening their homes to their Ukrainian neighbours. Approximately two-thirds of the refugees who passed through or continue to stay in Moldova have been staying in private homes, sometimes for weeks or months.
Growing and developing the strategy
The campaign was launched on March 1, the start of the Martisor festival, which in Moldova and Romania celebrates love, health, and hope with the coming of spring. The campaign incorporated printed materials, social media visuals, banners, bus stop signs, billboards, videos, television ads, and more. It was designed to be decentralized, with people and organizations across the country able to access the visuals and for materials to be shared widely. Thousands of people, institutions, and companies have taken up the campaign, regardless of ethnicity, spoken language, or political views.
The campaign also tackled the information war, particularly dangerous in Moldova, as disinformation often targets ethnic divisions in society. Moldovan media outlets – had to identify and discredit multiple fake news stories emerging from Moldovan sources each day. In response, the Moldova for Peace Campaign promotes verified, responsible news outlets.
As the conflict and influx of refugees continued, the campaign focused on the need to maintain unity and positive public sentiment in the face of strained Government and household resources and a growing economic crisis in Moldova. The campaign creators had to address an online & offline wave of messages of division and hatred. The answer? Collecting and disseminating dozens of messages of gratitude from the Ukrainian community for the efforts of Moldovans to receive and integrate refugees socially, educationally, and economically.
Over the last two months, Moldova for Peace and its various sub-theme campaigns have produced a huge range of communications materials running across multiple media outlets. These efforts have reached approximately 2 million people across the country and beyond.
Interested in discovering more best practice case studies from cities, regions, and nations around the world? Purchase our 2022 Awards report, featuring case studies from all our finalists.