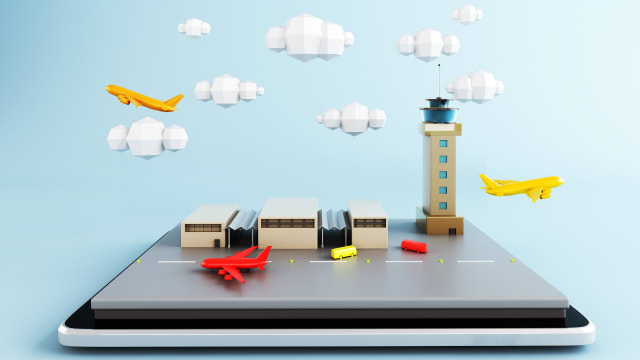 Trends & Ideas
Making airport cities and regions more attractive
By David Aboulkheir, Deputy Director for Orly Paris® airport alliance & place branding expert
Airports have always been key selling points in tourist and economic attractiveness strategies. Which country, city or region has never boasted itself of having air access? Yet, the global crises and their persistent effects on air travelling have called into question the role of these major infrastructures. As we rebuild, can airports become essential assets in the attractiveness and branding of destinations?
Crucial attractiveness and image challenges for airport cities and regions
Undeniably for places, airports are true gateways and access doors to the rest of the world. As points of arrival or departure for travellers, they play a critical part in perception of destinations. In addition, they have formed major crossroads - nodes for passenger flows and goods in spite of the 2020 shock. The concept of "aerotropolis" (coined by Dr. John Kasada) has epitomized the rise of "airport cities," led by the intensifying of activities within and around airport platforms, such as logistics, retail, offices, hotels, and exhibitions. Atlanta (Hartsfield-Jackson) in the US, Dubai (DXB) in the Middle East or Singapore (Changi) in Asia, among others, have paved the way for such developments.
The various forms of airport-centered urban development (source: Paris Region Institute)
Sadly, the acceleration of 21st century crises (climate change, a pandemic, soaring inflation or geopolitical tensions) has brought immense challenges for airport regions and cities. Rising public awareness of the negative impacts of airport activities on the environment (noise, carbon emissions, air pollution, fragmentation of urban space) along with the digitization of our interactions, have led to changing travel behaviors impacting the air travel industry. Drawing lessons from these new trends, many destinations have sought to prioritise more local and responsible tourism, encouraging low-carbon forms of transport and longer stays. Likewise, international companies willing to deliver on their CSR commitments have also pushed for a change of habit in business travel.
Differentiating airport communities and attracting new economic activities
Unless a new catastrophe occurs, it's quite unlikely airports will stop operating overnight. Since 2021, passenger traffic has been recovering. The MICE sector is picking up again and cultural or sporting mega-events should lure massive flows of air travellers and investments to destinations once more. This context provides a unique window of opportunities for communities to capitalise on their airport assets for the benefits of both travellers and locals.
Many possibilities need to be further explored, such as redesigning the overall experience of airport areas, while conveying a sense of place. One essential step is the airport itself. Let's remember that in the early 1960s, Paris-Orly airport was one of the most iconic sites in France, attracting even more visitors than the Eiffel Tower or Mont Saint-Michel! It showcased French fashion design and art of living, boasted a cinema, hairdresser etc. Today, few airports are capable of addressing a diversity of needs and uses.
Singapore Changi Airport, famous for its indoor waterfall, is now an attraction in its own right, photo credit@McNulty
Moreover, large land reserves on airport sites provide favorable ground for "placemaking", re-enchanting traditionally unattractive places and developing new spaces of conviviality and amenities. The reconversion of Berlin-Tempelhof airport since 2010 into a gigantic 380-hectare public space is inspiring and particularly popular among Berliners. Near Stockholm airport, abandoned elements such as a Boeing wreck or a control tower have been converted into accommodations. These developments also imply upgrading low-carbon mobility for all around the airport to easily connect to other local or regional spots.
Relying on the airport to target new markets is another relevant option. Airport communities have increasingly set up incubators, coworking spaces or third-places, seeking to position themselves as business and talent-friendly destinations as illustrated by the case of Amsterdam Schiphol. Atlanta airport area has focused on attracting the film industry to its rehabilitated wastelands. Some airports have turned into hotbed for sustainable technologies - Austria's main solar power plant was recently built in Vienna airport area, and Paris Region's H2 Hub initiative aims to transform airports into hydrogen ecosystems for sustainable aviation.
| | |
| --- | --- |
| Berlin's Templhof Airport, once Germany's busiest airport, now an iconic inner-city park | Former control tower at Stockholm Arlanda Airport is now used as a luxury apartment Photo credit @Courtesy Joakim Johansson |
Place branding as a tool to support the transitions of airport destinations
To unlock all that potential, resorting to a place branding approach could be key. This approach encourages the involvement of all the right public-private and third sector stakeholders interested by the airport (national, local and regional governments, airport authorities and air operators, landlords, clusters and other strategic entities etc.). It means working together - rather than competing - around a common ambition. It means compelling story-telling, a shared road map, and mutually beneficial projects. This co-operative mindset may help shape visible, unique, and complementary destinations with unparalleled accessibility. Obviously, airport communities will have to ensure they also deliver on their sustainable development promises to remain competitive. Doing so, they are likely to enhance their reputations, support their resilience and remain key drivers for place attractiveness.