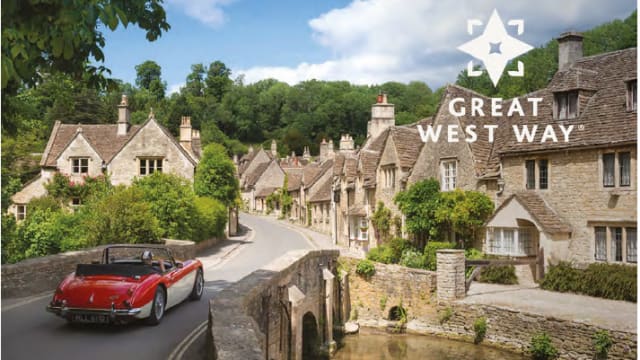 Great West Way
Learn about Visit Wiltshire's Place Brand of the Year strategy
Entered by Visit Wiltshire
The Great West Way vision is: 'To create one of the world's premier touring routes between London and Bristol', but there are a number of key challenges. With +30 different destination organisations promoting different parts of the historic London-Bristol corridor, promotion of the tourist route west of London, is fragmented and confusing for visitors. There is also declining public sector DMO funding and influence. The team needed to leverage the authenticity and provenance of one of England's oldest trading routes. Despite the wealth of iconic attractions and experiences along the route (Windsor, Stonehenge, Cotswolds, Bath), there has never been any joining-up of attractions and experiences along the route & VisitBritain research identified the need to give visitors a more compelling reason to venture into regional England / travel west out of London.
Research identified that all destinations along the route are seen as places visitors tick off on the way to somewhere else, or a day visit, and this was compounded by a sense of over-tourism, given the proportion of visitors travelling by car in the summer.
The Great West Way initiative presents the area under a single compelling brand proposition 'England Concentrated'. It provides clear benefits for the target 'curious visitor' to go deeper and stay longer. It is the world's first truly multi-modal touring route – visitors can discover the route by road, rail, boat, bike and on foot. The project has received widespread industry and partner support with more than 220 businesses joining the Ambassador Network & The Great West Way Discoverer pass was launched in June 19 as the UK's largest integrated rail and bus pass.
The Great West Way was launched at WTM in November 2018, and to media in June 2019. Priorities are based on giving a 360-degree visitor experience, for example via wayfinding, brand adoption and new product development. Getting the Great West Way Talked About centers around activity to encourage industry, stakeholders, partners, visitors, press, influencers and other intermediaries to embed Great West Way branding and messaging in their marketing product development.
With limited funding, success is wholly dependent on the extent to which others adopt and communicate the brand and, in particular, work with the international travel trade to raise awareness and secure new trade programmes. This was deemed a priority to increase the amount of bookable product available in the priority markets of Germany, Netherlands, USA & the UK.
Two core principles identified through case study research in 2017 cut across all activity: Be brand led & get industry on board. A brand toolkit was published in July 2018 for use by businesses, destinations and other partners and a visual identity developed in consultation with industry.
To connect with industry, The Great West Way Ambassador Network was created – to the team's knowledge this is the only destination income model in the world that requires industry and destinations to sign-up for a minimum 3-year commitment. A whole range of businesses can get involved with entry fees ranging from £150 to £20,000.
Secured Ambassadors include 25 destinations and 4 Title Ambassadors - Bristol Airport, National Trust, Great Western Railway, Canal & River Trust.
Encouraging industry partners to create new branded product is central to the idea and examples include Around & About Bath's new guided tours & Foot Trails new walking tours.
Bristol Airport installed Great West Way branding and a number of towns have installed branded town signs. The visual identity was developed in a process that included input and review from 100 stakeholders from along the route. An experience development training course launched in September with several towns developing local tourism plans, creating tourism budgets, and employing new staff as a direct result of, and in order to maximise potential from, the route.
Getting the Great West Way Talked About has been presented at 30 industry events attended by +1,000 industry /stakeholder contacts. A monthly industry newsletter is distributed to 1,100 contacts and is supported by significant 1:1 engagement to encourage and help industry and stakeholders incorporate branding and messaging into their marketing.
There has been a Great West Way Marketplace travel trade event with 180 attendees, including the Tourism Minister. Operators love the branding and concept and are keen to adopt it. The Great West Way Travel Trade Directory launched in November which included details of 350 businesses, 60% of whom said that they're targeting international visitors for the first time as a direct result of being inspired by, and wanting to be part of, the Great West Way.
90% brand adoption by Ambassadors has been achieved and the innovative 3-year Ambassador model is now proven with 220 businesses signed-up. Getting the Great West Way Talked About was shortlisted for 'Launch Campaign of the Year' at the UK Travolution Awards and there have been more than 80 press and influencer hosted visits , generating a PR reach of 890 million. Anecdotally, tourism partners are already taking incremental bookings. One hotel contracted £20,000 worth of new business as a direct result of the route. Crucially, the initial success has contributed to the team securing further funding from the Discover England Fund.