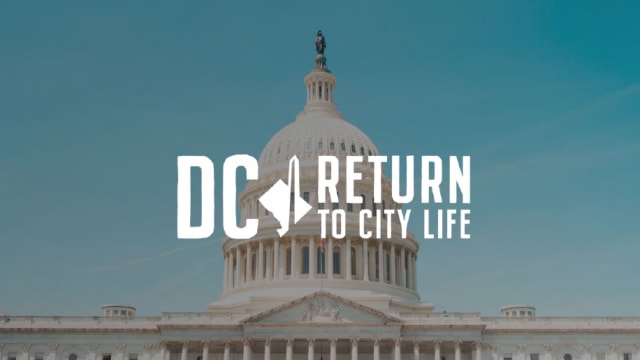 What Works
FOMO and the return to city life
Entered by Joy Riot
The Downtown Washington DC economy relies on tourists during the warmer months and weekends, but its daily lifeblood is commuters. Therefore, the pandemic effectively shut down the city. The pace of commercial real estate leases slowed to a crawl, and local businesses who rely on foot traffic—coffee shops, restaurants, bars, dry cleaners—shuttered their doors.
Even as the pandemic restrictions lifted, many federal and commercial workers who could work from home and skip the Metro and Beltway chose not to commute. The challenge: How to encourage people to return to their DC office, and return to participating in all the aspects of city life they used to love in DC?
The first step included qualitative and quantitative research, gathering data from DC employers and employees about the anticipated return to office timeframe, policies put in place for in-office work, barriers to entry, and how they were convincing people to come back. Whilst virtually no one was excited to return to a daily commute, they sorely missed the social aspects—happy hours with co-workers, meeting a friend for lunch, running errands on breaks, and taking in the beautiful parks and monuments. And overwhelmingly, the one factor that would convince them to come back: the return of friends and co-workers.
The fear of missing out
Therefore, the strategy capitalized on the Fear Of Missing Out (FOMO) and encouraging people to share their own return-to-DC experiences to draw others.
The media mix was primarily digital and paid social, targeting the 40-mile radius around DC where 98% of pre-pandemic commuters were working from home. The team targeted people who typically have an office in DC, but also those who enjoy dining, shopping, museums, and other key venues that DC has to offer. It was more than just returning to the office, but returning to all the things they love to do in DC.
Additionally, the team created print, signage, out-of-home, and email assets that the DC Business Improvement Districts (BIDs) and Deputy Mayor for Planning & Economic Development office could use and distribute to their constituents to amplify the message.
Highlighting the moments only DC can offer
The goal was to pique the interest of people in and around DC to come experience city life again. KPIs included impressions and traffic to a microsite, as well as card swipes into office buildings, and BID-calculated foot traffic. The creative was a typographically driven execution that focused on quick-read, real-world, quirky scenarios that only happen in DC, such as…
"That time you bumped into your congressional crush, literally, at The Monocle."
"That time you had a working lunch in the booth where JFK proposed to Jackie."
The team reminded people of the joys of living, working, and playing in the District through social media, digital, print, out of home, video, and email, all driving to ReturntoDC.com, where they can see all the goings-on in the local neighbourhood, get real-time data from the CDC, DC Mayor's office Coronavirus updates, and the Metro, and see how other people were experiencing DC through an Instagram feed.
Additionally, the team created the DC Photo Album Challenge on their social media pages, asking people to go out and take pictures at their favourite DC coffee shop, piece of art etc and each photo tagged with specified hashtags would earn an entry into a weekly draw for prizes.
Online media KPIs far exceeded expectations. In social media alone, the click-through rate was 20x typical industry benchmarks. More importantly, foot traffic increased exponentially, and there was a 42.5% increase in commuters returning to their DC office.