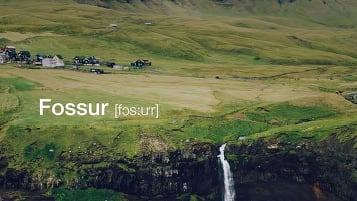 Faroe Islands Translate
Learn more about Visit Faroe Island's Best Communication Strategy.
Entered by Visit Faroe Islands
In 2017, the Faroe Islands launched Google Sheep View to get Google Street View to the Faroe Islands and to increase awareness about the islands as a travel destination. The project succeeded. One year later, the Faroe Islands – together with Google – succeeded in mapping roads and trails and implemented these into Google Street. Google Sheep View became one of the world's most popular marketing campaigns and resulted in a significant increase in awareness of the islands, and an increase in tourists visiting the country. The campaign solved one challenge, but at the same time created a new one. There are now more than twice as many tourists that visit the eighteen small islands as there are Faroese people, and these tourists obviously do not speak Faroese. Tourists increase the threat to the already small language, which is only spoken by c. 70,000 people worldwide. Tourists like to learn a little of the local language when visiting a country – but this process was hindered by the fact that Faroese wasn't found on Google Translate.
The Faroese Prime Minister sent an open letter to Google, asking them to add the Faroese language to Google Translate. Google ignored the request. So again, they had to solve the problem themselves!
The Faroe Islands team created their own version of Google Translate – with one difference. Instead of getting an autogenerated text, users get a film where a Faroese volunteer translates whatever is written. The video translations are stored in a database that grows with every new translation request. Paradoxically, the system automatically uses Google Translate to translate all users' languages into English, so the Faroese translators are provided with, for example, Russian or Chinese requests in English. To generate PR, press releases were issued through PR bureaus in London, New York, Berlin and Copenhagen. Soon after, the story of the Faroe Islands' fight against Google made headlines in many of the world's largest media. People were encouraged to share their translations on social media which, in turn, attracted a constant flow of new users to the Faroe Islands Translate website. The key objectives were to help protect and conserve the Faroese language by creating a video database with thousands of video translations and to raise awareness of the Faroe Islands as a travel destination by generating global PR through a creative idea, as well as incorporating Faroese into Google Translate.
The campaign generated over 1.4 billion media impressions worldwide through thousands of articles, TV and radio shows in international media. The PR value amounted to approximately EUR 20m. The system generated 1.3 million translations from 181 different countries, and 41% of the Faroese population was involved in the campaign as volunteers. The huge international news coverage and attention was enough to capture Google's attention who are now working to add Faroese to Google Translate. All movie translations are still available, ensuring that the Faroese language and dialect will always be available at FaroeIslandsTranslate.com.