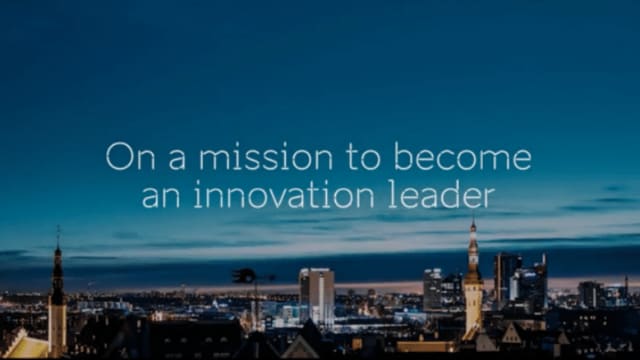 What Works
Estonia's strong place brand narrative supported them through crises. Here's how.
Traditionally, Estonia's true challenge is being faced with questions like "Estonia – what company is this?" So to tell the story of Estonia, they needed a strong identity in the centre of how they strategically promoted their country. And in 2017, they launched their nation-wide strategy based on three core messages – digital society (what is our country like?), clean environment (what's the space like that we live in?), and independent mind (what are the people like?). It reflected the sincere reality of Estonia; the messages were a result of many expert interviews and research.
From then on, the Brand Estonia team's daily challenge has been keeping the core story aligned with the brand throughout all communications across all topics. As a result, they've gained international publicity through initiatives like e-residency and marketing activities such as e-Estonia. But this year [2022], 24th February gave a whole new dimension to everything.
Adding a new dimension to Estonia's place brand strategy
The original country brand strategy of Estonia is simple – they have a unified core messages strategy, a visual language for all projects promoting Estonia, a network of sub-brands using the same strategy, and a strong collaboration structure in place (the key to success!) The rule is always that any messaging and story they share is fact-based and delivers on at least one of the core messages. Over the first five years, they continually onboarded more and more sub-brands under the same brand structure, from Estonia's food and wooden houses export sectors to defence industry, from talent attraction to foreign investments and education.
But the last few years have been nothing but a challenge for the strategy. Although their digital society turned into quite a success for the lockdown society during COVID – the country flipped a switch when life went online to become an e-country– the war in Ukraine was an unexpected and horrific reality that made the team re-think their country's branding strategy. The updated strategy was kicked off with an urgent task to create a unified message about Estonia that could be used by anyone needing to talk about the security of Estonia and how Estonia is doing, as many of these questions were directed at the Brand Estonia team. These messages were put together in close collaboration between all country promotion teams, the Ministry of Economic Affairs and Communications, and the Government's Office.
In times of crisis like this, the benefits-based strategy they currently had was just not enough in terms of messaging. So for the first time since the initial launched, the team added a new core message – 'democratic values.' It is now the key message to communicate about the values that Estonia holds, and the addition to the strategic story goes beyond marketing and branding to truly reflect the vision and reality of the country.
Sharing Estonia's values with the world
Together with sub-brand representatives, they have built a network of channels to communicate their stories; for every specific audience, they have a channel that is just for them, whether they're looking to work, visit, trade, research, and more. But the key is the sincere collaboration and, more importantly, trust. A country cannot reinvent its country brand strategy often– it must remain intact to be believed and truthful, which is why the strategy has to be implemented across all areas.
Estonia's core messages have been delivered in many different formats in 2022, from marketing to governmental messaging. This includes Work in Estonia campaigns showcasing the digital society and clean environment; news content across Invest in Estonia; and a speech by Prime Minister Kaja Kallas at the Hayek Prize award ceremony that encapsulates their democratic values.
The key in implementation is that the central shared tools are well-developed. The team manage a toolbox of tools and materials for the country promoters, where sub-brands cross-share their materials. They also have an advanced Figma digital design system that allows sub-brands to create and update high-quality promotional websites.
The messages about Estonia are unified and clear in the international media, be it the country promotional activity or the result of the country's everyday activities.
Interested in discovering more best practice case studies from cities, regions, and nations around the world? Find out more here.