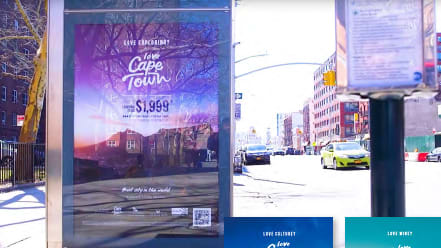 City-to-City DMO Marketing Agreement
Learn more about Cape Town Tourism's Best Communication strategy.
Entered by Cape Town Tourism
One of Cape Town's top source markets is the US, however the small tourism marketing budget and exchange rate makes it difficult to create any type of effective international awareness and traditional media becomes relatively unaffordable. Partnerships are the most effective way to maximise exposure and budget in international markets, so the team at Cape Town Tourism approached NYC & Company to look for collaborative opportunities between the two cities that could support mutually beneficial tourism.
NYC & Company and Cape Town Tourism signed a City-to-City DMO Marketing Agreement, with the aim to grow tourism numbers between the two destinations. There were two main deliverables of the agreement, one being a signing ceremony with trade and media, and the other a media swap where assets were traded to run a campaign in each city to stimulate demand in both directions.This partnership was extremely effective in creating a global ally, generating international awareness of both destinations, and building media interest and coverage in a cost-effective way.
The Signing Ceremony in New York included 80 key stakeholders, trade and media from both cities to generate exposure and spread goodwill of two global cities joining forces. The signing between the CEO's of Cape Town Tourism and New York & Company opened the festivities, and an exciting event followed focusing on a fusion of the two cities, through the décor, a presentation, food and live music.
Cape Town Tourism and New York & Company then ran independent consumer campaigns on each other's reciprocal media. Both campaigns ran concurrently from mid-February to mid-March 2018. Cape Town Tourism's objective was to increase awareness in New York that Cape Town is a global destination with a unique offering, and to promote value driven packaging to increase visitors over the off-season. This was delivered via a partnership with South African Airways, the national carrier, and Tsogo Sun, one of South Africa's premier hospitality and entertainment groups with a footprint in Africa. NYCM provided 75 bus stop shelters and 1000 Link kiosks across New York for the campaign. The campaign was further supported with media and trade hosting, competitions and social media. New York & Company ran their 'Famous Original' global campaign in Cape Town and directed traffic to their website. Cape Town Tourism provided their Mobile Unit and team to conduct activations around Cape Town at events and in high traffic areas. This was bolstered with Tsogo Sun media in 104 properties across Africa, including in-room TV and magazine ads.
Cape Town Tourism's campaign in New York delivered a total of 21,2 million advertising media impressions from being featured on the 75 bus stops and 1000 link kiosk across New York. Additionally the campaign received 4,8 million social media impressions, and the announcement of the agreement attracted significant media coverage of R4,85 million in AVEs. A 21% return on investment was achieved on R1,5 million due to PR value and partner investment. New York & Company's campaign in Cape Town featured across 104 Tsogo properties around Africa, with 1,050,203 media impressions, 1,342,240 event impressions and a print circulation of 44,435.