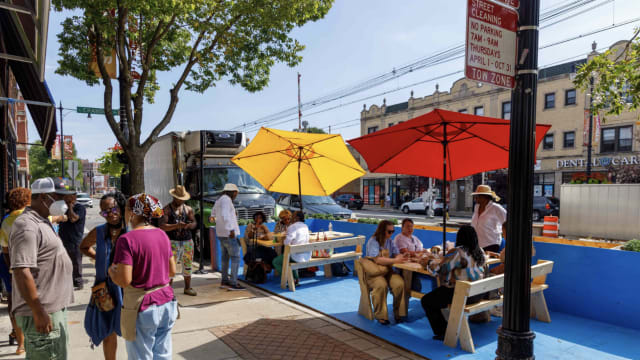 Choose Chicago - Chicago Alfresco
Entered by: Choose Chicago
In 2020, Chicago's Expanded Outdoor Dining programme was one of the first to launch during the COVD-19 pandemic in an effort to help restaurants and protect workers. The City worked to ensure equity in this program, focusing on diverse neighbourhoods, but because of disparate levels of community investment (and available spaces), the team saw the wealthier and whiter North Side and Downtown fully taking advantage of the programme while the South and West Sides had fewer options for residents to enjoy.
Recognising a need to level the playing field, Choose Chicago developed the Chicago Alfresco programme with the Chicago Department of Transportation. Local non-profits, such as chambers of commerce, were invited to design community spaces on closed roads and sidewalks, with an emphasis on outdoor dining and entertainment. This placemaking initiative was also designed to serve as an integral part of increasing tourism in neighbourhoods, promoting open streets, and creating outdoor spaces for dining, public life, community, arts, culture, walking and biking.
To access please sign in.