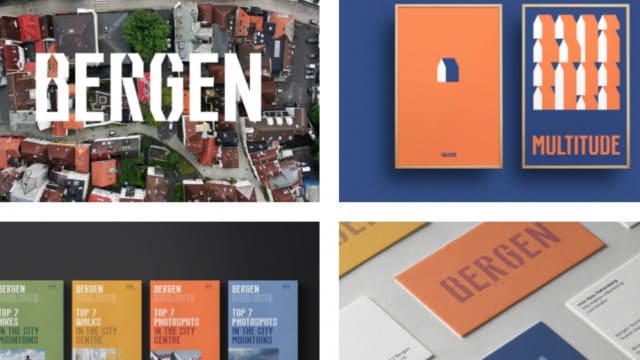 What Works
Brand Bergen
Entered by Visit Bergen, Best Use of Design Winner, 2020
As an iconic city and region, Bergen naturally comes with an inheritance of many clichés and tired symbols – and so did the former Visit Bergen profile, created in 2000. The identity wasn't made for digital surfaces, and the positioning of 'Gateway to the Fjords' could communicate that it was only as a stop-over destination on the way to somewhere else.

Rebranding Bergen region's tourist board 'Visit Bergen' called for a faithful presentation as an international marketing platform. It had to have a compelling character in the worldwide markets and for people from Bergen and Norwegians alike; to appeal specifically to the locals, 'Visit' was removed from the name.

The new profile challenges the well-known with the surprisingly unfamiliar, giving Bergen a whole new energy and celebrating the breadth of experiences that the region has to offer. The identity must be able to live with all sorts of imagery, outside the control of the agency and in the hand of the users. Without control of image style and colours, the demands to the other elements of the identity as signifiers were increased dramatically.

Rebranding the Bergen region therefore required an open platform for branding the city, rather than a logo in the traditional sense. A bespoke brand typeface 'Bergen House' was developed, inspired by the quintessential architecture found in the region. With the distinct brand typeface, typography became the workhorse for the brand's expressions, making any copy set in 'Bergen House' instantly feel like the city and region.
A new visual identity for Bergen
Bergen's new profile and identity have been used on all Visit Bergen's communication platforms. In parallel with the implementation of a new profile and visual identity, Visit Bergen changed its communications; Visit Bergen does not tell, but shows – through visual tools and storytelling – what Bergen is all about.

The results speak for themselves. In 2018, members characterised Visit Bergen as solid and old-fashioned. In the autumn of 2019, the same members said that Visit Bergen was visible, innovative, and forward-looking. The average satisfaction score increased by 6.5 points as well, from 57.1 to 63.6.

Following the implementation, Visit Bergen has increased engagement on social media, and developed communication strategies within food and gastronomy, arts and culture, and MICE, all based on the new visual identity. The new communication strategy was put to the test in the spring of 2020 when the COVID-19 pandemic hit tourism. The communication was concentrated towards Norwegian travellers, and in July, when the Norwegian summer holiday begins, Bergen set a new record in the number of Norwegian visitors.
The 2021 City Nation Place Awards are now open! Find out how to enter here.
Related reading:
How do you create a resilient place reputation
From resilient leadership to leadership for resilience
Eight crucial success factors for places looking to work smarter
Four findings from the 2021 place branding survey
Putting resilience at the heart of post-pandemic placemaking