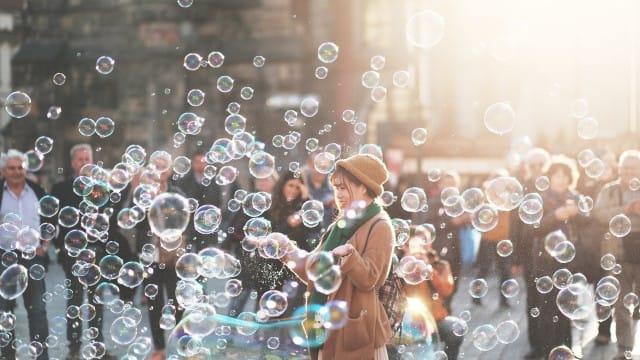 Trends & Ideas
Why placemaking is now place marketing
By Chris Fair, CEO, Resonance Consultancy
Placemaking's roots date back to the 1960s when urbanists such as Jane Jacobs and William H Whyte advocated for a community-driven approach to thinking about designing places for people rather than cars (which is what urban planning should be about in the first place.)
One of the most succinct and compelling definitions of placemaking I've found comes from MIT's Department of Urban Studies and Planning that defines placemaking as "The deliberate shaping of an environment to facilitate social interaction and improve a community's quality of life."
However, the use of the term "placemaking" gets increasingly bandied about by planners and developers as a kind of cure-all for most any development objective—making the definition of it more amorphous in the process.
One of the longest serving stewards and leaders of the placemaking movement is Project for Public Spaces (PPS) in New York who've observed that "the term 'Placemaking' is used in many settings–not just by citizens and organizations committed to grassroots community improvement, but also by planners and developers who use it as a "brand" to imply authenticity and quality, even if their projects don't always live up to that promise."
Placemaking: strategic, creative, tactical... or all three
In my view, developers and destinations should define placemaking as being either strategic, creative, tactical—or some combination thereof. Strategic placemaking seeks to make investments in the renovation or creation of a public space to not only enhance quality of life and wellbeing of local residents, but to also attract investment, residents and/or tenants to the area that surrounds it.
One of the best examples of this is Campus Martius in Detroit. The redesign of this square in downtown Detroit 15 years ago with ongoing management and programming by the Downtown Detroit Partnership has attracted more than $2 billion of investment within a two block radius with another $2 billion of development scheduled to break ground in the next year.
Creative placemaking involves engaging the arts whether they be visual, musical or otherwise to enhance under-utilized spaces in order to attract residents and/or visitors. One of the most popular creative placemaking initiates that has been replicated around the world is the Umbrella Sky Project. Created in 2011 in Agueda Portugal as part of the city's annual Ágitagueda Art Festival, a variety of the city's narrow streets were temporarily shaded with a canopy of colourful umbrellas.
Tactical placemaking takes a "lighter, cheaper" approach and involves making a temporary change in design or use of a space—something as simple as closing a block of a street to cars on the weekend and converting it into a public plaza with bistro tables and chairs for example. One such initiative helped lead to an entire redesign of Times Square. The permanent closing of streets in Times Square to cars and conversion of them into public spaces with tables and chairs started with a tactical placemaking initiative that temporarily closed Broadway on a Sunday and filled it with lawn chairs.
Placemaking really does make citizens happier
In any case, the primary objective of placemaking has historically been to foster social cohesion and enhance the wellbeing of communities. That sounds nice and it's a message placemaking practitioners have preached for decades. But, until recently, there wasn't much more than anecdotal evidence to support this. But research by urbanist and Happy City author Charles Montgomery has helped to demonstrate that the way we design our cities and the buildings around us does indeed have an effect on us.
"When you look at the evidence on wellbeing, health and happiness in cities, it's always surprising how wrong we've been for so long," Montgomery explained in a workshop earlier this week. "Indeed I discovered that our cities and our neighbourhoods and our buildings all change the way we feel. They change the way we behave. They change the way we treat each other in ways most of us don't even imagine."
But does the way we feel about our urban environment and our attachment to place have any measurable impact? Research conducted over the past decade suggests that there is. The Knight Foundation's Soul of the Community study interviewed more than 15,000 people in 26 communities. What it demonstrated was that the more attachment people felt to the communities in which they lived, the better they performed economically.
So the argument for placemaking has grown from one centred around community wellbeing to one centred around both wellbeing and prosperity.
Placemaking shapes identities...
But there's a powerful third benefit to placemaking emerging that Jacobs or Whyte likely never contemplated—that's in how placemaking can influence and shape the identity of not only a neighbourhood, but an entire city.
You see, one of the interesting by-products of good placemaking has been the rise in attracting visitors to these public spaces. And as visitors (and locals) increasingly share their experiences on social media channels such as Facebook and Instagram, placemaking is becoming a powerful new tool for destinations and developers to promote their project or city.
At the City Nation Place Americas conference in New York earlier this summer, Resonance organized a session on this very topic that brought together Ethan Kent from Project for Public Spaces, Bob Gregory from the Downtown Detroit Partnership and Charles Gauthier from the Downtown Vancouver Business Improvement Association to discuss how placemaking shapes perception and image of cities today.
"When you go to a city, the stories that you tell are not just of what you saw or what you did that's similar to every other place, but it's the memories that occur, the serendipitous events that occur with very small micro-level interactions in the city," explained Kent. "The image of cities has gone from being about the skyline or the products or the industries of these cities, to being about this human scale experience."
...and drives earned and social media
One of the best examples of this that I've seen anywhere in the world sits in the laneway behind our office in Vancouver. Actually, it's the entire laneway itself which has been transformed into a bright pink public space that's home to basketball hoops and disco parties, among other events.
"This idea of activating the alleyways and transforming them actually came from the people through a Reimagining Downtown Vancouver consultation process that we did in 2015," explained Gauthier, president of the Downtown Vancouver BIA. "So we latched onto this idea because we thought it was doable. We thought we could pull it off fairly quickly."
What Gauthier says they never anticipated was how popular the space would become—especially with tourists. That popularity was fuelled by the K-pop band Twice featuring the alley in their music video for the song "Likey" which has had 290 million views on Youtube—30 million more just since Gauthier made his presentation two months ago. The result? The alley has become a landmark and must-see destination for many young visitors to Vancouver—and the images they take are being shared and posted on social media for people to view around the world.
"I'd like to tell you it was planned and it was intentional but it wasn't," says Gauthier. "Our immediate goal was to develop a proof of concept that we could replicate and have others replicate. We didn't think it would be this popular."
Campus Mauritius in Detroit is another example of a placemaking initiative that was designed to help revitalize the city's downtown that has now also turned into a powerful marketing vehicle for the city.
"We do a perception survey every year of anywhere from 4 to 6,000 people, both Detroiters and visitors and suburban residents, and Campus Martius Park is the #1 destination beating out the stadiums, beating out our theatres and all the other destinations in the downtown," explained Bob Gregory, the Downtown Detroit Partnership's chief public space officer. "It's also become one of the top 10 Instagrammed places in Michigan—and Michigan has got a lot of beautiful places."
Let's talk. Because placemaking matters.
Based on these and other examples, we think placemaking is an old tool that we can begin to use in powerful new ways to not only enhance the wellbeing of the communities in which developers and destinations work, but to achieve their goals whether it be attracting residents, visitors and/or investment to their neighbourhood or city. And that's a strategy that everyone can get behind.
If you'd like to talk about how Resonance can help create a placemaking strategy for your development or destination, please send me an email. We'd love to chat.
Related reading
How placemaking and policy innovation is revitalising city centres
What does 5G mean for placemaking, place marketing and place branding?