What Finland can teach us about effective nation branding
By Jose Torres, CEO, Bloom Consulting
With 100% literacy, Finland is the most literate country in the world. The percentage of women and men in its parliament is almost 50/50. Since 2018, the startup event Slush has grown from a 300-person meetup to a gathering of over 20,000 people in Helsinki every year. Do facts such as these contribute to the reputation of Finland around the world - and how?
Global citizens have a positive perception of Finland, particularly its nature, education, and attitude towards wellbeing
In 2022, the Ministry for Foreign Affairs of Finland commissioned Bloom Consulting to determine the general reputation of Finland around the globe and provide strategic advice on how to leverage the findings in practice.
While sentiment and accolades - such as six consecutive wins in the World Happiness Survey - suggested that the Nordic country was performing well, data analysis was needed to confirm this hypothesis. On top of that, it would help the team in Finland understand the effects of certain world-shaking events on the perception and whether they called for any change in direction. You might call it a health check on the state of the nation brand.
We were pleased to report that the nation brand was indeed in good health, performing strongly for all 13 Perception Elements of the Bloom Consulting Nation Brand Taxonomy Model ©. In other words, Finland is well known and appreciated around the world.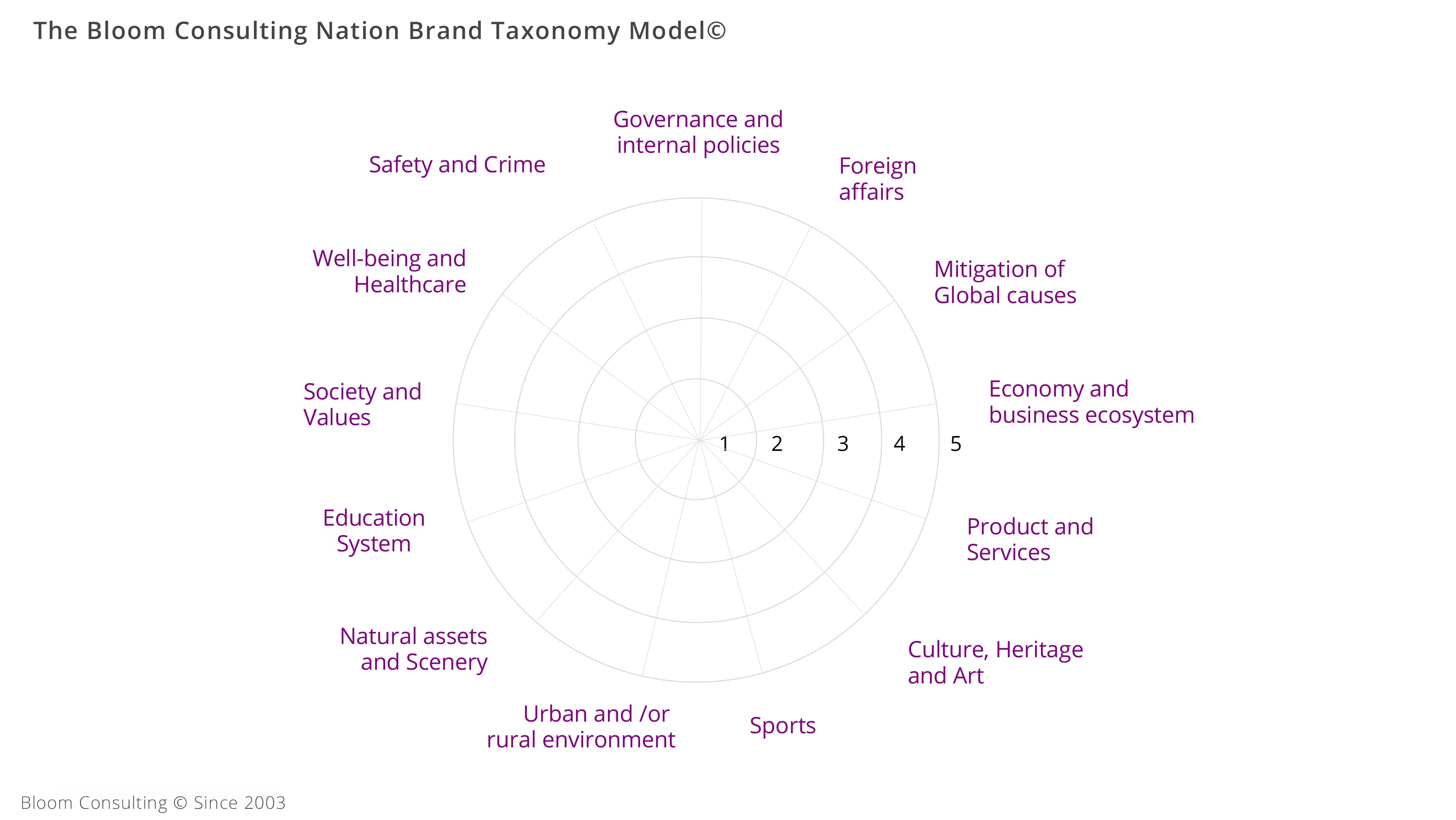 But to achieve such a universally positive perception is no coincidence or happy accident. It is the result of coordinated, purposeful and long-term action by Finnish stakeholders on a policy level and beyond. At the same time, this has been an organic process, not a forced exercise. For other countries to borrow from Finland's experience, we must get to the source and understand the origins of the perception. What powers Finland's reputation as forward-thinking, innovative and, dare we say it, sustainably minded?
Reputation is earned through consistent effort
While I don't intend to publish a complete inventory of the country's assets and values – Finland.fi and Toolbox.finland.fi are excellent resources – I wish to draw attention to some key initiatives and aspects contributing to the perception and therefore influencing the behaviour of international investors, talent, and tourists. These, I believe, are representative of the greater "Finnish mindset" that goes a long way to explaining the measurable success of the nation brand.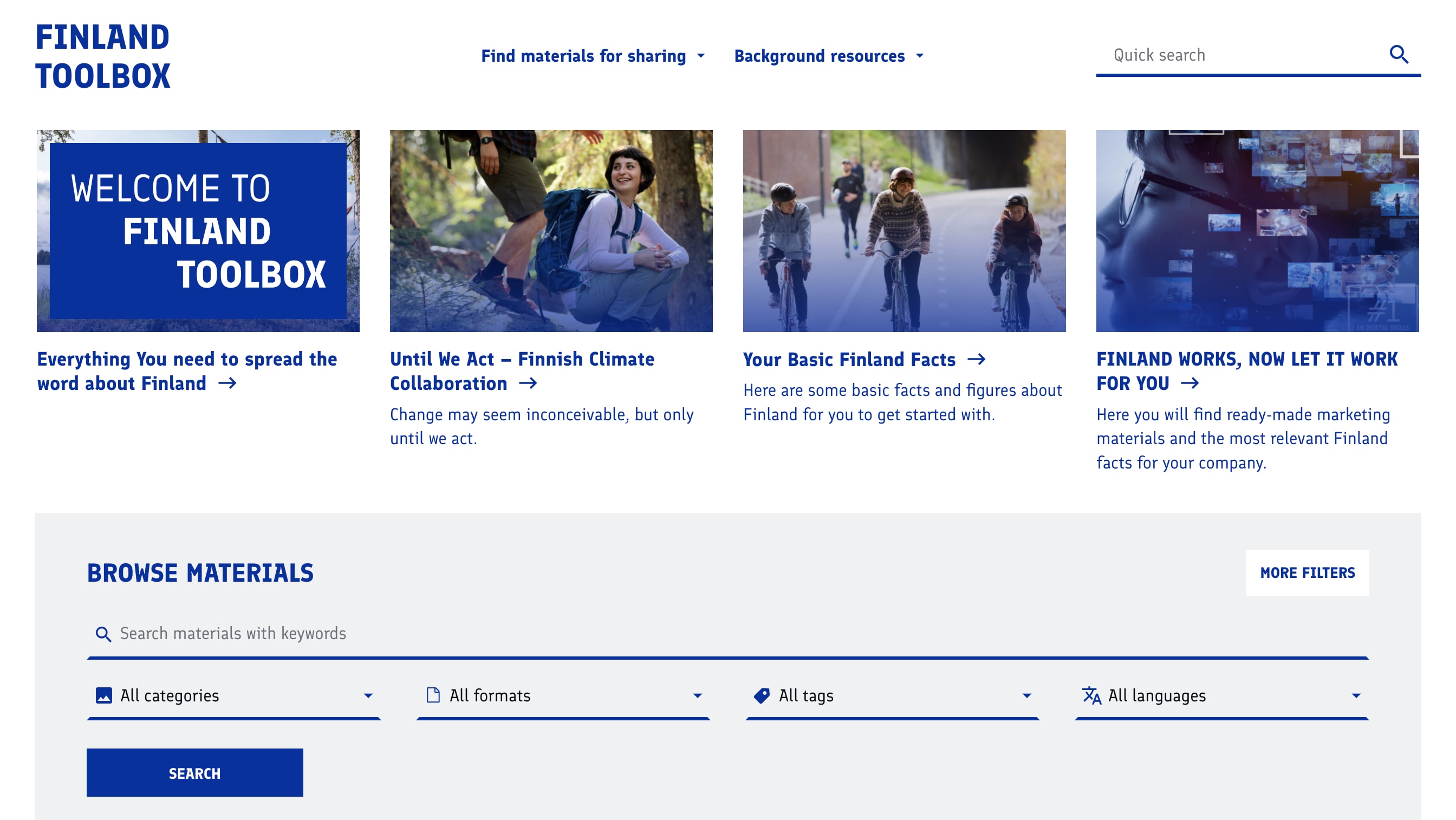 Finland Toolbox website. Image: Website screenshot
Unwavering values instilled in people of all generations
By investing in its citizens from the moment they enter this world, Finland instils shared values in individuals spanning all generations present at any one time. This is seen through initiatives like the generous parental leave and new baby packages containing clothes and initial care supplies. The "baby box" scheme has been in operation since 1938, illustrating the longevity and consistency of the country's value system since its declaration of independence in 1917.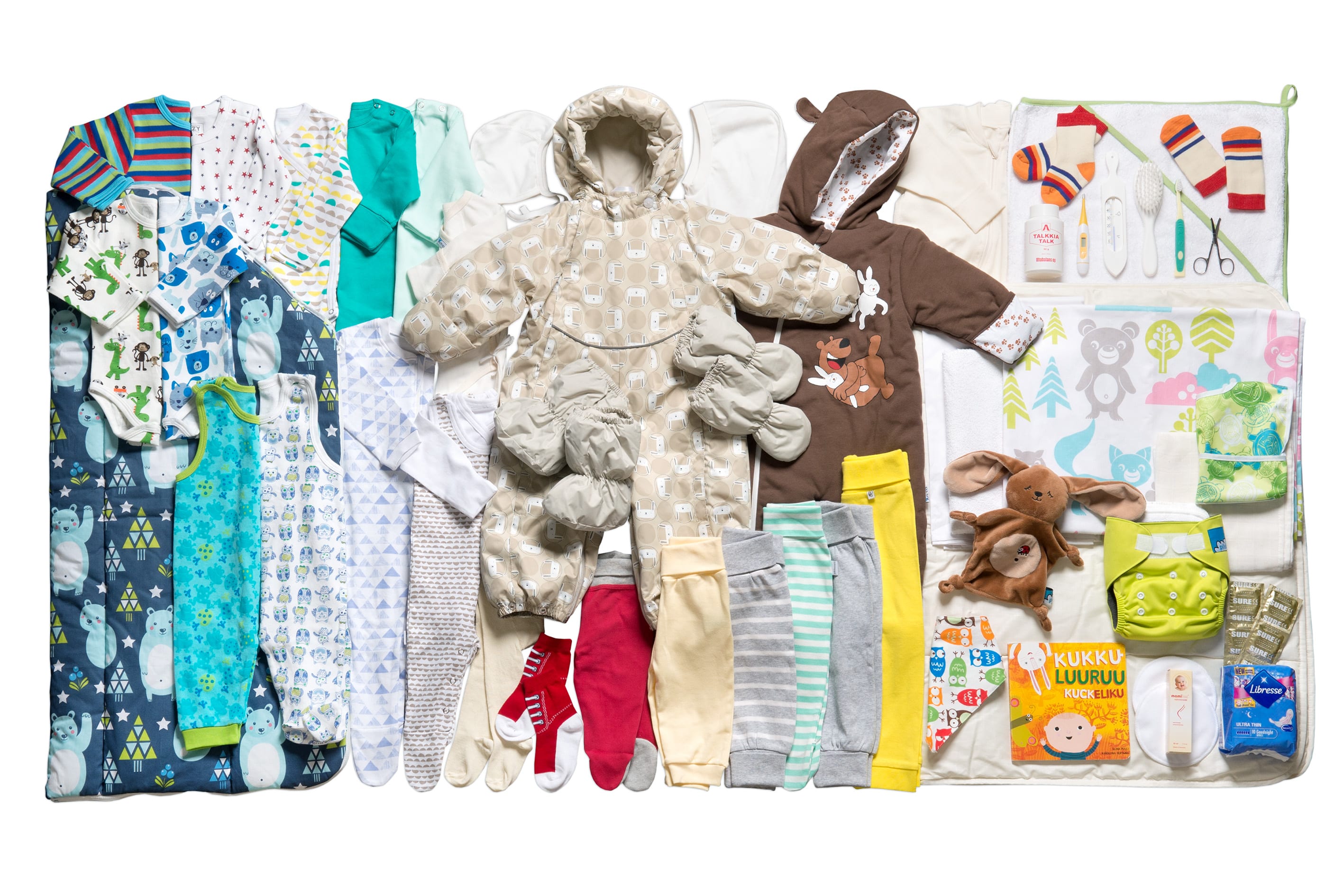 Maternity package. Image: Kela / Annika Soderblom / Finland Promotion Board
Crucially, this caring attitude towards its citizens never really stops throughout one's life. Each further step builds on the previous ones, providing citizens with a sense of security. It's almost like through its actions the country is saying "I've got your back," which creates a safe space for the experimentation that leads to innovation.
When a child reaches school age, they receive the education for free, as well as a funded warm lunch (since 1948), and transport if the school is more than five kilometres away from home. Throughout the individual's life, they receive state-funded healthcare services. Statistically, Finland uses almost a third of its GDP to support the welfare state. These are investments into the future, creating well-educated, healthy, and happy individuals.
The Finnish Innovation Fund, Sitra, also exemplifies this future-oriented thinking. Established in 1967 as a public foundation to promote the development of Finland's economy and society, its mission is to create a fair and sustainable future. To work towards this goal, Sitra invests in research, development, and innovation, focusing on areas such as the circular economy and sustainable wellbeing.
Importantly, Sitra operates independently of the Finnish government. However, the trends it identifies and publishes in its annual reports inform government policies, enabling the government to future-proof their actions.
This demonstrates the proven high level of trust that exists between institutions and on an individual level. 85% of Finns agree or strongly agree that they can trust most of their fellow citizens; this is the highest percentage in Europe. Good governance and trust are also seen as foundational elements for happiness.
"It was especially good to see that Finland's long-standing status as the happiest country in the world is beginning to show up in people's top-of-mind associations about Finland. Being happy is a strong and clear message in Nation Branding. Everyone wants to be happy," points out Meira Pappi, Finland Country Image Specialist.
"We like to talk about the 'infrastructure of happiness' to highlight the fact that Finnish society is built to form the basis for people's happiness. Happiness is not an elusive emotion – it's something that can be encouraged through decision-making and action. This is the Finnish way of life we invite people to come and experience – and copy."
Innovation does not cancel tradition
As seen in these examples, being forward-minded doesn't mean sacrificing identity, tradition, and one's fundamental values. It's precisely this clear and shared understanding of "who we are" and "what we stand for" that helps prepare for and adapt to future scenarios.
For a very "human level" example, take the idea of "everyman's right," or the public right of access, which allows anyone to camp, pick berries, mushrooms, and flowers in the wild - regardless of who owns the land. Along with many other tangible assets, this veritable expression of equality is used in communicating Finland to the world.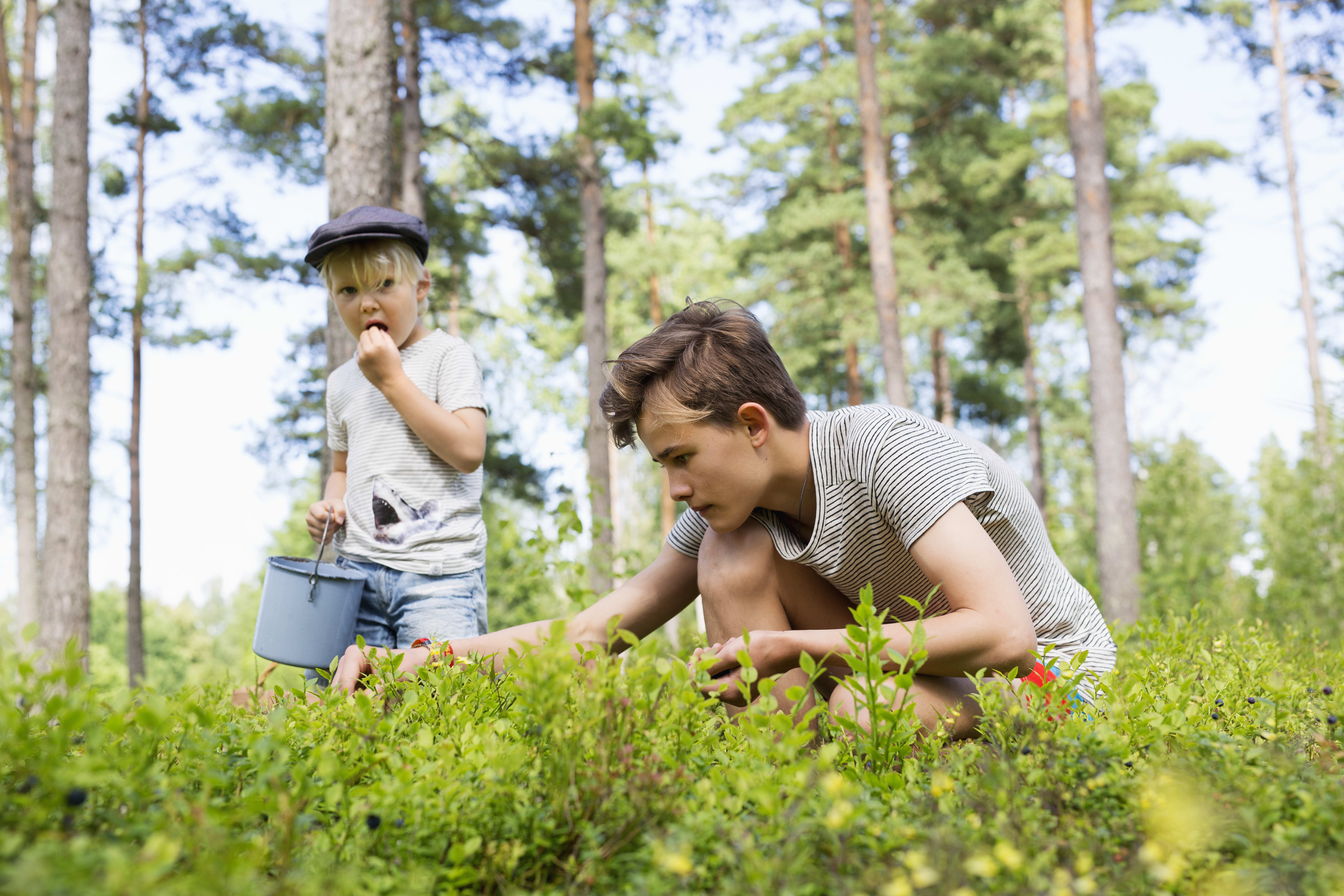 Children picking blueberries in the forest. Image: Katri Lehtola / Photo agency Keksi / Finland Promotion Board
And this – the fact that the marketing messages about Finland are rooted in reality – is a crucial point. It means that the perceptions stem from the real experience people will get when doing business with, visiting, living, or investing in Finland.
Nation branding is a long game with no finish line
In short, what we can learn from Finland is to stay true to our values in the long run. While the nation branding process may start with identifying core assets and beliefs, it never ends.
For any country to maintain a positive general reputation calls for consistent action, not passive acceptance and resting on past laurels. Regular check-ups can ensure a nation brand's health in the long term as they pick up on underutilised assets and potential problem areas in light of the context at the time. Any findings can then inform policy and messaging.
The example of Finland clearly illustrates that a nation brand is more about what you have and do than what you say.