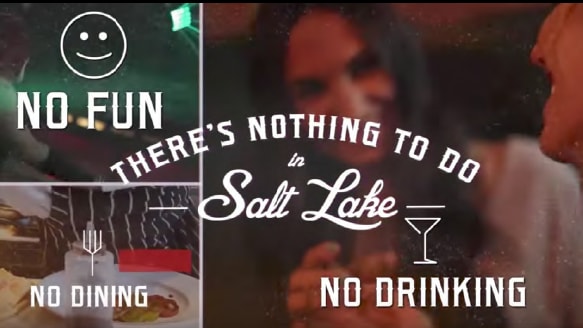 There's No Nightlife in Utah
Learn more about Visit Salt Lake City's Best Use of Social Media.
Entered by Visit Salt Lake City
As a meeting, convention and leisure destination, Salt Lake, and the state of Utah in general, struggles with the omnipresent and incorrect perception that there's nothing to do there: no drinking, no nightlife, no fun. This is often the reason given for lost meeting/convention bids. This issue was brought to the national forefront yet again in May 2017 during the NBA playoffs, when one of players from the Golden State Warriors, when asked if they'd prefer playing the L.A. Lakers or Utah Jazz, said, "The Lakers. There's no nightlife in Utah." The Visit Salt Lake Communications team and some of its partners delivered a campaign to take advantage of this opportunity, creating and delivering a multifaceted response to the claim, garnering substantial traditional and social media exposure, engagement, community awareness, and numerous accolades.
The Visit Salt Lake team realized its window of opportunity was very limited and decided to address the issue head-on with its tongue-in-cheek "There's Nothing To Do in Salt Lake" creative, producing a multi-pronged response including social media, traditional media, video and creative content. The initial aspect of the campaign featured a letter from VSL's president/CEO being sent to the Warriors' organization (as well as to all of the Bay Area and select national media outlets, and posted as comments on the Warriors' social channels and to VSL's channels) addressing the players' concern of nightlife that included a link to a 2-minute video titled "There's Nothing To Do in Salt Lake". Additional elements of the campaign included numerous social media posts; monitoring and responding/commenting on hundreds of channels that picked up on the players' comments as well as VSL's efforts to combat them, capitalizing on the buzz and inserting "There's Nothing To Do in Salt Lake" (linking to the video when possible) and #NIGHTLIFE whenever and wherever appropriate.Within a day or two, the local community picked up on the campaign and complemented it with their own efforts: SLC Mayor Jackie Biskupski posted multiple tweets about the city's nightlife; numerous blogs were written about Salt Lake's nightlife scene; the Utah Jazz produced and sold 20,000 t-shirts with #NIGHTLIFE emblazoned across the front, the proceeds benefitting a local charity; and the Jazz ran the "There's Nothing To Do in Salt Lake" video on the arena's big screen scoreboard multiple times during the Warriors-Jazz series.
Although the opportunity and campaign were fleeting, it garnered far more attention and return than could possibly have been hoped for and has been used in assorted manners to address various client concerns since. The lesson and key takeaway from the experience: if presented with an opportunity, and given the support and resources necessary, take full advantage of it.
In the two weeks that the campaign, Visit Salt Lake achieved huge success in many forms of measurement, not the least of which is the support of members, stakeholders and the local community. VSL's Facebook engagement had a reach of 282,249 and 2,000+ reactions - VSL's Twitter posts included 83,861 organic impressions and 5,017 engagements - VSL's Instagram posts included 37,315 impressions, a reach of more 22,655 and more than 1,700 engagements. The video has been headline news across mainstream sports and business media and called by one commentator 'a tourism campaign launch that literally no moneycould buy'.