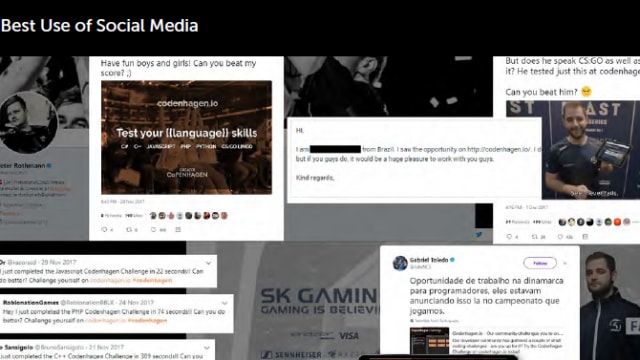 The Codenhagen Challenge
Learn more about Copenhagen Capacity's Best Use of Social Media.
Entered by Copenhagen Capacity
In today's digital economy, the fight for IT talent has intensified all over the world as cities hope to attract and retain the most inspiring start-ups and successful tech firms. This is also the case in Greater Copenhagen – a metropolis that has fostered tech successes such as Just Eat, Skype and Trustpilot. Despite these successes, 50% of all Danish companies had difficulties hiring IT professionals in 2016. Copenhagen Capacity teamed up with over 75 local companies that struggle to hire IT talent, and created a digital campaign that promoted Greater Copenhagen as an attractive tech destination, whilst introducing the audience to open jobs in the region. The team wanted to make Greater Copenhagen top-of-mind amongst international IT specialists and to make those with very specific skills apply for open jobs in Greater Copenhagen.
To reach the IT talents of the world, the team created a unique competition on www.Codenhagen.io where the local community of IT developers were used as important influencers. This competition was, however, only for the tech-savvy as all clues were written in coding languages such as C#, C++ and JavaScript - languages that know no geographical borders and those in which developers are proud of their knowledge. If a player chose JavaScript as the language, he or she wanted to compete in, the player would then be encouraged to check out open jobs in Greater Copenhagen that required skills within JavaScript. The "Codenhagen Challenge" thereby screened the visitors for people with very specific skills and was able to promote Greater Copenhagen in a fun and subtle way and encourage IT professionals to check out relevant jobs in Greater Copenhagen.
The team worked with Denmark's largest eSport-event "Blast Pro Series" - a perfect channel to reach an international audience of tech enthusiasts. While 12,000 fans attended the event in Copenhagen, the event was live-streamed through the online channel Twitch reaching over 5 million viewers across 78 countries. On top of that, 275 million households had the opportunity to tune in to the action, as the event was broadcasted on 15 different channels on five different continents. A video commercial aired during the event that encouraged viewers to visit www.codenhagen.io & showcased Greater Copenhagen as a metropolis. The video also teased the audience with the questions: "Do you speak our language" - "Test your coding skills" - "Codenhagen Challenge". Social media and relevant online communities were used to target and retarget IT specialists.
Millions of viewers were reached through the 15 broadcasting channels and Twitch, our campaign gained more than 5 million impressions through our communication and use of influencers on social media. A tweet alone from influencer FalleN, who was interviewed the day before the Blast Pro Series, reached 1.3 million of his followers and led to 3,683 people visiting Codenhagen.io in the seconds after his tweet. After the commercial was aired, Codenhagen.io was visited by c. 85,000 people- 14,000 people took the time and effort to complete the challenge – a a challenge that required that all of them to have the right coding skills to answer the questions about Greater Copenhagen. 3,246 candidates went a step further & visited the website showcasing open jobs in Greater Copenhagen. There were 2,178 job applications from international IT developers. So far, these applications have led to a level of job creation that, according to findings from the Danish think tank DEA and the Confederation of Danish Industry, will generate between 3 and 8,7 million EUR in public finances, dependent upon the circumstances/life-stage status of the applicants.