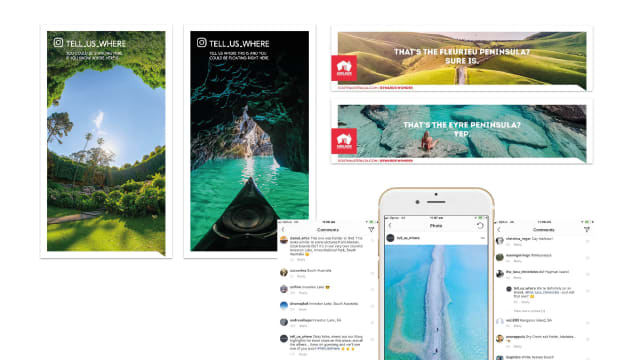 What Works
Tell us where: South Australia's social media challenge
The South Australian Tourism Commission [SATC] wanted to raise questions in the minds of their target groups and to reveal the various hidden gems throughout South Australia - to South Australians and all Australians alike – in order to challenge their perceptions about the State.
This was done by using the most engaging and captivating user generated content that had previously been used on the South Australian Tourism Commission's social media accounts, but under an unknown brand. The SATC's @tell_us_where campaign was a three-phase social, digital and OOH communication strategy that enticed people to guess where the images were taken after showing stunning imagery in new ways.
Launching the strategy
Phase one was a two-week period of saturating the market with a select number of curious images from some of South Australia's most beautiful places. People were asked to @tell_us_where they thought these locations were for their chance to win a trip there. Each image deliberately looked like it could be a well-known location else in the world - from the rolling hills of Scotland, to Tahiti, Hawaii, Thailand and Arizona. The images shared and clues given were tailored specifically to how familiar people could be with more cryptic images and clues used for South Australians and more specific clues provided to the wider Australian audience. Community management and Instagram stories were used as a tool to distribute and perpetuate the clues and conversations driving people to comment their answers or swipe up to enter the competition for a chance to win a trip there.
At the end of this stage, each image location was announced to the market sharing the exact location in South Australia. To recruit new potential travellers to South Australia, people were encouraged to follow @southaustralia on Instagram to see more of the state's beauty to people who had previously ignored or discredited South Australia as a travel destination. Phase three then launched SATC's new brand and campaign, Rewards Wonder, where it encouraged consumers to 'wonder' and become curious about South Australia - to explore and reward themselves with visiting and experiencing the amazing hidden gems that South Australia has to offer.
Reaping the rewards
The SATC social media accounts became the fastest growing and most engaged out of all Australian state tourism organisation states and the team used that engagement and new-found reach to drive commercially driven outcomes. As a result, in FY 2018-19 the SATC has demonstrated to the tourism industry that 336K quantifiable leads have been driven as a direct result from its owned social media channels. 148K people have visited southaustralia.com which is up 39.4% on the previous year and 20 million views have been logged on its Instagram Stories.
In addition to the broader social strategy outlined above, the @tell_us_where campaign generated significant uplift to previous website traffic statistics. There was a 30% increase in domestic visits to southaustralia.com during the reveal stage which resulted in the then biggest two weeks of domestic traffic in history. Allied to that, there was a 17% increase in leads to tourism partners during the reveal stage, with the 10,857 leads being a new weekly record at the time. In total there were 58460 total visits to the Tell Us Where microsite during the initial unbranded stage. The @tell_us_where campaign was designed to challenge and change the perceptions of South Australia among the Inter and Intra state audiences. As a result of the reveal stage on the @tell_us_where Instagram account directing their audience to @southaustralia, the South Australia account gained 20,818 new followers and potential travellers.