Shashi Verma
Director of Customer Experience, TFL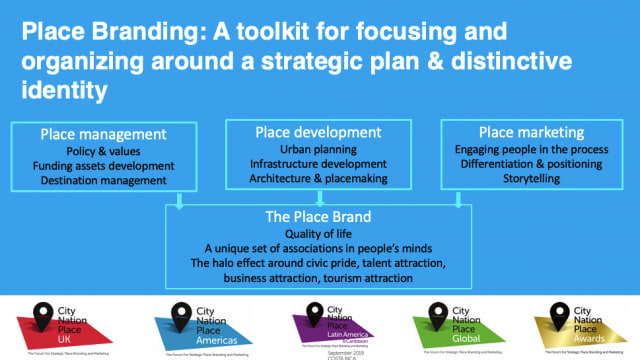 Place branding vs place marketing
Clare Dewhirst, Director of City Nation Place, was fortunate to be invited to share what she has learned from our speakers, award entrants, and contributors around the key differences between place branding and place marketing in a webinar session hosted by Civitas, one of our Partners for the 2019 City Nation Place Americas conference. We're happy to share the script for that session here…
I'm delighted to have the opportunity to talk to you and to share ideas around the key differences between place branding and place marketing – and the opportunities that a place branding strategy provides above and beyond place marketing.
First of all, let's look at just three key reasons why the time has come for place marketing to evolve.
The first is that place marketing on its own cannot put your place on the map. There are so many logos, so many slogans, and if I put a bunch of place logos on one slide, missing out the name of the place, I'd challenge you to identify the places behind the slogans. At the same time, I could show you a selection of beach holiday ads, or ski holdays, or adventure holidays, and the imagery would be the same. I could also show you a examples of investment promotion or economic development advertisements, and they'd all be claiming to be the best at the same things, with the same kind of imagery. Place marketing does not work on its own.
The second reason is that places are facing so many more challenges – you don't need me to tell you this. Technology is impacting on traditional businesses, the globalisation of culture, an aging population, the social impact of inequitable economic development, and the environmental crisis are all challenging place leaders. Places' responses to these issues impact on their reputation as well as on their economic fortunes. Places need a plan to deal with these challenges - and also need to talk about how they are dealing with these challenges as part of their story-telling.
The third reason is that people want to see more than bland marketing messages. Citizens and politicians are questioning the value of what you do. Your tourism audiences asking for more – much has been written about millennials looking for experiential, authentic travel. The Amazon RFP was a really high-profile example of a business putting quality of life at the top of the list of assets a place must offer to earn its headquarters – and generally site location consultants will confirm that businesses are increasingly concerned about this. They need to attract the right talent, so they need to be in a place that can offer that talent and offer the quality of life that will attract that talent. Finally, your citizens don't want to see advertising proclaiming that your place is wonderful if their personal experience is to the contrary. Places need to have a very clear strategic vision behind their marketing messages
And that's where we get to a better understanding of the key difference between place branding and place marketing.
Place branding and place marketing are not synonymous terms. Many better brains than mine have defined what we really mean by branding – here's just two examples from a quick google search of the term….
"A brand is an overall experience of a customer that distinguishes an organization or product from its rivals in the eyes of the customer. "
"While a logo is only a small simple mark, a brand includes every single touch-point your customers have with your company."
We can see that really successful brands have always understood that it's about the whole customer experience – Disney is a prime example of a brand that is both really strong on how its logo and its IP is used but also on how the whole experience is delivered. Patagonia goes a step further and demonstrates how today's consumers also look at the corporate brand values behind the product brands.
So what's the difference between a product brand and a place brand? Here's another googled definition of "brand" that gets closer…
"A brand is an assortment of functional, emotional, relational, and strategic elements that generate a unique set of associations in the public mind."
Of course, for place brands it is also more complex and less controllable than for most product or corporate brands – primarily because there are more people, more stakeholders, involved.
So let's think about place branding as a process of focusing and organizing around a strategic plan and a distinctive identity. There are three key components to a successful place brand strategy – an effective place management strategy and process: this will involve political stakeholders as well as the executive team responsible for the strategic economic plan. A place development strategy which incorporates urban planning, the development of infrastructure, and a focus on place making that supports communities. And then of course place marketing – in the fullest sense of the word – engaging citizens and stakeholders in the discussion, incorporating the stakeholder feedback and perception study feedback into a brand story and statement of differentiation. These all feed in to the place brand – supporting the quality of life, creating a set of associations with the place in people's minds, and leveraging that halo effect – a place that is a good place to live, is also a good place to visit, and also a good place to invest in.
I promised to show you some examples of how places of all sizes and types are implementing place brand strategies to drive their economic development
Let's look first at Barcelona. The 1992 Olympic games allowed the city to build up its infrastructure and projected Barcelona at an international level.
The Olympics have been seen as a before and after turning point for the city. However, over the last five to ten years, it became increasingly clear that a re-think was needed.Barcelona's international reputation and its citizens quality of life have been impacted by terrorist attacks, and also by over-tourism – both issues impacted on quality of life and also on the international reputation of the city. The city government took the decision to identify a new value proposition of Barcelona. For them it's all about resilience – about not being reliant on one industry, tourism, but having a broader value proposition that serves the triangle of citizens, business, visitors equally well.
The Barcelona City Branding Project was launched to coordinate, manage, and boost the city's international reputation. They built a city alliance with all key stakeholders. They carried out research into international perceptions and internal objectives. They established a Brand Resilience Monitor to measure the strength and resilience of the city's international reputation: to see how the various policies and projects commissioned lead to changes in behavior, and to provide learnings on how shocks or negative events will impact the reputation of the city and the resilience of its economy, The city has created a three year action plan that identifies areas of differentiation and aims to deliver sustainable socio-economic development. You can read the full case study HERE.
Eindhoven was a city region built on manufacturing – Philips and DAFF trucks. The closure of these factories and resultant job losses caused a slump for the city. The city government realized that it was necessary to be innovative, and to be noticed and appreciated internally and externally to drive economic recovery. A management structure was created to work on and invest in the image and reputation of the city and to raise the self-esteem of the community. The people of the city were fully consulted through a research process that identified three key ambitions – to be a leader in tech, design, and knowledge. The engagement was led through a new design identity created by a virtual design agency of all the talent in the city. It was then left as an open source brand – and was adopted by the citizens with such enthusiasm that it's also a common tattoo in the city. "Being unconventional" is at the heart of the brand positioning and through a whole host of unconventional activity and investments, Eindhoven attracted attention. They became an integral location for Dutch Design and Dutch Tech week; they put forward a student design and engineering team for a global car race with a car powered by solar energy and so attracted a great deal of media coverage. This experimental car is now in production – by a company that has established itself in Eindhoven. Importantly, the funding model is secure – the private company given the responsibility of managing the brand receives city funding, all tourism tax revenues,and also earns revenues from all outdoor advertising. They regularly evaluate the effectiveness of the strategy, reporting back to the City and the people, who vote on whether they can continue. It's been hugely successful – hence it won City Nation Place Awards for Place Brand Strategy in 2018. You can read the winning entry HERE.
To a much different place and story – Idanha-a-nova is a rural municipality in Portugal suffering the same challenges that many rural areas face. An exodus in population – losing 70% of their population over 4 decades. The municipality decided it needed a long-term strategy to improve the living conditions of those who lived there, and those they could persuade to live there.They created a brand strategy that has a purpose – to examine and demonstrate how rural life can be improved, can be more innovative, and can provide a valued quality of life. You can read the case study HERE.
And now to a small town north of London in the UK – Harlow - created in the 1950s, that has struggled with perceptions of being a very tired, run-down place in the early 21st century. Harlow provides a relatable example of a place that has recognized it needs a cohesive strategy and not just a brand campaign. They believe they have huge potential and so are engaging all stakeholders in the process of "forging" their future. Again, you can read the case study HERE.
All of these successful place branding strategies have one thing in common. They're not a marketing strategy led by a DMO. Or an economic development strategy led by an EDO, city council or BID team. They are both of these things and more, they have involved all key stakeholders…. That's why we are pleased that the City Nation Place conferences are bringing together delegates with all of these functions and responsibilities to work out how best to collaborate to deliver a successful place branding strategy.