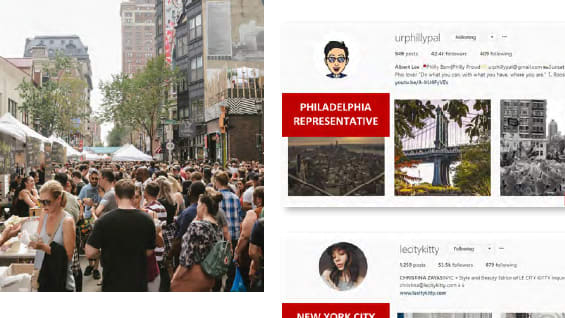 Instagram Exchange
Learn about Visit Philadelphia's Best Use of Social Media strategy.
Entered by Visit Philadelphia
Visit Philadelphia has a three-fold purpose - to build Greater Philadelphia's image, drive visitation and boost the economy and have a strong heritage as a social media pioneer. The company's social media accounts—known by fans as Visit Philly—serve up content to 1.6 million people. It was noticed that New York City, Philadelphia and Washington, DC all vie for the same leisure travelers. Whilst Philadelphia competes for the same audience, all are also prime feeder markets for each another. Visit Philadelphia developed a programme to address this relationship: the Influencer Exchange Program, where each major metropolitan destination selected a major Instagrammer from their community to sponsor on a Northeast Corridor journey.
This social media marketing initiative was designed to reach potential visitors in target markets and build the cities' images for out-of-towners, as well as strengthen the relationship with Northeast Corridor destination marketing organizations and establish a model that can be replicated with other destinations. Quantitatively, the measure of success was engagements and impressions on the photos from the project. Beyond the numbers, success would mean building better relationships with colleagues at East Coast destinations and seeing positive comments on Instagram from potential travellers. According to Visit Philly's annual social media survey, Instagram is the second-most consulted social media platform that people use while they're planning travel and they wanted to leverage this inspirational power of Instagram to showcase Philadelphia through the eyes of some of the most influential and trusted local photographers.
The key DMOs for Philadelphia, New York and DC each identified an Instagram influencer in their community with a strong local following. Once the influencers were chosen, they were contracted to posting at least three static photos a day and 10 Instagram Story posts a day. Transportation and lodging partners were provided which were also guaranteed (via contract) at least one post for each partner. Beginning in September and ending in December 2017, the influencers traveled (with one guest) to each of their non-hometown cities, and they spent at least two days on each trip. The influencers posted to their individual Instagram accounts. DMOs and partners were able to repost content on their own Instagram channels as they deemed appropriate.
Across 394 posts there were 69,867 engagements (likes and comments) & 693,917 impressions. The team were delighted with the number and moved by the overall sentiment in the comments. The Instagram Exchange Program images clearly inspired travel decisions and moreover, the Visit Philadelphia team developed priceless relationships. Early conversations indicate that the program will be repeated with new influencers.