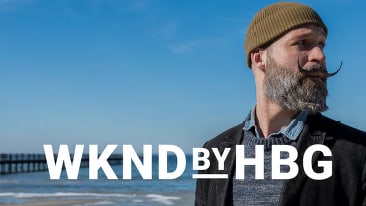 WKND by HBG
Learn more about The City of Helsingborg's Best Communication strategy.
Entered by The City of Helsingborg
What are Helsingborg´s strengths and weaknesses if you want to visit the city? An analysis highlighted seven key areas; proud residents, a seaside location with close proximity to beautiful and diverse nature, a continental atmosphere, a food city in the heart of the international Nordic cuisine belt, rich cultural offerings, noteworthy attractions, and good connections. What is it that makes people want to live, visit and invest in Helsingborg? We also needed to figure out the real driving forces behind why people choose a place to visit, establish themselves or take up residence. The conclusion was that one of Helsingborg's most unique strengths is quality of life; a driving force that no other Swedish city uses in their positioning strategy. People consider Helsingborg a city where one can live well, regardless of whether they are here temporarily or permanently. This analysis was used to develop a new destination plan for visitors.
A new communication concept was developed; WKND by HBG. The goal was to make Helsingborg the first place that would come to mind year-round with all the necessary components for a world-class weekend destination - The Weekend City. The idea was that a weekend in Helsingborg does not simply mean Friday to Sunday. It is more about a state of mind or a way of life. Visitors are drawn to the city for relaxation, good food, beautiful nature, fun shopping, cultural attractions, and active experiences. The strategy was based on the idea that all stakeholders could communicate about Helsingborg as the perfect weekend city. Core target groups included the city's departments and local businesses and those who had already visited the city. The overriding objective is that Helsingborg becomes a top of mind destination that people recommend to others and long to return to.
The weekend as a concept was been incorporated into all communication. It is not always about communicating the concept of WKND by HBG but rather about talking about the weekend in general, creating a common thread between printed material for visitors, social media channels, on visithelsingborg.com, and on other platforms such as Trip Advisor. Thematic campaigns have been developed based on each season. Hotels and visitor attractions have been involved in the planning and financing of special campaigns and promotions. A new city-wide marketing group with co-workers from different departments has been created. The concept and campaigns have been sold to the local business community which has stepped in to provide financial support. A new destination film was developed - What weekend type are you? – with five different personas represented, the selection based on strengths identified in the research conducted. "Helsingborg - a place of endless weekends" was launched in social media, in selected parts of Sweden, and against selected interest groups.
The goal was to get as high reach as possible. With a limited budget of SEK 50.000, the campaign reached 250 000 unique individuals and 2,900 people carried out the test during the campaign period of three weeks. Crucially, through the new communication concept, a more cohesive relationship between city administrations and local businesses in the tourist sector has been developed.