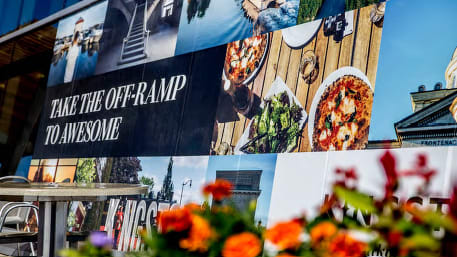 Kingston Canada Brand Development
Learn more about Alphabet Creative's Best Communication strategy.
Entered by Alphabet Creative
The city of Kingston, Ontario Canada holds an unrealized competitive advantage for tourism. Its authentic urban experiences and rich history are well documented, but its true competitive advantage was poorly understood and its tourism industry was fragmented with multiple organizations responsible for some aspect of marketing Kingston with none aligned under a common brand. The Kingston Accommodation Partners, responsible for marketing Kingston to leisure travellers and the office of the Mayor, retained Twenty31 and Alphabet to develop a unique brand position for Kingston with the dual purpose of both differentiating the city from its competitors and to inspire and compel visitors to choose the destination. A strong brand position, it was hoped, would also help galvanize the disparate tourism stakeholder base.
Kingston is a city of youth. Three post-secondary educational institutions within a few kilometres of it's downtown fuels an ever-changing youthful exuberance that defines the Kingston experience. As Millennial travellers now dominate the travel scape, how they travel and the destinations they choose are defined by very different criteria than their previous generations. Millennial travellers and those aligned to millennial values, seek the unique, authentic, local experiences. Not interested in buying cars or condos, they want to spend their money & seek to differentiate themselves through travel.. Kingston's brand speaks to the Millennial and those boomers who aspire to the Millennial vision. A competitive positioning was built for Kingston to speak to today's discerning travelers in a voice that is non-commercial, experiential, authentic and shaped by local curators and creators - Culturally Vibrant, Constantly Evolving, Authentically Hip.
Kingston began to roll out the new brand positioning through its various marketing channels. The new brand creative influenced all touch points with consumers across paid, earned and owned media channels. A new approach to trade show promotion, partner content development and alignment of messaging between economic development and tourism began. Content generated focused on the authentic scene in Kingston – featuring personal interviews including artists and chefs and unique city experiences. Media selection called for a more disruptive, less commercial and more authentic approach to messaging and paid media outlets. Engaging with the Kingston creative community helped to bring a taste of Kingston to Toronto and Ottawa through events and trade shows that showcased the music, art, food, beer and makers of the city. FAM Tours, inviting social tastemakers and influencers from across Ontario and Quebec helped launch the new brand in social spaces and generated a library of compelling and authentic imagery. Pop-up events included local brewers, chefs, makers and artisans, musical performances and more to capture the essence of Kingston and encourage guests to experience the real deal for themselves.
The Kingston brand positioning has been widely embraced by stakeholders & has resonated with and galvanized local entrepreneurs who are at the heart of creating the vibe of Kingston and helped them to realize they are integral to effective brand building for the city. The campaign has also generated measurable and meaningful results; Website Sessions: Up 175% Website Page Views: Up 167% Social Impressions: Up 95% Social Engagements: Up 87% Hotel Occupancy: Up 6% (highest growth in province of Ontario).