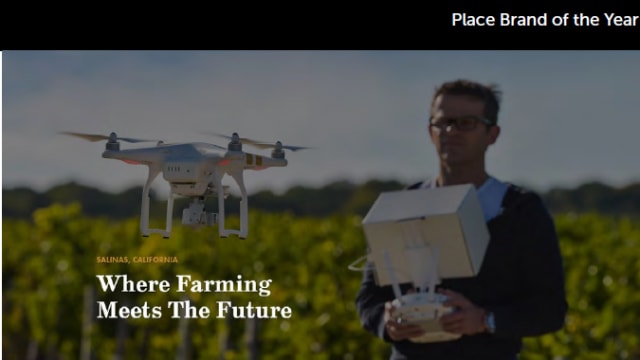 City of Salinas, California
About DCI's Place Brand of the Year
Entered by About DCI
In 2012, Salinas, California (population 157,218), was reeling from the loss of 850+ jobs when one of the city's largest employers closed its doors. In the wake of this crisis, city leaders developed a plan to leverage Salinas' proximity to Silicon Valley and its $8 billion agriculture industry to create an AgTech Innovation Ecosystem that drives innovation, supports entrepreneurship and ultimately creates more high-tech jobs. While Salinas had long been known as the "salad bowl of the world," the largely low-income farming region was not known for technology, and much of its media coverage centered on crime and negative issues. Salinas began working with place marketing firm DCI to help the city brand and market itself for agtech and began implementing a brand strategy in 2013. The first three years of implementation focused heavily on garnering positive press around Salinas' agtech initiative and generated tremendous results. DCI and the city pitched Forbes Media on holding an agtech summit in Salinas, and landed the first Forbes AgTech Summit in 2015. It has become an annual event that has put the city on the map for agtech. In 2017, the city saw two new challenges that needed to be addressed - fresh angles to continue the PR momentum and establish one-stop-shop online to showcase all of the components of Salinas' agtech ecosystem.
To keep media interested in Salinas, new angles of the agtech story were developed through research and conversations with those in the industry. The city launched a microsite in May 2017 with the goal to showcase the agtech opportunities that Salinas offers, and serve as an inspiration for those looking to start, expand or grow in the industry. The microsite includes strategic content focused on Salinas' agtech industry to further position the city as a thought leader and attract agtech entrepreneurs, business and investment. The site also includes an interactive GoogleMap on the homepage showing Salinas' location (which is often unknown to outsiders) compared to key California landmarks, robust, targeted call-to-actions and contact prompts and a responsive design.
Leading up to the launch of agtech, companies and organizations were interviewed to find out what types of content they thought would be most useful for the site. Examples of these organizations included several of Salinas' largest agricultural employers, local community college Hartnell College; the Western Growers Center for Innovation & Technology, a hub for more than 50 startups in downtown Salinas; and the THRIVE Accelerator, an agtech focused accelerator that is a staple in Salinas' agtech ecosystem. All of these organizations are featured on the website – with direct contact information so that visitors can access the most appropriate contact for their needs.
Over this past year, Salinas has become further established as an agtech epicenter. PR Salinas' new microsite, agtechsalinasca.com, has brought in direct inquiries ranging from college students interested in Salinas agtech to Silicon Valley-based businesses wanting to learn more, to local companies wanting to share their story. The Forbes AgTech Summit in downtown Salinas was a major success in both 2017 and 2018, bringing in more than 1,300 industry leaders between the two summits combined.