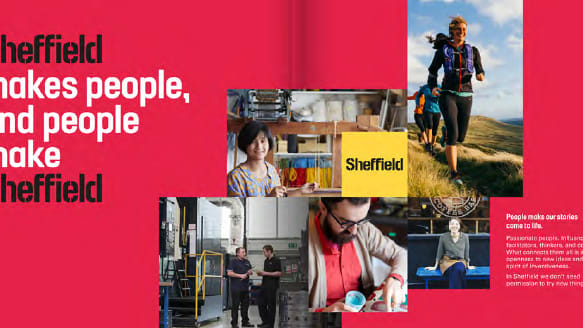 Sheffield
Learn about Marketing Sheffield's entry for Place Brand of the Year
Entered by Marketing Sheffield
Sheffield is the 4th largest city in England, yet consistently flies under the radar. This is not by design, but a product of the 'get on with it' mentality of a post-industrial city of strong-willed but friendly people who aren't bothered about shouting about themselves. However: urbanism, foreign investment, culture and booming new sectors flourished in spite of austerity, and the City Growth department of the City Council recognised the time was right to capitalise on creating a place brand for Sheffield that would address all external audiences – as well as work internally for residents and stakeholders.
Marketing Sheffield therefore formed a brand partnership in 2016, comprised of the Council Comms team, both Universities, the Chamber of Commerce, Sheffield BID, the Sheffield Property Association and the Culture Consortium. It commissioned research that, in 2018, informed a new brand and campaign through which it could be communicated. This in itself was unique – the recognition of several high-profile bodies understanding that 'place' would contribute to trade, tourism and talent in the short, medium and long term. The objective was simple: to find a way to tell the Sheffield story in the city's own way – and for it to be done democratically. Adoption, followed by sustained usage by partners and engagement by audiences, is the ultimate measure of success. The team had crucial insights from universities (student retention and satisfaction), businesses (suitability for location and talent pool), investors (expertise, research and facilities), residents (population demographics and trends) and visitors (unexpected delight), that when people are in Sheffield then they love it. What they didn't know was how to best communicate that fact to the world at large. The first materials were produced in Jan 2019, and work was fast-tracked in April when Sheffield was shortlisted for European City of the Year by the Academy of Urbanism.
The awareness of Sheffield tends to revolve around steel first and foremost, with football second. "Made in Sheffield" has been the city's accidental tagline thanks to cutlery, and whilst unique and relevant, it is product centric and does not allow the team to talk about new sector specialisms, or culture and vibrancy. They needed a new narrative that would be authentic, simple to understand, and that could develop over time to sustain long term needs as much as changing perceptions now.
Commissioned reports and secondary research told the team that the true value of any place is the people who form it. Assets, infrastructure, logistics have become hygiene factors in the modern urban setting, and 'place' is no longer about product marketing. Instead, the opportunities afforded to those people, and the environments a place helps to create are instrumental in allowing people to reach their potential, thereby giving back to that place. This reciprocal nature is not unique, but the truth of it felt important to communicate as the core of the strategy. The team worked with local agency, Jaywing, to devise a strategic driver: Sheffield makes people, and people make Sheffield.
"Makes" is the central point in messaging – not a strapline, but a way of thinking about stories that helps to bring a refreshed city identity to life. It was embraced by the whole brand partnership and subsequent city stakeholders as it allows Sheffield to be Sheffield in a way the world has not seen before.
Key messages were devised that play to the city's areas of strength:
1. We aim to make life better for our residents and visitors
2. We make solutions to some of the world's biggest problems
3. We make sustainable growth for a vibrant city
4. We make environments for businesses to thrive
It was important to temper ambition with sustainability – Sheffield cannot create growth in the same way as London, Manchester or Leeds, and cannot guarantee success – but the team could provide the right long-term conditions to help individuals and society, whether they are residents, visitors, business owners or investors. These messages helped put definition around what is and isn't a 'Sheffield Makes' project or piece of content – thereby improving the engagement of brand partners and ensuring the amplification that would naturally occur was always pointing back to the right ingredients of what makes Sheffield unique, and why.
A visual identity was launched that brought the strategy to life. The team retained the bespoke Sheffield typeface, but brought a new raft of colour and approach to typography to add confidence and vibrancy and promoted authenticity by using a true Sheffield tone of voice. The city has many overlapping facets - connected by people - so the visual identity was constructed to represent this. Sub-brands were created for Invest, Business, Conference and Marketing Sheffield to allow standalone comms and campaigns to be produced for specific audiences, whilst still utilising the parent brand equity.
The brand has been central in terms of response to the shortlisting of Sheffield as European City of the Year by the Academy of Urbanism. Local agency, 93ft, designed and built a website encapsulating the whole brand and Sheffield Makes campaign. It highlights all the key messages through inventive stories and people, and was accompanied by a two-day tour (at which every person at each visit sang the city's narrative unscripted). It has elicited incredible feedback from the judges, and the team plan to make it public facing to form the backbone of a year-long campaign once the winner is announced in November. Sheffield is at the start of a 3-5 year path to democratise the city brand. Launch was only in January 2019, so it is too soon to demonstrate the amplified outputs of the work across all partners in a numbers sense. The gravitas of the projects using the brand, the volume of work that has been collectively produced in 8 months, and the desire of organisations to get involved and continue to be so is the best result that the team could have been
hoped for.