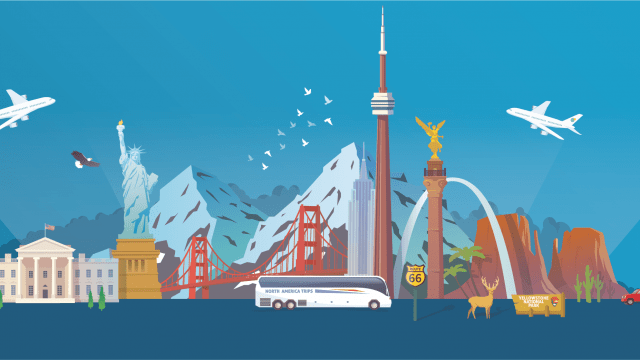 Trends & Ideas
Tackling common challenges in place branding: six key themes from City Nation Place Americas
If you'd told us a few months ago that we'd be running the City Nation Place Americas conference virtually from the UK, we'd have laughed and said it wasn't possible. But as always, necessity is the mother of invention, and last week we welcomed over 300 registered delegates to a fully digital Americas conference.
What was apparent during the conference is that cities, states and regions across the USA and Canada are rising to the challenges created by COVID-19. While no one destination has a complete solution, it was inspiring to hear from so many places who are pivoting, who are transforming their thinking and pushing the boundaries of what they can achieve.
Challenge 1: Shifting to a hyper-local focus
Most EDOs and DMOs were created to looking outwards. To attract external investment. To encourage international or out-of-state tourism. In a COVID-19 world, these organisations have had to rapidly move their attention inwards and adapt to support their community through this crisis. This creates new organizational challenges and necessitates new partnerships. Scott Beck, President & CEO of Tourism Toronto suggested that DMOs who were "member focused" should focus on being more "destination focused" to ensure their voice is heard and they contribute more effectively to the recovery.
The key for all our delegates was understanding resident sentiments and ensuring they're at the forefront of your recovery plans. Gloria Loree, CMO at Destination Canada shared that their current sentiment analysis showed only 10% of people are currently excited to welcome back international travellers. Your local community needs to feel safe before you can welcome visitors. Mike Mangeot, Commissioner at the Kentucky Department of Tourism, predicted that in-state marketing would last 6-12 months, so building connections with your neighbouring communities will help you to stretch your resources further.
Challenge 2: Enabling people to feel safe and confident
All cities and destinations need to learn from placemaking experts and focus on how to enable your residents and prospective visitors feel safe. Social / physical distancing technology doesn't need to be created: it's here and ready for application. The COVID-19 crisis has only accelerated the need for implementing high-tech solutions that will allow people to safely and securely gather in public spaces. Best practice and important case studies for addressing gathering place operation in a COVID-19 world are developing in real time, and those destinations making progress are more than willing to share their thoughts and experiences with others.
Scott Beck, CEO of Tourism Toronto, stressed the value of working closely with cultural organisations, who know how to engage with the local public and will be important leaders in re-building a pride in the sense of place.


Challenge 3: Communication and transparency
While ensuring all the residents feel secure is paramount, being able to counter knee-jerk reactions is key to building confidence in your place. "No one scenario planned for a global shutdown of the tourism industry, so there's no scenario for how to restart it," explained Royce Chwin, CEO at Travel Alberta. "It's really about communication, communication, communication – with a healthy dose of transparency."
Do your research and root your communications in data to back up your approach. The human touch is essential at a time when many are feeling vulnerable but being able to demonstrate your authority on the topic will help residents and local businesses to trust you. Then identify credible sources to help you share your story.
However, 'show, don't tell' is more essential than ever when looking at your communication strategy. Rather than promoting your destination as 'safe,' assess and enhance your existing safety protocols – and then communicate these enhancements to your community and prospective travellers clearly. Help businesses to understand the new conditions they're operating in and what they can do to ensure their own business is safe. If you back up your communications with clear actions, you'll leave a much more positive impact on your customer. Creating contingency plans will also allow you to be much more agile in your response and allow you to respond quickly to changes in travel restrictions.
Challenge 4: Supporting your SMEs
We've mentioned the importance of working with your businesses as they adapt to this new environment, but many small business owners are reaching out to their EDOs and DMOs for the first time. DMOs and EDOs are at the front line in engaging residents and advocating for small businesses and nurturing these new connections will put both you and them in a better stead for the future.
Challenge 5: Telling your place story in the new world
The manner in which a destination's story is told is changing and there has been a wave of destinations who are putting the spotlight on local pride. As Cathy Ritter, Director at Colorado Tourism, said, "It's an opportunity for us to do a different type of marketing, in ways that we've not done before."
There was a growing sentiment that influencer marketing was getting dated and played out, but with local residents recommitted to their place, there's a new opportunity to share stories right from the heart of your community. This goes hand-in-hand with the increased focus from EDOs and DMOs on the quality of life argument. Sharing community pride helps to integrate your quality of life proposal into your branding and marketing.
Victor Hoskins, President & CEO of Fairfax County Economic Development Authority, saw more opportunities for collaboration between EDOs and DMOs here – as well as focusing on supporting existing private sectors, EDOs will be leading the charge in terms of attracting new jobs, and DMOs are often better at telling that quality of life story that will attract the investment. Victor was delighted to have accessed his DMO's library of great content and imagery to ensure a speedier response to market.
Challenge 6: Looking to the future
Despite budget cuts (whether actual or predicted), cities and regions are finding new ways to be creative with less funding. "Cities and communities will eventually have to transition from business preservation to business transformation, and start thinking about the policies, financing and incentives that can be put in place to help entrepreneurs adapt and create new businesses that can succeed in a COVID-19 operating environment," explained Chris Fair, CEO at Resonance Consultancy. When planning for the future, incorporating a sustainable approach into your recovery plan is also key to ensuring long-term resilience.
"The recovery begins the moment the crisis begins," stated Jeff Guaracino, CEO at Visit Philadelphia. "Let's embrace the crisis and learn from it." We said at the start that no one city or destination has the all the answers yet, but it was encouraging and exciting to see the creative responses from destinations across North America – and that sharing these insights is helping others to refine their own strategy. If you missed the conference, you can become a digital delegate to get access to all our presentation on demand HERE.
Related reading
Will your recovery plan be sustainable?
Destination branding in a time of lockdown
What investment promotion agencies can do now to prepare for what's coming next
Job #1: Building confidence in place