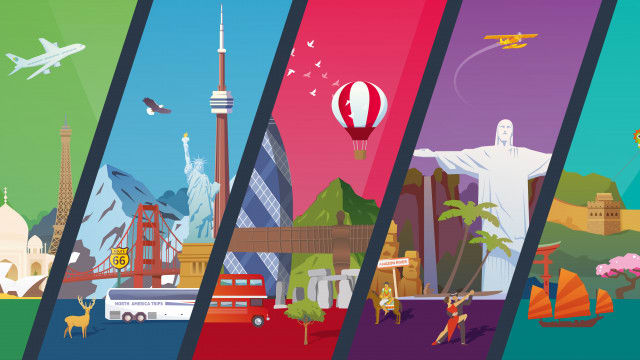 Trends & Ideas
Five ideas everyone should take away from the City Nation Place World Congress
Last week, we were delighted to welcome over 600 delegates from around the world to join one or more of the events for the City Nation Place World Congress. Whilst this list really doesn't begin to tap into the wealth of learnings at the World Congress, we've pulled together a summary of the overarching themes that resonated most with us
It's always a challenge to summarise an entire conference in a handful of key takeaways. With four events, culminating in 28 hours of content and the insights from over 100 speakers, we probably shouldn't have been surprised that the challenge this year would have increased exponentially.
Last week, we were delighted to welcome over 600 delegates from around the world to join one or more of the events for the City Nation Place World Congress. In what has been a challenging year, it was wonderful to hear from so many places around the world who have pivoted, innovated, and evolved to meet the changing needs of their community. Whilst this list really doesn't begin to tap into the wealth of learnings at the World Congress, we've pulled together a summary of the overarching themes that resonated most with us.


1. Don't under-estimate your citizen's connection to - and understanding of - their sense of place.
Needing your community's support has always been an integral part of a successful place brand strategy, but this year it is clear that this has skyrocketed as a priority. Local confidence has taken a massive blow and, whatever your recovery strategy may be, it's critical that your citizens are involved from the offset.
But more than that, there's a real opportunity to involve your community more deeply in your place brand strategy. Todd Babiak, CEO at Brand Tasmania, said "No matter who they are, we found that Tasmanians had a really sophisticated understanding of what 'Tasmanian' meant," and this in turn aided them in uncovering their place brand DNA.
The Mayor of Bristol, Marvin Rees, also advocated for the importance of including all of your citizens in your narrative. If you only gloss over problems you may be trying to solve for certain sectors of your population when telling your brand story, then you exclude a portion of your community, which can lead to feelings of disenfranchisement. Instead, face your challenges head on and talk about them – invite citizens, visitors, investors, and partners to help you solve your challenges and your place brand story can then work to help build a more equitable future for your place.
2. Collaboration will be a must for cities, nations, and regions to be resilient.
We've spoken before about the importance of collaboration, but it's clear the need has never been more pressing. And this collaboration must happen on multiple levels.
Keith Tan, CEO of the Singapore Tourism Board, suggested that it is the job of a DMO to translate the encyclopaedia of public health advice in to simple, clear communications that are accessible for your citizens, businesses, and visitors. To achieve this, you have to be able to work closely with any number of your local organisations and government bodies.
Meanwhile, Diane Edwards, the President of the Jamaica Promotions Corporation, advocated for greater collaboration between regions and nations in the Caribbean in order to improve connectivity between the region. With so much of their tourism and investment reliant on long-haul travel or US visitors, and comparatively little ability to easily move within the area, creating better travel links between islands would diversify the region's markets for tourism and trade.
Finally, Claudia Ruiz Massieu, Senator for the Government of Mexico, enforced the importance of collaboration to solve some of the most pressing challenges facing nations in the 21st century. Nations should want to be able to say that their place is attractive because of the contributions that they make to a more equitable, sustainable, and connected world. Global co-operation is required to achieve collective global goals.
3. Data is – unsurprisingly – king.
Data has always been an integral facilitator of a flexible, and nimble place brand strategy, but as we emerge from global lockdowns, it will be essential to ensuring that your strategy is focused and that you land the right messaging. With so many places clamouring for attention as we begin to recover, an authentic and data-led approach will allow you to be innovative and adaptable in how and where you reach your audiences.
There were also fantastic ideas for low-cost ways to use data, including a strategy from ProColombia. The team have created a network of Colombian ex-pats that they can reach out to for on the ground market research to support companies who are looking to expand. Want to know what local sentiments are on packaging are in Germany? Or perhaps you need to know how competitive products are priced in Hong Kong? If you can leverage the civic pride of your diaspora, you have an immediate bank of relevant data at your fingertips.
4. 'Build back better' is just a platitude unless we redefine what success looks like.
Susan Aitken, the Leader of Glasgow's City Council, said that "sometimes you have to be prepared to say 'no' to investors who subtract from your city, rather than adding to it," and that's a theme that resonated across much of the World Congress. There is a pressing need to redefine the KPIs that places use for success, and to embed sustainable thinking more deeply into every aspect of your strategy. Rebuilding better has to mean identifying who delivers value for your place – you want to be attracting the right visitors, and the right investors.
This might mean moving away from the cruise ship industry as the Cayman Islands have suggested, or it might mean reworking your business events attraction strategy to support the skills and talents at the heart of your economic development strategy – as Lyn Lewis-Smith, CEO at BESydney, proposed.
"We've been seeking high-value visitors," shared Andrew Grossman, Director of Destination Development for Colorado Tourism. "That doesn't mean inherently that's someone who spends more money than others. It also means someone that connected to a community, engaged with their destination, and is giving back."
Place branding could and should play a critical role in addressing social inequality and climate change – but it will be up to each city, nation, or region, to identify what their own community would consider 'valuable.'
5. Bring hope and optimism to your communities.
This was one of the closing statements from Lynette Pang, the CMO of Singapore Tourism Board, and Edith Wong, CMO of Invest Hong Kong, and it's an important idea to keep in mind. There's a lot of grief, stress, and anxiety in the world right now, but there's also light on the horizon, and so many stories of people working to support those in need. If you can amplify those amazing, human interest stories in your city, nation, or place, then you can help to share that positivity among your citizens – and also showcase some of the best qualities that your place has to offer.
Did you miss out on the City Nation Place World Congress? Access all the presentations with our post-event content package.
Related reading
14 steps to nation branding: a practical guide
Investing in reputational capital 101: using data for informed decision making
How search insights can help prepare your tourism strategy for domestic recovery
Using digital data to adapt to a changing travel landscape